035: Safe skincare and reducing household toxins with Arsy Vartanian
Today, I'm so excited to welcome my good friend Arsy Vartanian to the Healthy In Real Life podcast.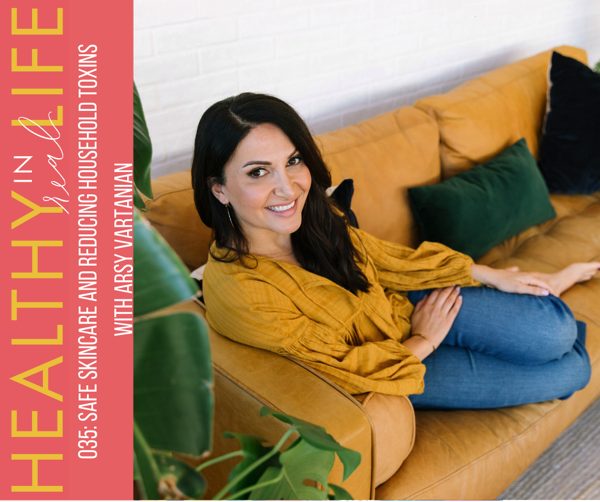 Today, we chat about:
– Ingredients to avoid when you're looking to clean up your skincare and beauty products
– Favorite clean skincare brands
– Tips for reducing toxins at home
– Her favorite mom hack
and so much more!
Here's a little bit about Arsy:
Arsy Vartanian is a certified health coach, leader with Beautycounter, and the Author of 3 cookbooks including, The Paleo Foodie. When she's not baking gluten-free cookies with her daughter, find her testing the latest health trends (like float tanks and cryotherapy) and writing her blog, Rubies & Radishes, to help others achieve optimal health and live life on their own terms!
Learn more about Arsy at www.rubiesandradishes.com or on Instagram @rubiesandradishes
Resources from this episode:
Brands we love:
Primally Pure (deodorant and insect spray)
Shop our favorite safe skincare brand, Beautycounter, here!
If you're working out at home this summer or traveling, click here to get 21 days FREE of Les Mills On Demand.
Thank you so much for listening and for all of your support with the podcast! Please leave a rating or review if you enjoyed this episode. If you leave a rating, head to this page and you'll get a little "thank you" gift from me to you.
You can listen and subscribe to the podcast on iTunes, Stitcher, and Google Play.