1 hour, $60, 1 week of daytime eats
(All gluten-free!)
Meal prep is back! I was so excited that you guys enjoyed this post last week, so I made another round so that you'd have some more options to choose from. I got a couple of requests to add dinners into the mix, but I've found that dinners (for me) are really hard to prep ahead, unless we're making some type of casserole dish. I usually meal prep our dinner in the later afternoon, or just cook it when the Pilot is home. (If I teach, I'll prep whatever I can and he cooks while I'm teaching.) Daytime eats on the other hand, are SO hard, and I'm always so happy when I take the time to prepare some snack and breakfast options in advance. I eat healthier foods this way, and I actually have time to eat this way. Sometimes by the time it takes me to chop a salad, one or both kiddos need something. 😉 If I can grab and eat, wins and all around!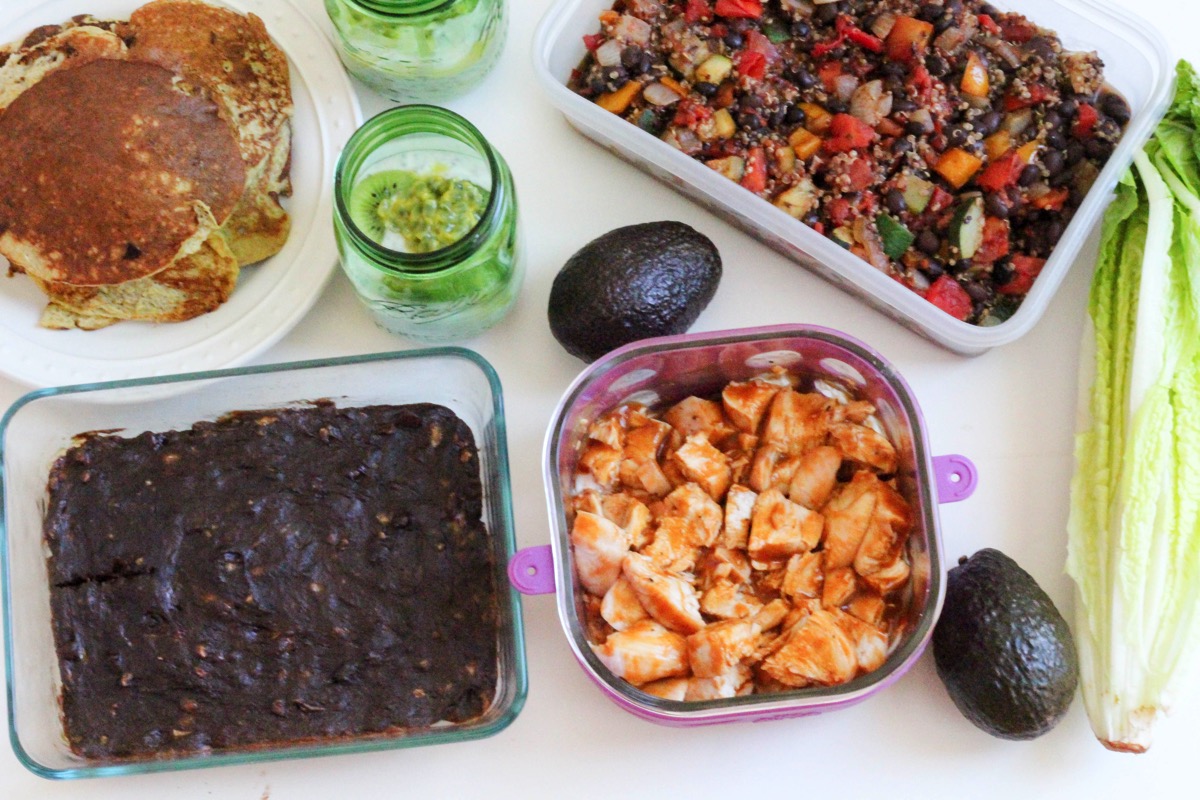 So, just like last week, I made 5 day's worth of breakfasts, snacks and health lunches. Better than last week: the ingredients are less expensive.
Here are the recipes:
–Protein breakfast brownies (3 breakfasts) + hard-boiled eggs (1-2 eggs for each breakfast, depending on how many you like)
–Banana egg pancakes (2 breakfasts)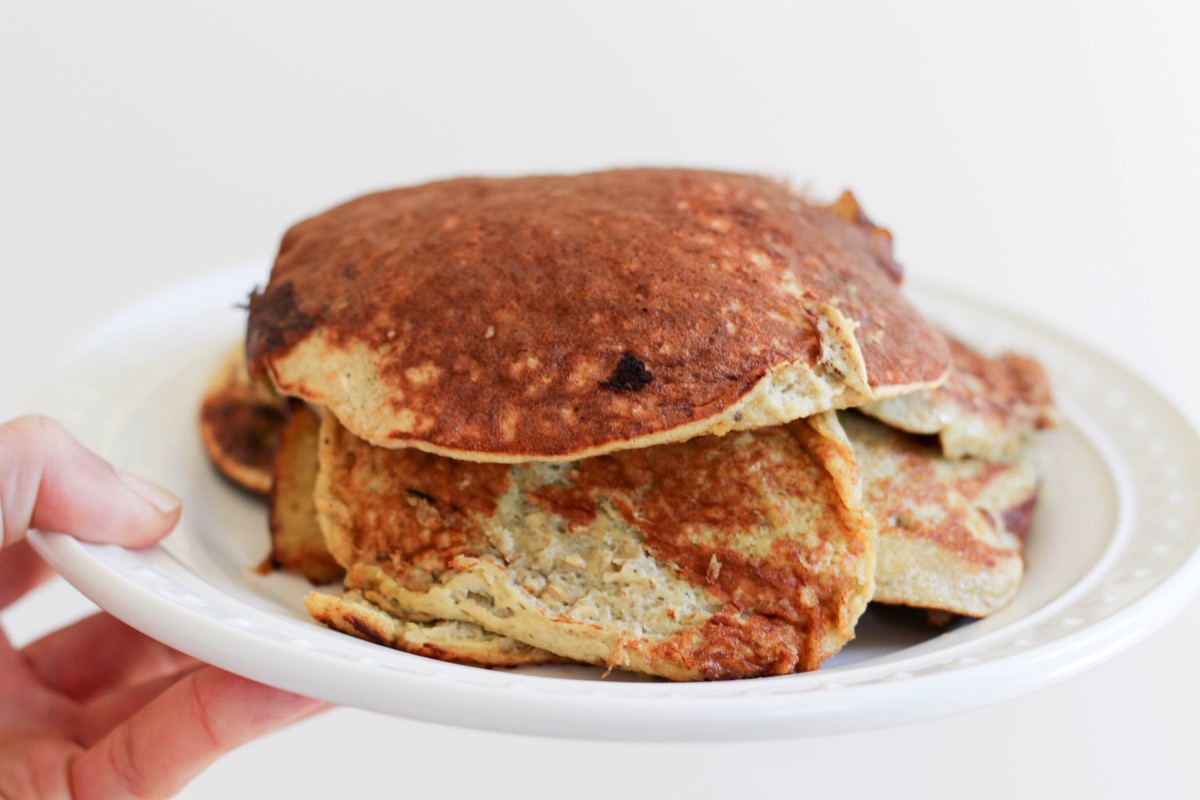 -chia and fruit parfaits (3 snacks)- recipe below
-Quinoa chili (3 lunches)- recipe below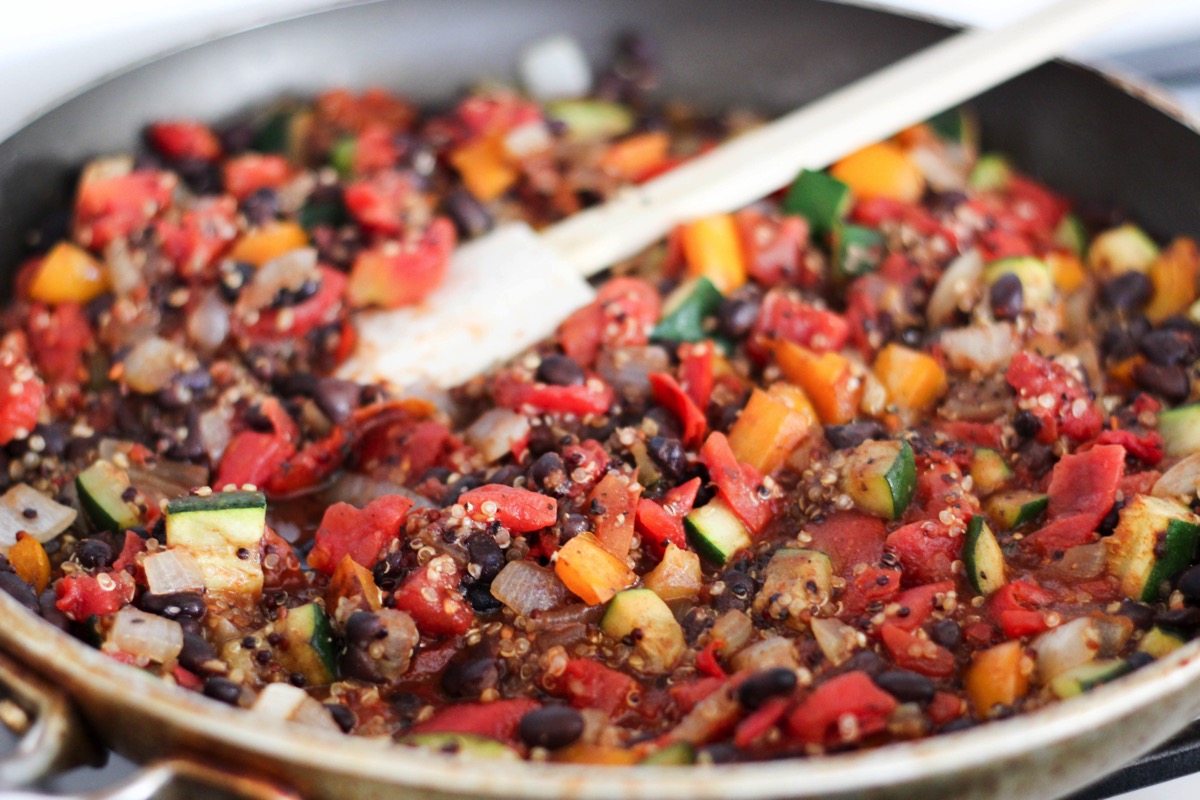 -BBQ chicken romaine boats with guacamole- recipe below
-Protein smoothies (2 snacks)- 1 cup almond milk, frozen berries, 1/2 banana (optional) and protein powder of choice
Ingredients and cost (priced at Sprout's this time!):
Peanut butter: $4.99
Chocolate chips: $3.99
Protein powder x2: on hand (at Sprout's $.3.99 per pack)
Bananas x7: $2.37
Eggs (6-8 eggs. You definitely need 4 for the pancakes, but if you want to hard-boil eggs for breakfast, have 2-4 extra on hand) $3.99
Oats: on hand (at Sprouts $4.99 or use the bulk bin because you only need 2/3 cup)
Yogurt x3: $7.17
Chia seeds (2 tablespoons): on hand (optional)
Berries: Sprout's didn't have organic berries, so I got kiwi and passion fruit for $7.97 (the passion fruit was $2 each but totally worth it)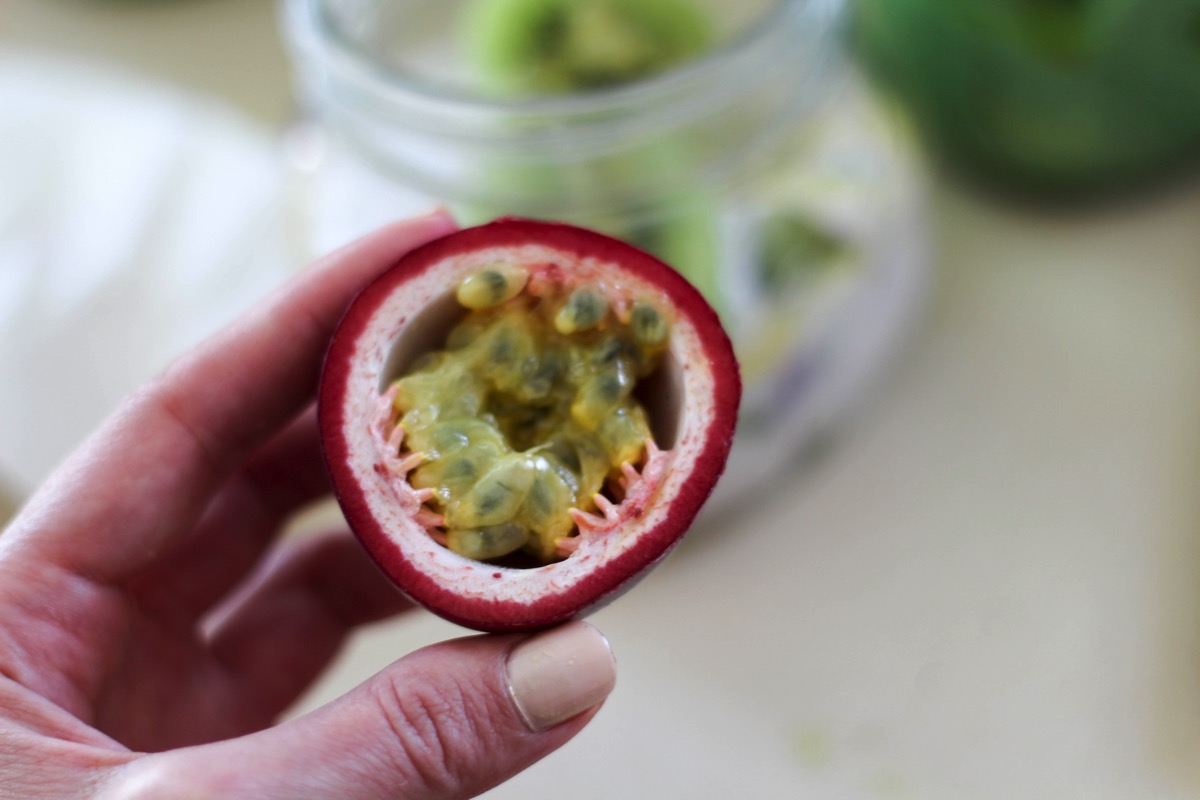 Frozen berries: $3.99
Quinoa: on hand (use the bulk bin! Just need 1/2 cup for about $1)
Canned tomatoes: $2
Bell pepper: $0.98
Zucchini: $1.27
Black beans: $2
Onion: $0.76
Chicken (organic): $9.83
BBQ sauce: $3.99
Romaine hearts: $2.99
Avocados x3: $1.44
Almond milk: $2.99
Grand total: $68.71
How this cost can go down:
Use cheaper fruits (the passion fruit killed me at $2 each!)
Conventional produce (almost everything above is organic)
Use some of these as staples, and do this food prep again. For example, I always have almond milk, chocolate chips, oats, quinoa, canned tomatoes, nut butter, protein powder, eggs, chia seeds, and canned beans on hand. With my pantry essentials, I only ended up spending $35.80 for the entire week. So depending on what you have on hand, and the fruit you'd like to use for your parfaits, cost can range from $36-70 for breakfasts, snacks and lunches for the week.
Now that we've crunched numbers, let's get onto the exciting stuff.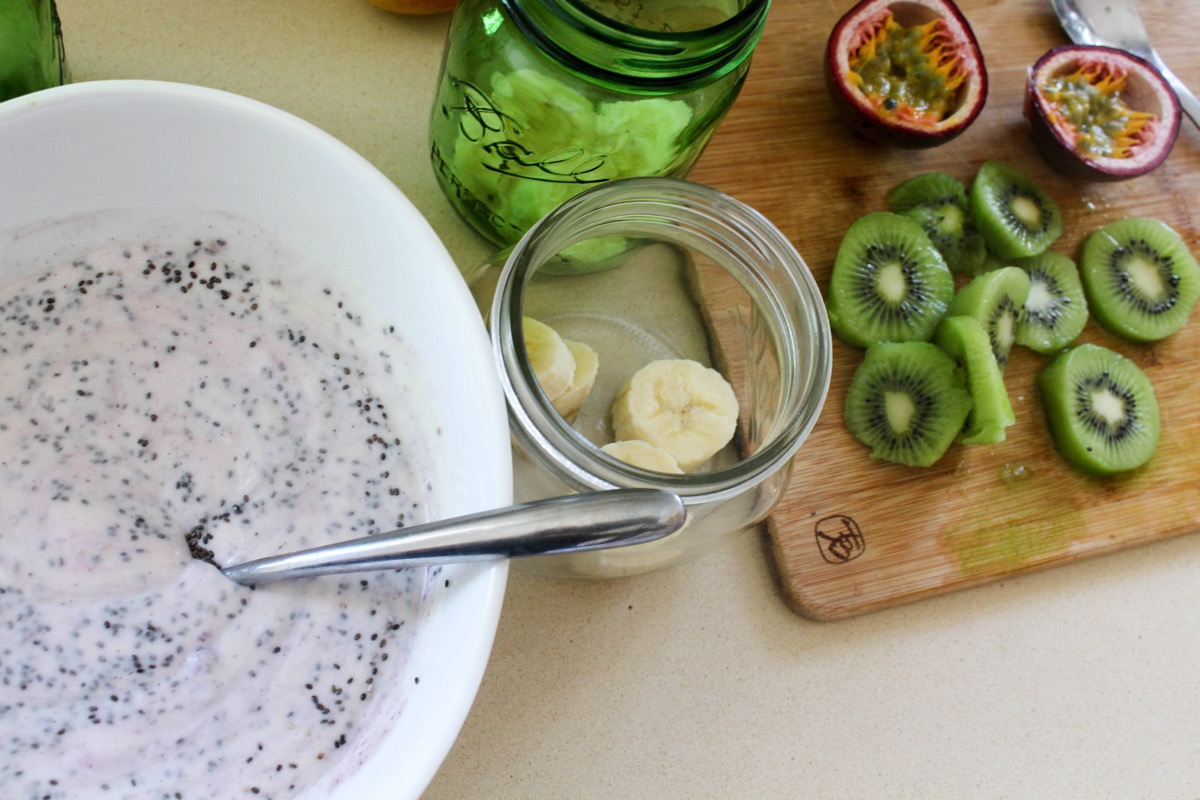 Here's how to prep everything in one hour:
1. Preheat the oven to 350 and start the chicken. Spray or grease a baking dish with olive oil, add the chicken to the dish, and drizzle with olive oil before seasoning well with salt, pepper and garlic powder. Place into the oven and set the timer for 25 minutes. Start the protein brownies and put them into the oven. (A little tip about these brownies: I did not love them with the banana. They were way too banana-y and not sweet enough for me, even with adding 1/3 cup chocolate chips. I'd recommend trying sweet potato and see what you think.)
2. Rinse and boil 1/2 cup quinoa in 1 cup water. Chop your veggies: 1 sweet onion, 1 zucchini, 1 bell pepper. Add the veggies to a large skillet with olive oil, heat to medium heat and season well with salt and pepper. Let the veggies cook until soft, about 5 minutes, and then stir in 1 teaspoon chili powder, 1/2 teaspoon paprika, 1/4 teaspoon cumin, and salt and pepper. Reduce the heat to low. Stir in the canned tomatoes, black beans and the quinoa, which should be fully cooked by now. Remove from heat and adjust seasonings as needed. Boil some water in a small saucepan for the hard-boiled eggs. Add the eggs to the saucepan and cook for 10 minutes.
3. Start the pancakes (double batch of this recipe). In a blender, combine the oats, banana and egg, and mix well. Start to cook the pancakes on a large skillet in butter, or as a timesaver, heat a large griddle. When the chicken in the oven is cooked through, transfer to a cutting board to rest before cutting into bite-sized pieces.
4. While the pancakes are cooking, make the parfaits. In a large bowl, add the 3 containers of yogurt, 2 tablespoons of yogurt and stir well. (Option: add in a little maple syrup and cinnamon if you'd like!) Chop your fruits or wash whatever berries you'd like to use in your parfaits. I used banana, kiwi and passion fruit, and the combo was lovely. Layer the chia yogurt and fruit into 3 containers. Cover and store in the fridge.
5. Finish the chicken. Add BBQ sauce to the warmed chicken, and transfer to a storage container. To enjoy for lunch, pack up a head of romaine, some chicken, and an avocado. Place the chicken into the romaine boats and top with sliced avocado. The extra avocados are for topping the quinoa chili.
Note to self: make way more pancakes next time. Liv ate the double batch in one sitting haha.
Did you meal prep this week? What did you make?
xoxo
Gina
More meal prep posts:
Reader's request: meal planning