11/5: Notes from the week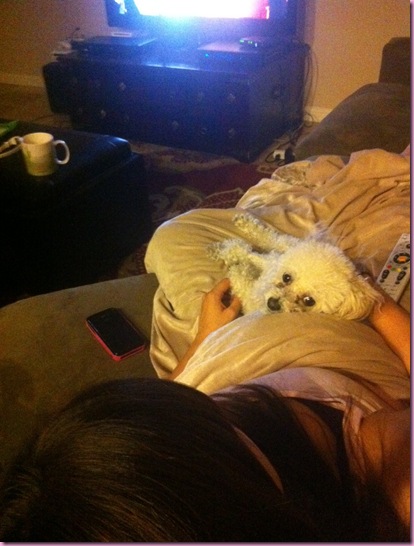 [She loves to lay on the belly and feel baby kick]
1. The little lady is a moving machine. She's been punching and kicking me all day, and when I walk around with my hand on my belly, feeling her move, people will ask "are you ok?" Are you kidding? I love it.
2. I would like to snatch an entire salmon from the sea and eat it raw. It sounds terrible, but I'm just being real here. I'm dying for raw salmon.
3. Heels have officially been put on hold, along with stripes, until post-January. The closest I can get to heels are going to be wedge shoes, since I wore real heels for about an hour today, and it was a little rough to walk. I wore wedges the rest of the day, and now I have no ankles. Propping them up now.
4. The nursery is coming along!! Thanks to a good friend of mine, we may have fixed our glider/recliner situation [I'm sleeping on it tonight before I order it tomorrow- I always do this before big purchases]. I'll post lots of pics when it's done and ready for her. When I went to Kelly's shower today, I was so excited to see her nursery put together, just waiting for her little one (she's due the week after me)- it looks beautiful. Speaking of Kelly's shower,
5. I spent most of the shower holding and snuggling different babies while I chatted with the girls. It felt.so.good… and I didn't feel as awkward or scared like I used to with little babies. Also, why do babies have the best smell in the world?
6. Apparently pregnancy not only makes your belly grow, but makes you taller?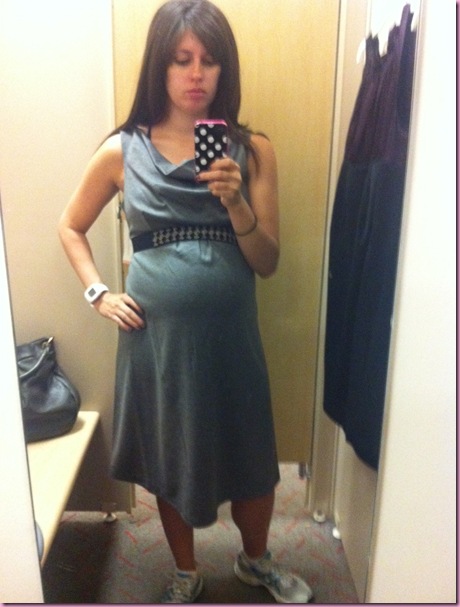 Maternity dresses all go down to mid-calf, or that awkward not-short-not-long length on me :/
The Asics make the outfit, though, right? Haha.
7. It's interesting to think about how our family dynamic will likely be different for our baby than the one that Tom and I grew up in. My parents are both divorced and remarried, so my brother and I spent different times of each week at my mom's and dad's house, splitting holidays and birthdays, and rarely got to be in the same place at the same time with both parents. Tom's parents were also divorced, so he spent most of his time growing up with his mom and sister. I still had an amazing childhood, and am fortunate that I still got to see both of my parents, but I can't help but wonder what it would have been like if I didn't have to be split between the two. Obviously most people don't ever intend to get divorced, but if the last 6 years are any indication of how strong we are together (we've been through a LOT), we're in it for the long haul.
8. Hayley brought the cutestmostadorableprecious doll for the baby that I've ever seen: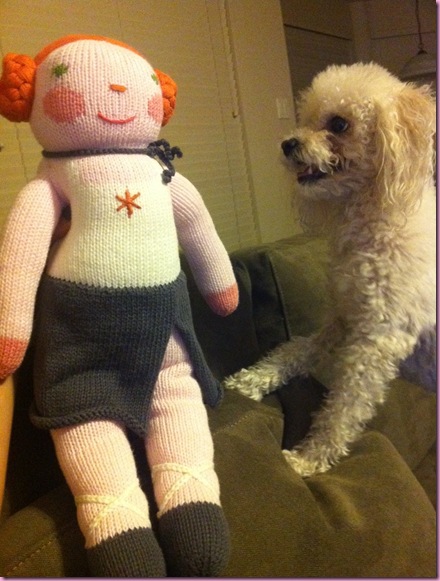 A ballerina Blabla!
Bella thought it was for her. Sorry, Bell.
All of the dolls are handmade in Peru and are similar to sock monkeys, but they have so many different characters and animals. I had never heard of them before, and I absolutely love it- the fabric is so soft, and the choices for dolls are diverse and fun. If you're looking for a unique baby gift, these are a win.
9. Just for kicks:
10. Tomorrow is baby shower day. I feel like this is a big milestone in life and am so excited to spend the day with family and friends. Little lady is already very lucky.. she has so many people that love her <3