12 Days of Fitness Workout
On the first day of Christmas, my trainer gave to meeeeee…
a set of 10 sumo burpees. 😉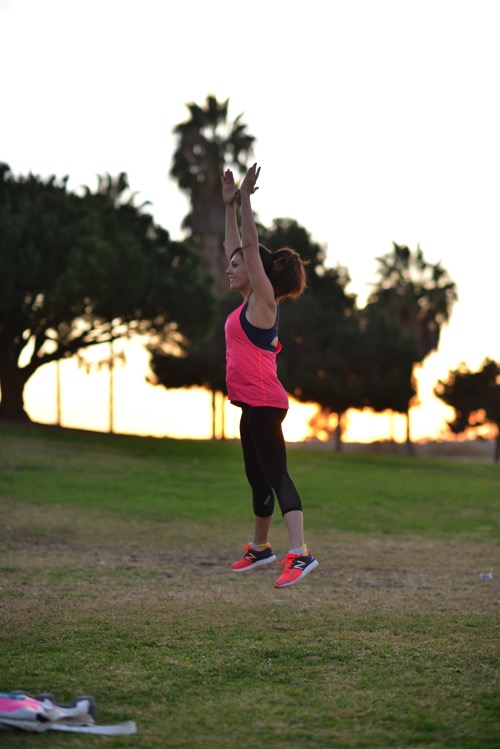 Hi friends! How's the morning treating you? It's been chilly and blustery over here. Definitely feels like winter. 🙂 It was a pretty low-key evening last night, with a super simple dinner: chicken, sweet potatoes, sautéed carrots and zucchini + wine. (The carrots were from Liv; she threw them in the cart at People's and was like "I would like some carrots." Not going to argue with that one.) I also got in some easy cardio and strength from PBB.
Quick Holiday Workouts
'Tis the season for emphasizing quick, functional workouts with the busy holiday festivities. It can be a little trickier to get in workouts from the end of November until January. While gym time can be more limited, it's just as awesome to get in a quick workout when you can.
This time of year, we're also flooded with (lame) articles about how many miles you need to jog to "run off that eggnog" and how many squats you need to do to "work off that turkey and stuffing." And this is me: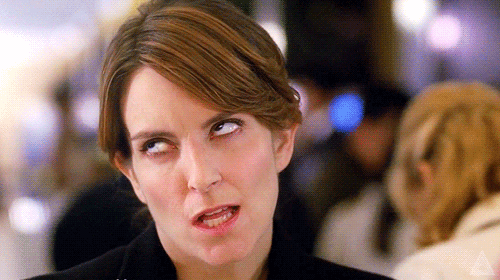 A friendly reminder that you don't need to "exercise away" any of the holiday treats and it doesn't really work like that anyway. It's not like you get on the treadmill and a sleeve of Oreos magically disappears. I like a grand scheme of things approach: sticking to a routine over the long haul so seasons of treats + boozy delights here and there just make life more fun. Enjoy the season, friends. 🙂
12 Days of Fitness Workout
Here's a quick workout you can do anywhere. All you need is a set of dumbbells! Run through the circuit at least once and, if you're feeling feisty, you can complete it up to 3 times. As always, check with a doc before making any fitness changes. Honor your body and modify as needed.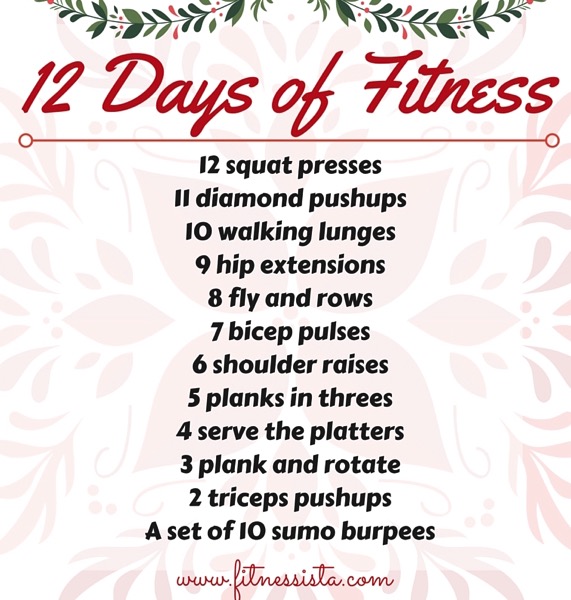 Form cues and tips:
Squat presses: Keep your feet under your hips and weight in your heels. As you press the weights up overhead, keep your core firm and shoulders down.
Diamond pushups: Come into a down dog position and make a diamond shape with your hands. Bend your elbows out the side, exhale and press to straighten. Avoid completely locking out the elbows.
Walking lunges: Make sure that you're set before you sink down into your lunge. Aim for 90 degrees with your front and back legs, with a tight core and straight spine.
Hip extensions: Really think about using your glutes to lift your leg. It doesn't matter how high you lift; keep both hip bones in one line. (For this one, it's 9 on each side.)
Fly and rows: Make sure to lift up through your core and keep a nice, straight spine without rounding or arching the back. For your flies, stop with the weights in line with your shoulders. For your rows, really think about squeezing and engaging between the shoulder blades.
Bicep pulses: Tiny 2-inch movements at the hardest part of the exercise, when elbows are 90 degrees.
Shoulder raises: Stop with the dumbbells at shoulder height, and lower down slowly with control.
Planks in 3s: Hold a plank for 3 seconds, lower onto your knees and repeat 5 times. This prevents supporting muscles from kicking in. This way, it's purely ab power.
Serve the platter: Start in a plank or modified plank. Stabilize yourself and reach one hand forward. Alternate to the other side. For an extra challenge, lift the opposite leg too. (4 on each side.)
Plank and rotate: Rotate to a side plank or modified plank and back to center. Take your time and concentrate on lifting the bottom oblique as you twist. (3 on each side.)
Triceps pushups: Start on your knees or toes. As you lower down, squeeze your elbows in and keep them close to your torso. Stop with elbows in line with your torso and exhale to squeeze and rise.
Sumo burpees: Come into a sumo squat and reach down to plank your hands into the floor. Walk or jump back into a plank position. Walk or jump your feet back to your hands and spring up, reaching towards the ceiling. Land with a soft knee.

Let me know if you give it a try! What's your go-to workout when your schedule is extra busy?
xoxo
Gina
Photos by Henry Young