1/21: Thoughts from the week
I totally get why new moms cut off all their hair. It's a luxury to get a shower, let alone style or dry anything. Twisty bangs + ponytail or messy bun for the win.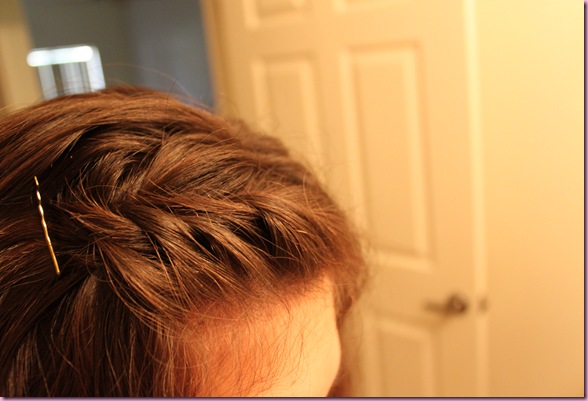 I wrote about our adventures in breastfeeding here, but just as we're starting to get the hang of it, it's also become even more difficult. She prefers my left side over the right, so I have to pump my right side after every feeding to keep supply up. She'll only nurse on the right side for maybe 5 minutes, but will go all day on the left, and I have no idea how to get her to like the right side, which produces less. That's also the side I had surgery on a few years ago…
The funny thing is that for a couple of days, I thought my right side wasn't producing anything. I'd pump, and nothing would come out. Tom was watching me pump yesterday and said "How long have you been using that battery pack?"
"All week."
"No wonder you're not getting anything! Those batteries have to be dead by now… try the AC adapter"
And sure enough, I plugged the pump in and was pleasantly surprised by milk!!!
Wow.
We've been tracking all of her feedings and diaper details since she was born,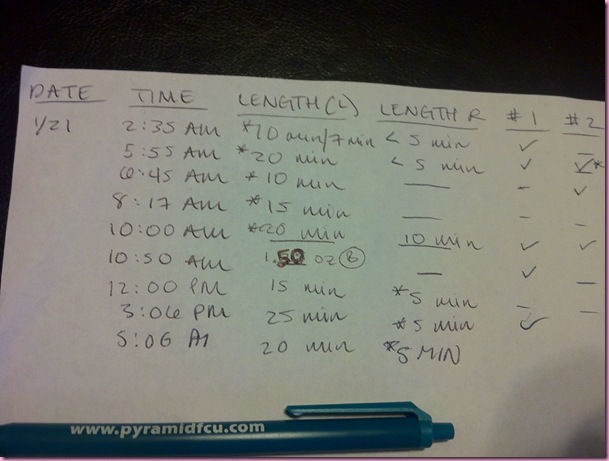 and it's funny how you can go 7 years without discussing body functions with your husband, and then be cheering for them together.
It really is possible to survive on no sleep. The first few days were an adrenaline rush and we were up all night as she cried and cried- now she'll sleep for a couple of hours in between feedings. I used to NEED my 8 hours… I get maybe 4 or 5 broken hours of sleep and am doing ok. Everyone says to sleep when the baby sleeps, but I usually only have time to pump my right side, grab some food and then she's ready to go again.
Bed rest is the worst thing ever. I hadn't been doing any real activity –the midwives said if things look good at my 4 week checkup, I can resume normal activity again- just dishes and laundry around the house while the baby would snooze. We went on a couple of family walks (1-2 neighborhood streets down and back) and that's about it. After cleaning up around the house on Tuesday, I was changing clothes and looked down to see I was standing in a small pool of blood. It scared the bejeezus out of me. After a call to the midwife, she said "you're to be on the couch or in bed only. That's it. Take the next few days and don't do anything, except for cuddle and feed your baby." I've loved all of the cuddling and feeding time, but as an antsy person who likes to be up and about, it's been challenging for me.
Hormones do some crazy things after you have a baby. As blissfully happy as I am, I still cry everyday. I worry that I'm not doing a good job, it breaks my heart when she cries, and the fact that Tom goes back to work this week has been giving me a lot of anxiety. Tomorrow I'm going to do a practice run and see how I do by myself throughout the day and night.
Everyone says it's normal to cry and to feel this way, but you'd think that hormones would protect you at a time like this. They should make you feel like a superhero so you can get through the really challenging time. Instead, they make you feel really fragile and emotionally sensitive. I'm excited to feel normal again.
I'm also excited for the day when she looks up at us and knows who we are and smiles. For now, I'm just the boob 😉