1. All of my dresses that zip up the back no longer will zip over the belly and girls. I will probably have to start buying more forgiving dresses. The only exception is a white J Crew dress, since it's cotton and has a little give.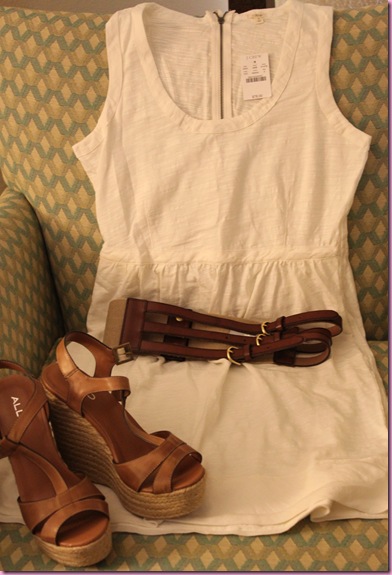 Which brings me to #2..
2. If you are holding a small baby, there is a very high chance that it will tinkle on said J Crew dress. I feel like part of the "club" now, because I realized that it will be the first of many times 😉
This morning, I had breakfast with some girls from the squadron, 99.97% of whom have new little babies. It was so much fun to play with them and alternate holding them, while also getting some advice about baby/pregger things. The good news is that all of them have delivered at the same hospital we're going to, and had nothing but amazing things to say about it. They said it was very clean and the staff was incredible. It's always nice to hear comforting things instead of horror stories 😉 They also recommended the BOB Revolution stroller for a jogging/adventure stroller, so I'm going to look into that this week.
This weekend, I also learned how much help is appreciated and how I'll be so thankful to have the family here with me when the little girl is born. As soon as our housewarming party was over, my nana, my mom and myself blitzed through the kitchen, packing up to-gos, cleaning dishes and everything was done within a matter of minutes. For Tom and I to do it would have taken much longer, even in a non-preggers state. I know I'm very blessed to have them <3
A good friend of mine came to our party last night, who is due a week before me. Not only was it amazing to catch up, take pictures with our bellies touching and share stories, I also got to feel her baby kick. It was the craziest, coolest thing ever.
This ended up being a more random post than I intended, but the family page is pretty random in itself 😉