I didn't think it was possible, but this little face continues to get cuter every day…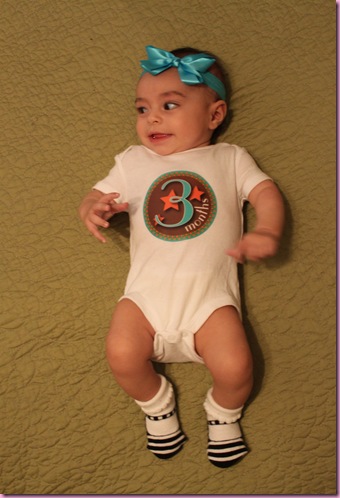 and continues to amaze me with how quickly she's growing and developing, her funny expressions, tiny laughs, smiles and movements.
3 crazy amazing months 🙂
What's going on right now:
-She's starting to really understand her hands and feet. She's grabbing onto toys, which immediately go to her mouth, and will grab my thumbs and pull herself up to a sitting position. She's a strong girl, and I can tell her lack of mobility is frustrating to her sometimes. If I lay her in her Boppy lounger and she'll grunt and lift her head up, like, "I don't want to lay down! I want to sit and look around!"
She also makes some crazy faces.. I have no idea where she got them from 😉
-Her favorite toys right now are the Lamaze flower garden, a gift from the Easter bunny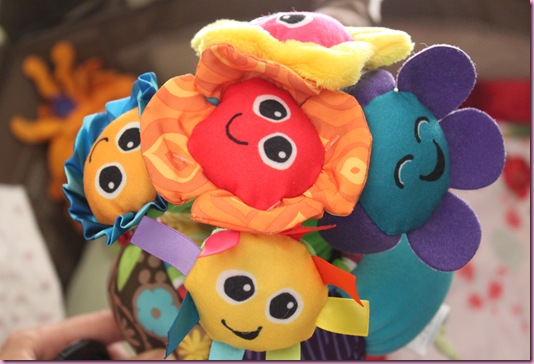 (each flower lights up and plays a musical note, part of a song, or an entire little song depending on what setting you have it on. It dangles from the bar in her pack n' play and she'll smack it to make music)
her Abby Cadaby doll from her nana Easter bunny,
and the Vulli teething rings.
-We went cold turkey again with the swaddle last night, and she slept through the night. Maybe she wasn't ready before, but is finally ready now? She looked so comfy, sprawled out with her arms above her head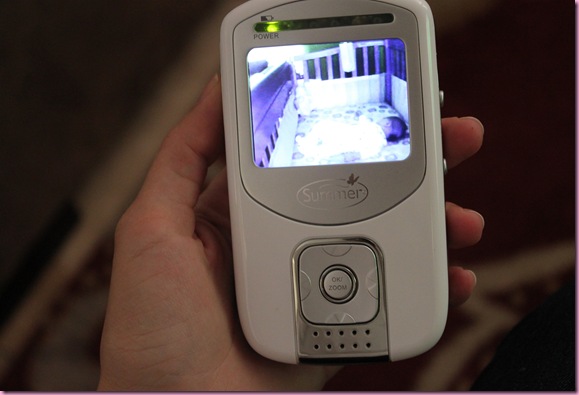 –Cloth diapers. About that. They're still lined up in the drawers and to be honest, they might end up on eBay. I won't sell them without giving it a try for at least a week, but I'm not sure it will work out for us. It still grosses me out… even more after seeing the things I've seen. Something else that discourages me is the fact that we go through a LOT of diapers over here, but that really gives us even more of a reason to make the switch. I hope we end up loving it, but if not, at least we can say we gave it a try.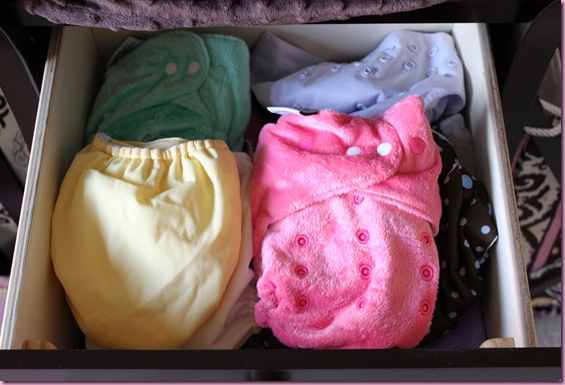 -I can't wait for baby belly laughs. We were sitting at the patio table so Livi could see the yard and Tom was chasing Bella as she ran sprints. Livi was watching Bella run and let out a tiny laugh. "Heh….. heh…. heh"
-She continues to smile at everyone, and she definitely recognizes her family. Her face lights up when she sees her nanas and aunties, and she makes googly eyes at the guys in the family, especially her daddy and Uncle Kyle.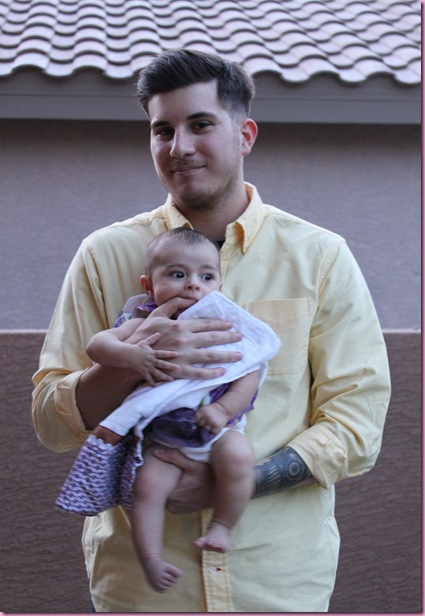 My favorite smile is the one where she sticks her tongue out at the same time 🙂
-Favorite moment this week was meeting Kelly and her baby –she's one week older than Livi- at the park. We found a shady spot, put down a large, soft blanket and laid the babies next to each other. They've been little friends this entire time, but it felt like the first time they were actually seeing each other. They grabbed each other's little hands, clothes, and just stared. It also felt like Livi's first real time focusing on the sky… she just gazed above in awe.
-I feel like I can trust myself instead of relying on books. Just like anything I've done for the first time or am unsure of, I read. I like to soak up as much knowledge as I can, and then go with the flow from there. Since I wanted to get pregnant (which is exactly 2 years ago), I've been hooked on birth books, pregnancy books, breastfeeding books, parenting books, sleep books, on and on. For the first time since then, I don't feel like I *need* to be reading all the time. I have one parenting book in the Kindle I'm in the process of finishing ("Bringing Up Bebe"), and it's nice to take it slowly instead of feeling like I need to rush through and learn as much as I can.
I know my baby, she knows her mama, and I finally stopped worrying about "what if I'm doing it wrong?!"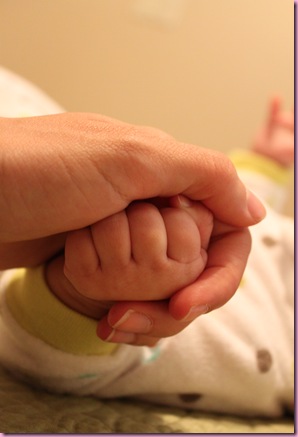 I love her like crazy, and that's all you really need anyway <3
Can't wait to see what next month has in store. Not exactly stoked about the 4 month shots, though :/
An amazing read: Your Children Want You