3/30: Thoughts from the week
-Really, BabyBump App?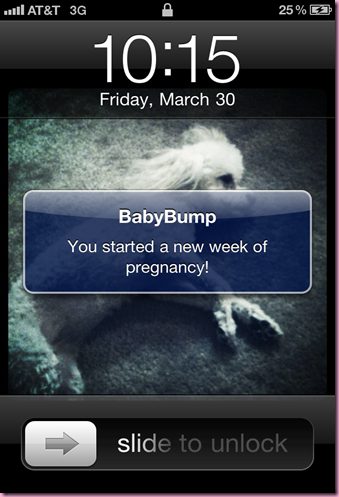 I'm 52 weeks pregnant!
-When I kiss Liv on the cheek, she turns her face towards me and licks my cheek. Her version of a kiss, I guess 🙂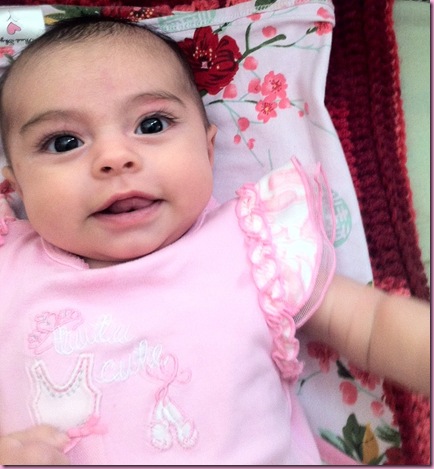 -She also started to realize that everyone loves it when she smiles… so she smiles, mouth wide open, all the time. It's the best thing ever. Sometimes she'll wake up from a catnap and I'll go over to see if she'll go back to sleep. I'll put my hand on her chest and stand there with my eyes closed, so she knows I'm there, and sometimes goes right back to sleep. The rest of the time, she keeps giving me huge smiles until I start laughing and pick her up.
-Night weeks are definitely tough over here since Tom gets home in the middle of the night, but when he's home, he's home. It's like he puts on his "Dad hat" the second he walks in the door, and I've mushed about him before, but he takes such great care of us girls. Livi is crazy about him too.. but not his mustache 😉
Usually by Friday, I'm pretty exhausted from the week's events. Last night was a little more exciting because I came downstairs to pump after our 3am feeding, since Livi didn't eat as long as she usually does. Livi slept great and was ready to go at 6:45, but I was moving a little slowly. After I fed her when she woke up, Tom told me I could go back to sleep and he'd watch her while he got ready for work. No Friday cranky pants over here- the catnap changed my world.
-Growing up, my brothers and I always got swimsuits, sandals and a movie in our Easter baskets. I'm excited to continue the tradition with Liv 🙂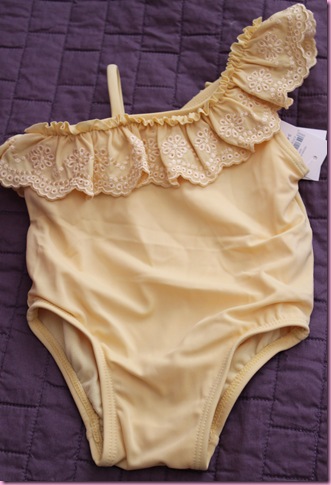 (30% off all sale items at Baby Gap until Sunday)
-Planning fail. Our nursery is in the loft, which is attached to the master bedroom.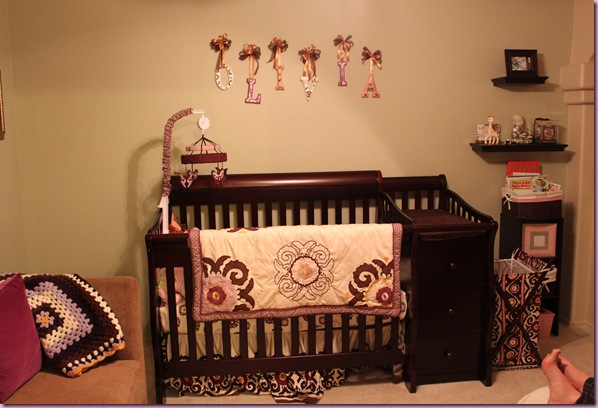 It also overlooks the formal living room and we have very tall windows.. with lots of sunlight streaming in. It's been really convenient to have the nursery next to us (even though she's still sleeping in the bassinet, but is going to be too big for it very soon), but we're wondering if the sunlight is going to affect her sleep schedule. In the summer, the sun goes down extremely late and rises extremely early.. and mama's not much of a morning person 😉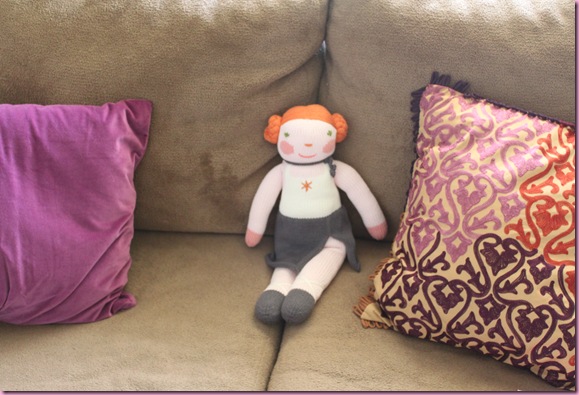 -I finally figured out the workout sports bra debacle: Power Y tank with a Champion sports bra over it (from Target)- under the tank doesn't quite work as well- with whatever shirt I'm wearing over that. Supportive tank, bra, shirt/tank. I love the Power Ys, but any tank with a supportive built-in shelf bra should do the trick.
-The dark line down my stomach is almost gone (hooray!) but the sad face bellybutton remains. It just looks disappointed now, instead of a full-out scowl, so I'll call it a win 🙂
-I first heard this song on the way home from yoga, the first time I left the house by myself after Livi was born. My hormones were still running amuck so I cried, but I probably would have cried anyway from hearing the lyrics.
I kind of let onto this on the the blog, but during my pregnancy, I was cautiously optimistic. I was so excited, so happy, and so scared to death that something might happen. I've heard so many heartbreaking stories, and while I tried not to think about it, it was hard not to. It sounds weird to say, but it was almost like I was afraid of really bonding with her until I knew she was here safely. That didn't mean I didn't try to –I still sang and read to her, talked to her and rubbed my belly all the time- but I couldn't help all of the "what-ifs" that were running through my brain. Now that she's actually here, it's a different type of worry, but I'm still amazed by the fact that someone we waited so long to meet is actually here.