I'm officially sick of every song on my phone.
I'll download new songs on the computer and then forget to transfer them over, so when I workout, I end up scrolling through a mix of random stuff on my phone: the Mowtown CD I downloaded for beginning aerobics, old pop/rap/Zumba/rock songs, Christmas music and the Pilot's Dos Gringos CD that always tends to appear when I'm working out.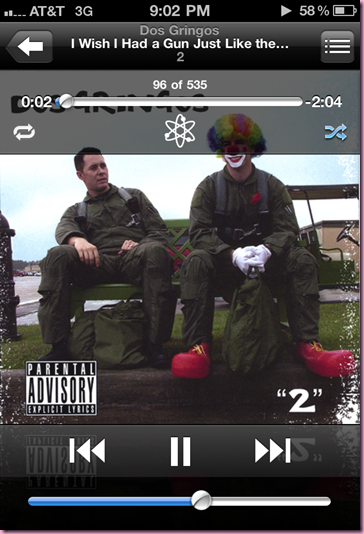 Fighter pilot songs performed by 2 dudes and a guitar. Not exactly heart-thumping treadmill music 😉 All I have to say is thank goodness for Pandora- LOVE the Pitbull and Muse stations.
While I was working out (did some weights and a version of the HIIT routine I posted the other day), I did a fun twist on the basic, quasi-inappropriate hip raise.
 

Take it up a notch: Hip Raise

To get the hard-to-target inner thigh area as well as the hams and glutes, start in the basic hip raise position:

-On your back, knees bent, feet on the floor hip width apart. You hands are at your sides with palms down into the floor. Important: be sure to keep your gaze straight up towards the ceiling to protect your neck.

-Place a playground ball (or medicine ball with very little weight) in between your knees (top pic above). Squeeze the ball and feel that lovely burn from your adductors (inner thighs).

-Complete the workout as usual, raising your hips towards the ceiling and lowering almost to the floor – keep about an inch above the floor when you lower. You can't rest that way 😉

-To make it even more challenging, try doing it unilaterally with one leg at a time (2nd pic above). The key here is to squeeze the ball as you raise, and also keep your knees in a straight line. Don't let the knee of the lifted leg creep up, mmm k?

-For even more fun, in between sets, lower your hips and squeeze the ball 10 times. It burns so good 🙂
Some recent eats:
Yesterday's lunch at Pita Jungle: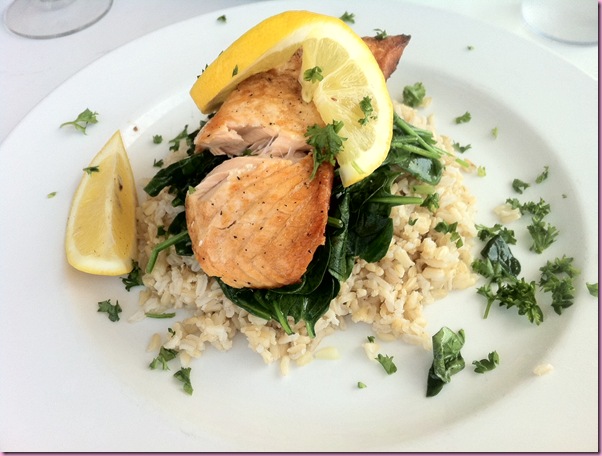 a gorgeously crispy piece of salmon (love when the outside is crispy and the inside is buttery….), brown rice and oily spinach. Someone got a little overzealous with the olive oil in the kitchen –that tends to happen with wilted greens- but the meal was amazing.
Especially since I was with my two favorite people 🙂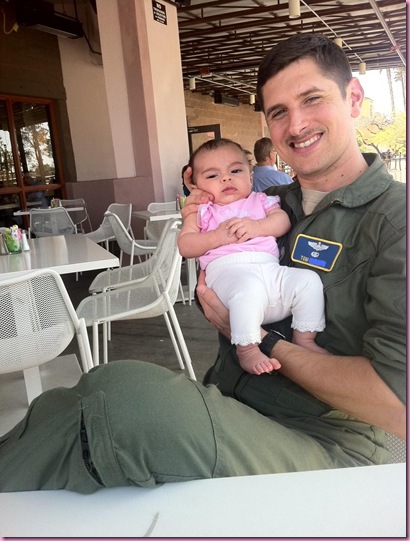 This morning's bowl of oats with Sun Warrior, cherries, almond butter and tea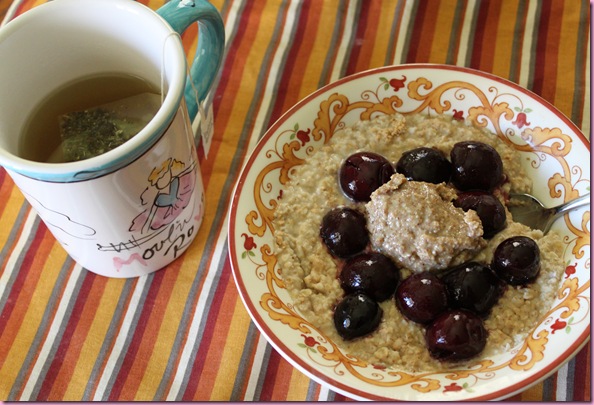 This morning we're off to the zoo with some friends, then to a party for the new major selects, including my hubby. He'll pin on in the next year – I'm really proud of him <3
Hope you have a happy Friday!
xoxo
Gina
Something to talk about: Do you use playground balls or stability balls often? They're a great way to add some oomph to traditional strength training exercises. If you don't want to order a small playground ball online, you can pick them up for a couple of dollars at Target or Walgreens in the kid's section. Bonus: they'll have Spongebob or wacky patterns 🙂
Zumba song of the day: An older one, but I still love it.