3/5: Thoughts from the week
-Whew! Writing blog posts is even more invigorating with a newborn. You're in "diaper/feed/pump/playtime/nap" mode and then all of a sudden it's like "try to write cohesive sentences. You may have 10 minutes, 30 minutes or an hour- who knows how long. Go!" Many posts are added to throughout the day.. makes things more exciting 😉
-She's napping in the K'tan right now, but thank you so much to those of you who suggested swaddling her for naptime, too. (We usually only swaddle at night.)  She took a great nap in her pack n' play the other day and the weirdest thing happened… I napped, too. Since she's usually attached to me, I worry about sleeping at the same time, but since she was safely in her pack n' play, mama could get some quality, mouth-open (so hot) shuteye. I figure I'll keep holding her or wearing her for most of her naps –she also sleeps well in the bucket- but if she can have one nap in the pack n' play so I can get extra things done around here, that will be bueno. Everyone tells you to "sleep when the baby sleeps" when you have a little one, but I'm sure many of you can attest that it's pretty impossible in the beginning.
-It's been fun to take Liv on a lot of first-time adventures, like the zoo yesterday. Even though she was awake almost the entire time, I'm pretty sure we had more fun than she did 😉 She probably won't remember any of this later, but I can't wait to show her pictures.
-One of the many projects I'd like to do is to make a baby book for her with all of the pictures up until now. I have photos of the family when they found out we were pregnant, the belly pictures, Bella curled up on the belly, ultrasound images, the blue and then pink cupcakes, hospital pics, tons of newborn photos with everyone who loves her, first bath, napping with mom and dad- it's going to be so much fun to put it together. When I was little, my mom had a huge photo album for each kid, filled with pictures from birth until current day. Every morning, from when I was 2-3 or so, I'd drag out the photo album and look at all of the pictures. I think Livi will love having one of her own.
-I also need to video her snoring in the K'tan or Moby and one of her cries because I hear they change as she gets older.
-Speaking of getting older, it's time to pack away almost all of her newborn clothes! Many of them have been borderline too small for the past couple of weeks, but she's officially in her 3 month clothes. Any good ideas on how to store them? I was thinking of just getting a plastic bin with a lid and labeling it with "newborn" but please let me know if you have any better storage ideas.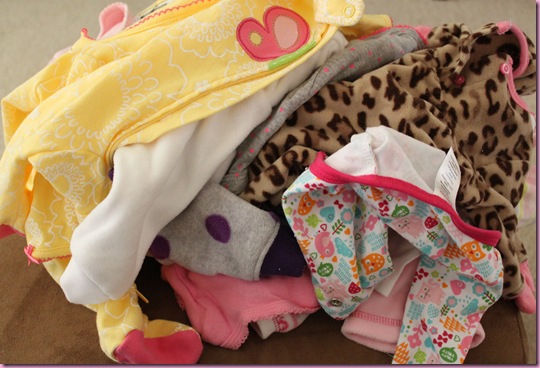 -It's hard to keep Bell off fresh baby laundry… and the Boppy.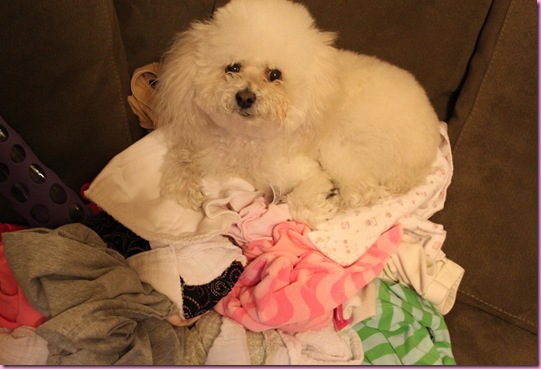 -Baby socks are SO fun… they make so many cute ones, it's kinda ridiculous. My favorite ones are in the pic with Levi below with the tulle on the point, and also love the ones that look like little ballet slippers.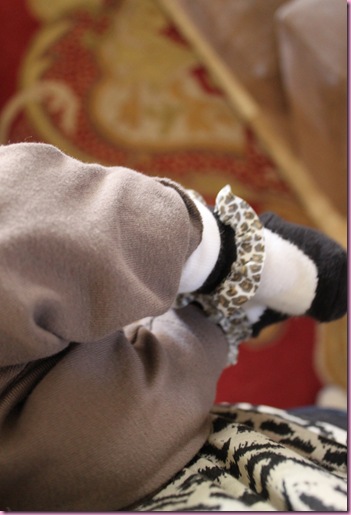 -Levi is one of Liv's BFFs, and is going to be here with his mommy (a great friend) for 6 months. I'm so excited to take Mommy and Me classes with them, and Liv is also excited- like her mama, she has a thing for older men 😉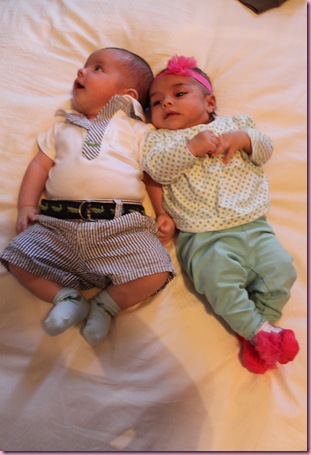 -We're re-doing the Family page to make the posts and topics easier to navigate. Please let me know if there's anything you'd like to see over here!
Coming this week:
-2 month post-delivery body update (first one is here)
-Q & A Part 2 (Part 1)