4/28: Thoughts from the week
-First I thought that my husband holding a baby was dreamy, but wearing an Ergo just takes it to another level.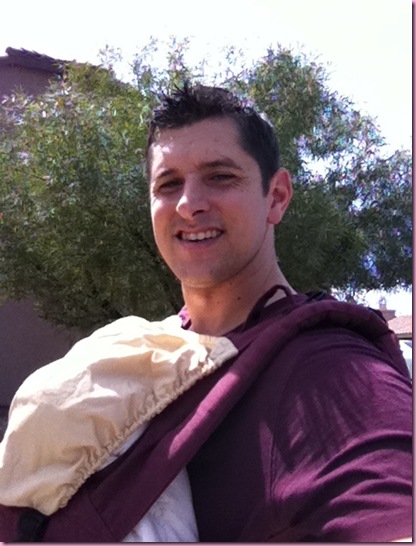 -Babies in sunglasses = just about the cutest thing ever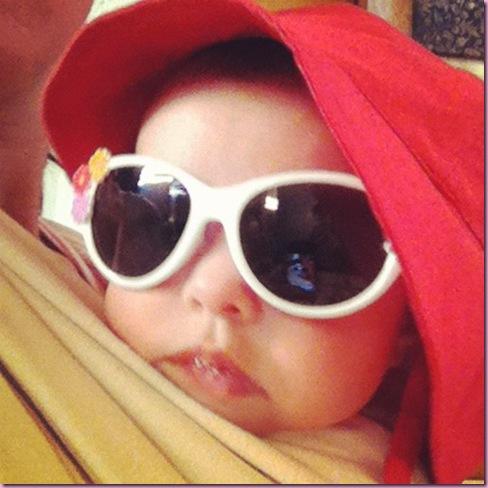 (They're still a little too big, but it was fun to try them on and snap a photo)
-We got a new printer. This is the "test paper" that Tom printed out and then taped on the nursery door.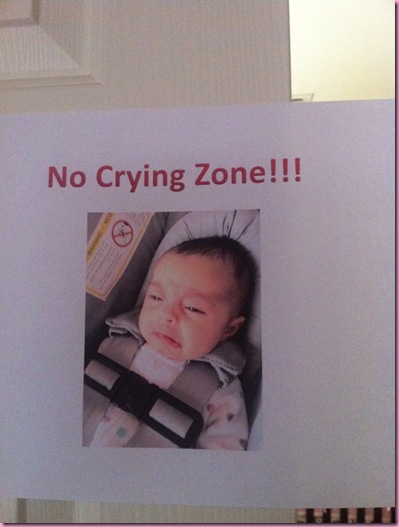 Needless to say, that rule has been broken 😉
-The people who say you "get used to the sleep deprivation" are lying. I never got used to it, and was exhausted all the time. Now that we've been sleeping through the night for a while, I feel so much more energized during the day. Many times, we'll do our first feeding of the day in bed and go back to sleep snuggling. It's the sweetest thing ever <3
-My doctor suggested rubbing coconut oil on my belly at night to help it firm back up and I go to bed every night smelling like a macaroon.
-Things have been going really well over here. In the beginning, we were in survival mode, and I can't believe how quickly the little baby that we love and have been taking care of is showing a very distinct and amazing personality. Things that have made it better and easier: smiles (and now, giggles!), getting Olivia on a schedule so it's easier to get out of the house and do things (we'll leave after she eats and then she has 2 hours to happily enjoy wherever we are, then fall asleep in her carseat on the drive back home), watching her grow, learn and develop, and when I stopped being so hard on myself about the breastfeeding thing.
Taking on a different role and trying to balance everything has been a juggling act over here, and when I was first starting to figure this out and was really emotional and overwhelmed, I had to have a "come to Jesus" that things are entirely different now. Of course you expect it and are ready for it, but it's different when it becomes reality. There's also the whole issue of comparison and judgment, which can make things even harder than they already are. I'm not just talking about myself here, because I've been so fortunate to have the support of my family, friends and all of you during such a crazy time, but moms/women in general.
I listened to a Jillian Michaels podcast while I was driving today, and it was about how moms are "damned if they do and damned if they don't." One of my friends told me that becoming a mom is like being punched in the face, and in some ways, it's very true.
Here are some of the things Jillian talked about:
-The contradictions. To paraphrase: "Wow, talk about eating for two! You've gained way too much weight and "You still look really small. Maybe you should eat more and not exercise so much"
and some that I've heard/seen: "You're going back to work? You're selfish" and "Oh, you're staying home with the baby? Must be nice…."
-Opinions about everything. "Oh, you're giving the baby formula…" "Did you have a natural childbirth?" "Are you breastfeeding?"
The main point of her podcast was that moms and women should support each other, especially when they're going through a challenging time. I couldn't agree more. Different things work for different families, and I don't really think there's a "right or wrong" if you're leading with love and the best interests of your family at heart. I also think it's funny how people compare misery stories, like if one person is struggling, their situation doesn't matter because someone else had a harder time in their life.
Kind of like the wisdom teeth thing.. don't ever tell a 2 wisdom teeth story.
-Now that I'm at this point in my life, I wonder what I used to do all day. I thought I was so busy, and while I kept myself entertained, something was missing. Now, it's hard for me to imagine my life without Livi. She continues to surprise us everyday, and fills our home with more love than I thought was possible.