5 months ago was our first full day at home after coming home from the hospital. After our first few nights as parents, the first night with our baby at home, a mix of adrenaline, sleep deprivation and wacko hormones, I remember thinking to myself, "this is really your life right now. Things really are this good."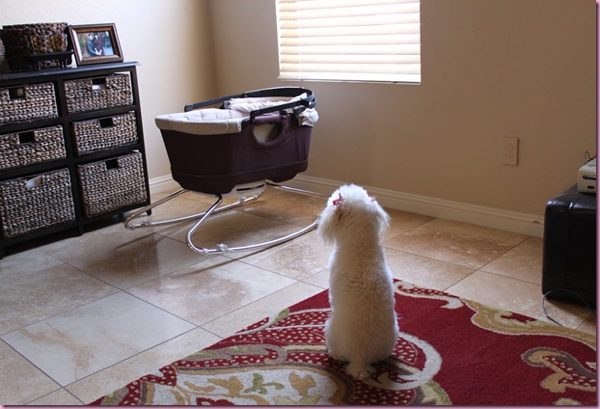 It didn't feel real, and Tom and I still say to each other, "we have a baby. This is our baby." 
She's changed so much since we brought her home: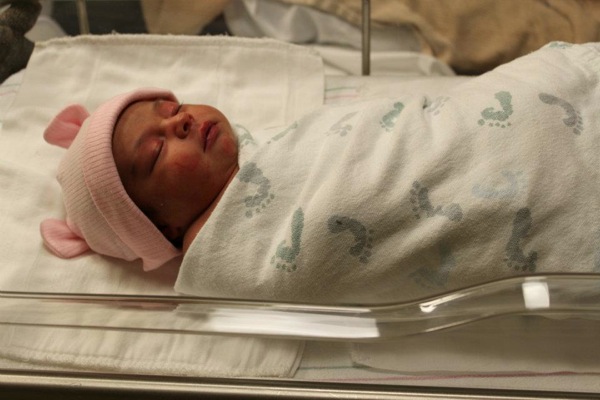 She's growing quickly, and is so smart, happy, alert, and most-importantly (thankful everyday for this one) healthy.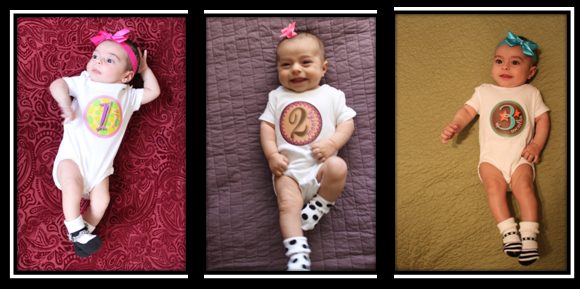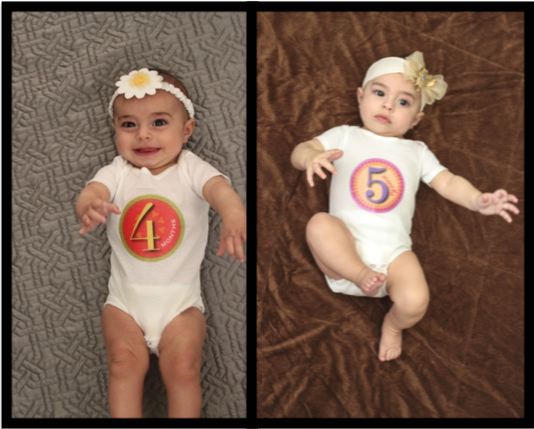 Here's what's going on this month:
1) FOOD! I've been so excited about solid foods for a while, particularly since I've had such a hard time with breastfeeding. I was happy to be able to give her whole, organic foods and introduce her to some of the things we love. It's so much fun to have dinner together as a family, to watch her face as she tries something new -when she first tasted the sweet potato, she looked up at me like, "why have you been holding out?!"- and so far she's had sweet potato, fennel and avocado. She loved all three of them. For this week, I picked up some organic peas, carrots, green beans and apples. We're trying the babyled weaning route (more info on that here) but one thing we're both kind of worried about is the issue of choking, so I make sure the food is pretty mushy before giving it to her. We still haven't bought a high chair, but for now, she likes sitting in my lap at the table, which works pretty well for restaurants, too. 
2) Jumping queen! We got her this exersaucer and I love watching her jump and jump in it.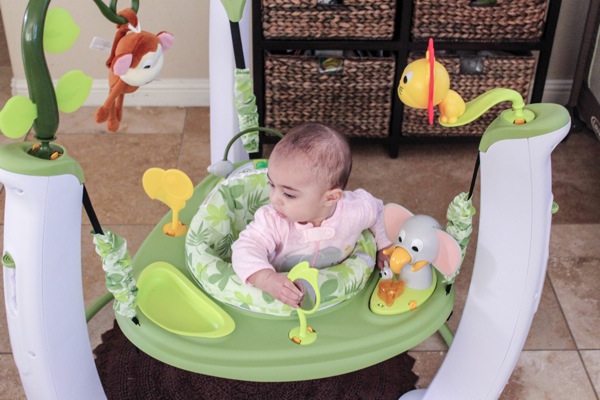 Some other things we're loving this month:
-Still lots and lots of books- we read at least a few everyday and she starts kicking her feet as soon as I take out a book. She likes to flip the pages herself, make sounds and try to eat the book. 
The newest in the collection: "Five Little Monkeys Jumping on the Bed," "Whoo hoo are you? and "Little Babaji" 
-Elmo! I was wondering what to do for the last 15 minutes before her nap -we'd already done the bath, a couple of books, tummy time, jumped in the exersaucer and taken Bell outside- so I went on YouTube and pulled up an Elmo video. She WENT CRAZY for it. It was Elmo singing ABCs with India Arie and she had the cutest little smile on her face. Those Sesame Street people know what they're doing.
-Adventures. It's nice to feel like I can take Liv anywhere and do anything with her. At first, I seriously thought I'd never leave the house again -I was either attached to the Brest Friend pillow or the pump- and now, I love to take Liv on little adventures and to see new things. Many days we stay home and just hang out and play, but it's great to have the option and feel confident that we can do whatever. Before, getting ready to go anywhere was at least a 2 hour ordeal (get kinda-ready, let her nap, feed her then go), and now I feel like I can pack up the diaper bag and have us ready to go within 15 minutes.
Yesterday, we went to the park to see the ducks: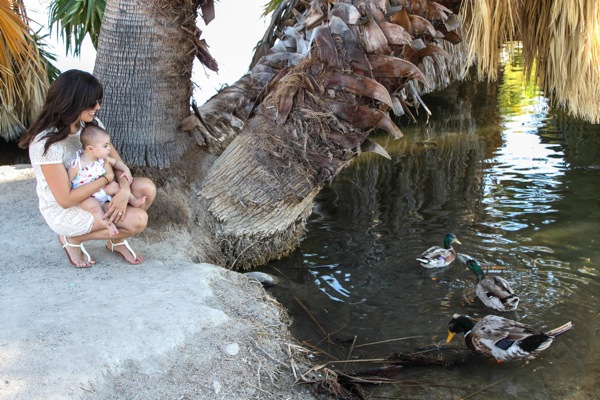 She watched the ducks, and I watched the adorable curiosity and wonder on her face.
-No teeth yet, but I have a feeling it's on the way! We have a tradition that the first person to spot a baby's new tooth gets them a pair of shoes. Not a bad deal 😉
-I'm still kind of crazy about her naps, and have a feeling that I'll be that way until she's in elementary school. We did a combo of "The Baby Whisperer" and "Healthy Sleep Habits" methods -which I can't recommend enough. No crying and she's been sleeping through the night for quite a while, following the Eat, Activity, Sleep routine. It works brilliantly, but I usually try to have her at home for her midday nap in her crib. When she sleeps well, she's so much happier and sleeps better at night, and I sleep better and am happier, too 🙂 Of course, we shake up her schedule a little bit if we need to, but most of the time, we try to be home for her midday nap. I'll run errands or go out and about with her either in the morning or the afternoon.
-Speaking of elementary school, I told Tom yesterday that you potty train kids when they're 7. He was like,"Wait a second, they make diapers that big? I thought I was potty-trained way earlier than that." And I said, "Nope, 7 is the magic number." I got a kick out of it, but I think I scared him for a second.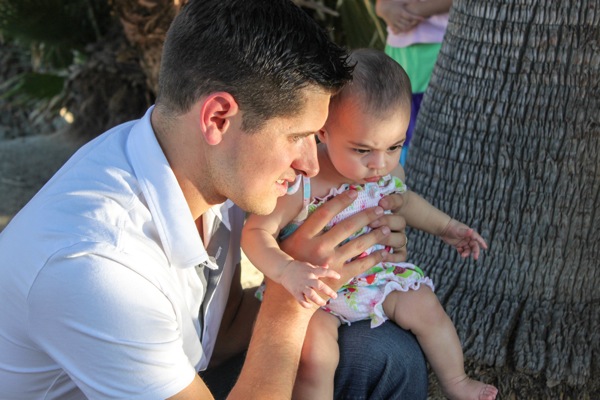 -As I've mentioned a handful of times, but haven't gone into the full nitty gritty, I went through some stuff after Liv was born. It was a huge adjustment for me, I didn't feel like myself, and while I loved our new baby with all of my heart, it was a challenging time. I considered stepping away from the blog when I went through the first bit of mommy judgment. I'm sure many of you can relate. As you know, mean comments are hurtful, but when you're in an emotionally fragile state, they can be devastating. 
A few people have asked me to talk a little bit more about it, but I'm waiting until around Liv's first birthday when I can look back at that time with a different perspective- one that isn't so fresh in my mind (even though I've been writing this entire time). You may have noticed, but I usually talk more about difficult points in my life after they're over. I don't like to be the complainer that says "this is hard. I'm having a rough time and haven't done anything about it yet." I like to be the one who makes it through and is able to say "here's what was difficult for me, here's what helped me, I kept a positive attitude, but I'm glad it's over."
Of course, Liv is going to have times in her life that are challenging. I wish I could take the mean girls out of her life before they show up, but I can't. I just hope to give her knowledge and confidence, the ability to keep a positive attitude, fight through it, look back and be proud of herself.
From what I can already tell, she's a smart little firecracker. I think she'll be just fine.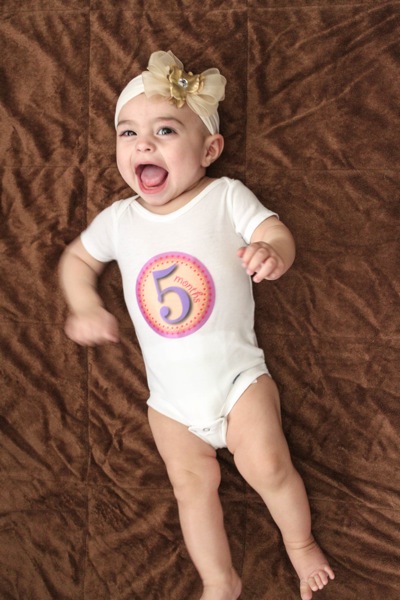 More: