Hi 🙂 Thank you so much for all of the amazing enthusiasm for this year's Summer Shape Up! (Fashionably late to the party? Check out the intro post if you'd like to join in!) So many of you have done the first workout already and I'm glad to hear it was as challenging and fun for you as it was for me. Hopefully those biscuits were burning 😉 Don't forget to check in at the end of this post when you complete your first circuit workout and HIIT for today.
Sunday afternoon, we decided to hit up the very picturesque Agua Caliente park to take Oliv to see the ducks.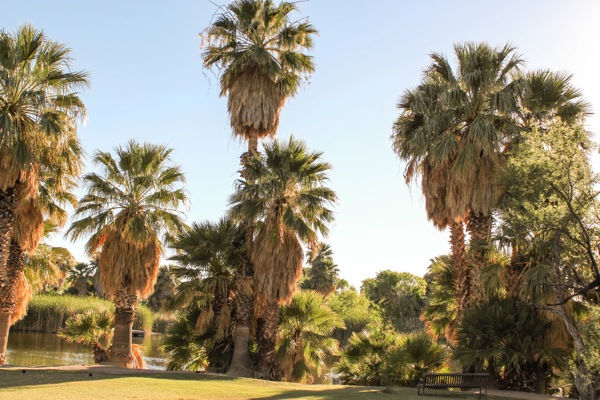 Agua Caliente is an oasis in the middle of the desert. It's funny because while you're driving there it's cactus, brown, dried-up desert and then BOOM: greenery, trees and water. I love the fact that the lake is filled with ducks and little turtles who like to poke their heads out of the water and look around.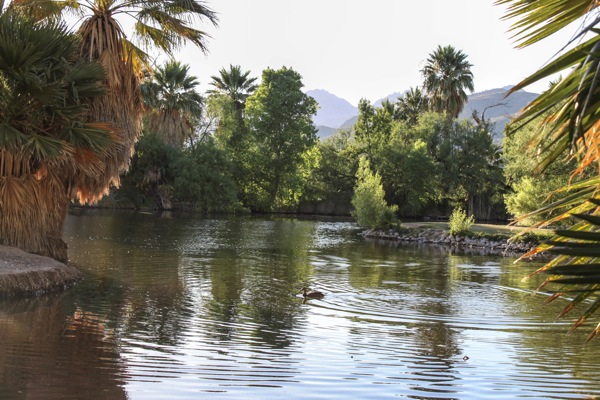 It was Liv's first time seeing ducks in real life (she's only seen pics in her books and had to listen to me try to "quack." Poor girl) and she was fascinated.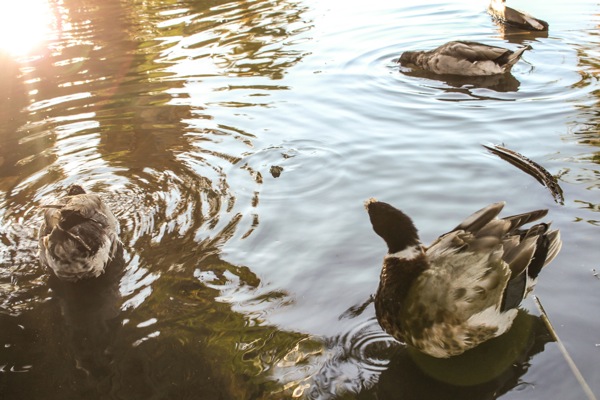 Of course, I was ready to make a quick escape the second a duck started looking scrappy… I had a traumatic run-in with a goose when I was about 3.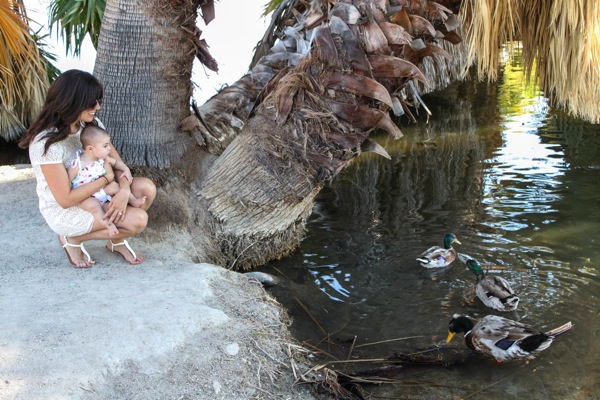 There were so many families at the park enjoying the day, BBQing and picnicking. We're going to try and have a breakfast picnic one of these upcoming weekends.
As far as eats go, summer eats are in full swing since it's a thousand degrees here.
Lots of smoothies, fruit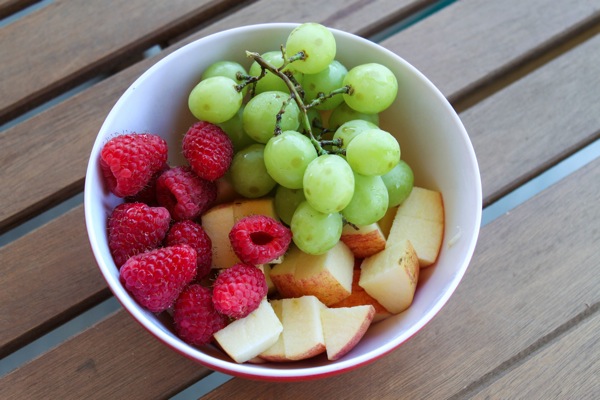 Salad beasts,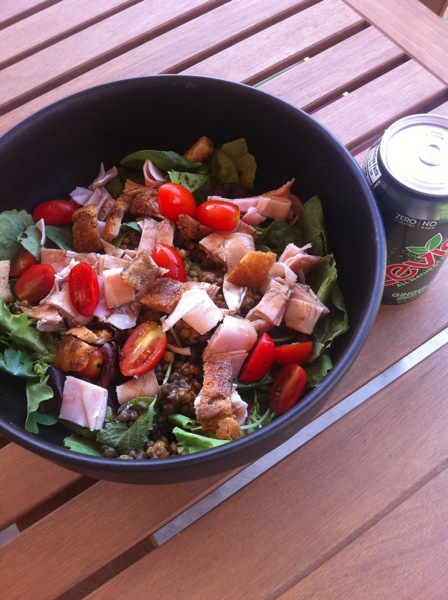 (that one had greens, turkey, lentils, brown rice bread "croutons," tomatoes, balsamic vinegar and Meyer-lemon olive oil)
made a batch of banana-almond muffins to crumble on breakfast cookie cereal or smear with almond butter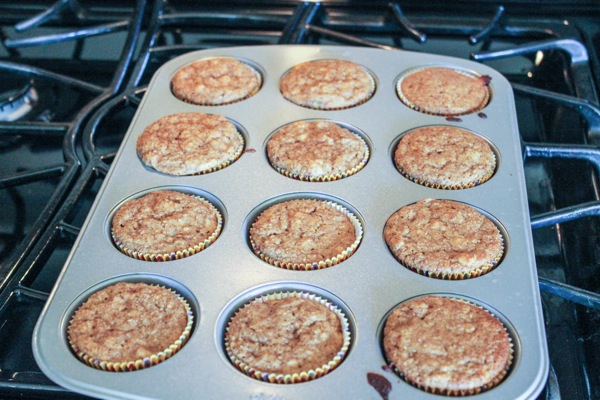 and continue to cover everything in Cholula, which really has no season 😉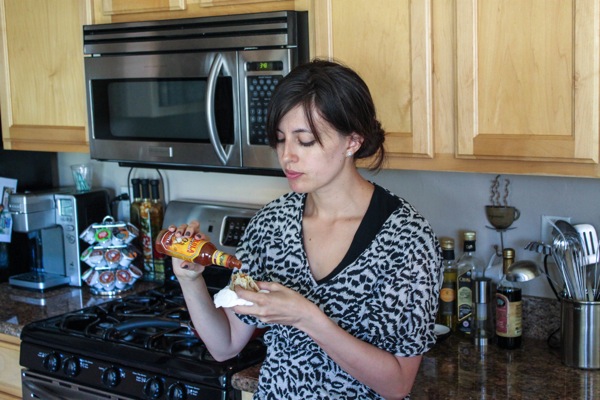 The Pilot snuck that photo of me yesterday: 100% immersed in my turkey wrap and the fact that I had to drizzle Cholula in after every bite.
I hit up a spin class yesterday afternoon and it KILLED me. The new watts/RPM bikes that we have at work are really effective… and make me feel like a slacker. I think about the days that I used to teach spin and then immediately teach Zumba afterwards and am hoping to get my cardio endurance back to that level over the next few months. Right now I could do one or the other, but both in a row would be a little cray. 
Here's one of the songs the instructor played yesterday- I love it. Perfect for heavy climbs or hills:
This morning, Liv and I are off to get some bday goodies for the madre- her birthday was yesterday but she was out of town.
Hope you have a wonderful day and I'll see ya tonight with a recipe <3
xoxo
Gina
Something to talk about: Are there any animals you're afraid of? I'm definitely afraid of German Shepherds since one bit me in the face when I was little, and my poor brother Trev was afraid of rabbits growing up – one bit his finger. If you asked him what sound a rabbit made, he would say "RAWR!!!" and stick his finger out. Very sad then, kinda funny now.
Also, please let me know if you have any new workout song loves! Since many of us will be hitting (HIITing) the gym today, a killer playlist always helps.
Something to do: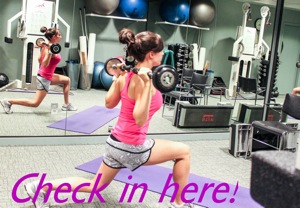 Did you do the first circuit workout + HIIT? How'd your eating go today? Leave a comment to check in so we can cheer each other on! Not doing the Shape Up? Check in anyway! I love to hear what you're up to.
Shout outs to some of the amazing ladies who rocked it out yesterday: Joyce Fu, Lili, Mischa, Rachel C, Erin, Lindsay, Raya, Rebecca and Natalie!