I'd been waiting to write this post until the end of my pregnancy, and before I knew it, here I am.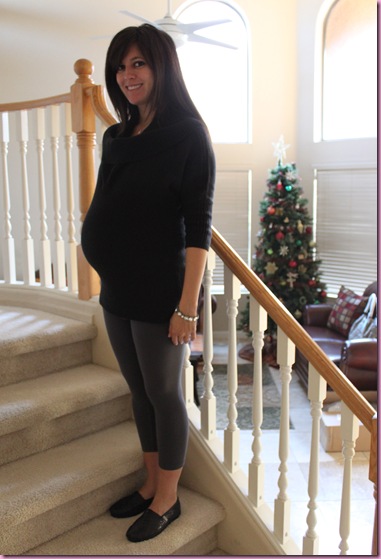 Just shy of 37 weeks, baby will be full-term this week, and can make her arrival whenever she's ready! It's usually more common for first-time moms to have a longer pregnancy, but my stepmom told me that my brother was 3 weeks early and he was her first child. You never know… I still have a feeling she'll be here early.
It's funny because I heard so many horror stories about being pregnant, and I've really enjoyed it. Some days are harder than others –like today when I was having contractions and couldn't put my shoes on- but most days are really, really good.
Here are some of the things that helped make this pregnancy a little bit easier:
1) Emotional support. I'm so blessed to have been surrounded by my family during this time, have an amazing birth team, and especially fortunate that Tom has been here with me. If he were deployed, I would have made it work, but getting to share all of this with him has been the best thing ever. He's been even more incredible than I could have imagined, and I can't wait to see him as a dad to our baby. I think that emotional support, someone that you can talk to about anything –my friend Jeni has been such a valuable resource for all of my random questions- helps bring comfort to such a new and uncertain experience.
Belly has a love-hate relationship with the belly… sometimes it's a pillow, other times, it's a landing pad or jumping-off point.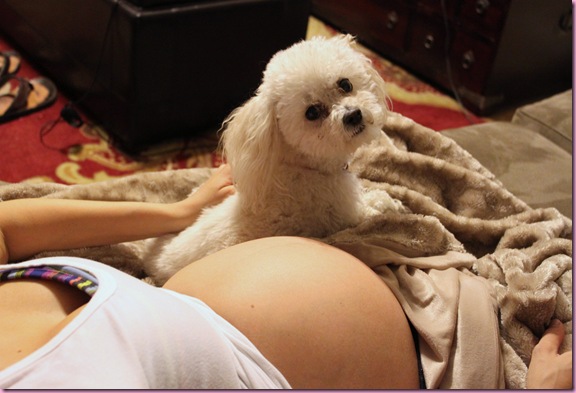 2) Physical support via the belly support belt and nursing bras that fit. There's no way I would have been able to stay as active as I have during the pregnancy (especially with teaching cardio classes), and the support belt ended up being a godsend. Same goes for the nursing bras. I bought a few of these Bravado ones, and they're quite possibly the most hideous and most comfortable bras I've ever owned. I've conveniently prevented Tom from seeing me in one by changing in the closet, or while he's downstairs. The girls have remained the same size throughout the rest of the pregnancy, but word on the street is that they're going to blow up any day now? I think I'm going to wear nursing tanks until I figure out the post-pregnancy bra situation.
Props to the support belt :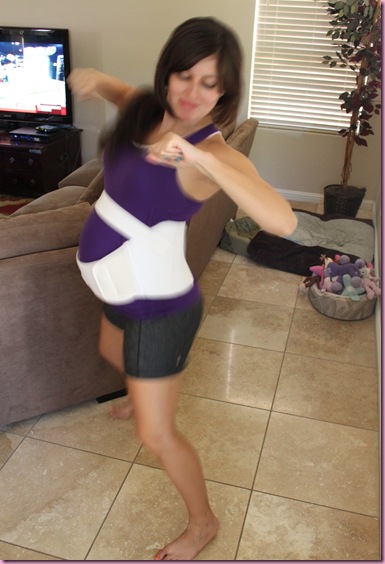 3) Fit Pregnancy. This magazine has been fun to read and super informative over the past 9 months. It's a mix of everything (fashion, workouts, recipes, nutrition, medical advice/tips) and has been my standard walking-around-the-track reading material.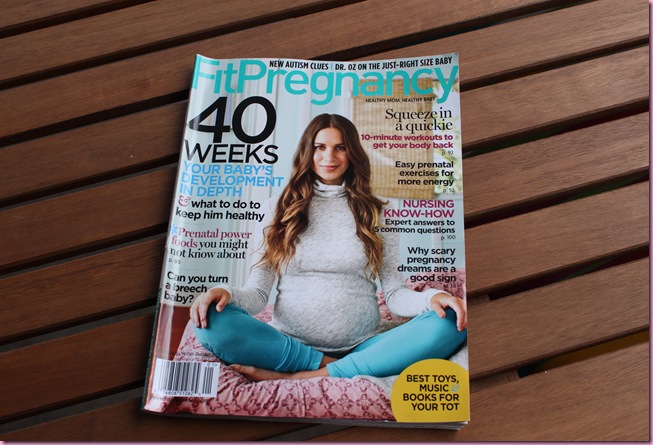 4) Snoogle pillow. I know I keep mentioning it, but if you're pregnant or it's on the radar, you need a Snoogle- it's a life-changer. Tom said he's burning it as soon as the baby gets here, though 😉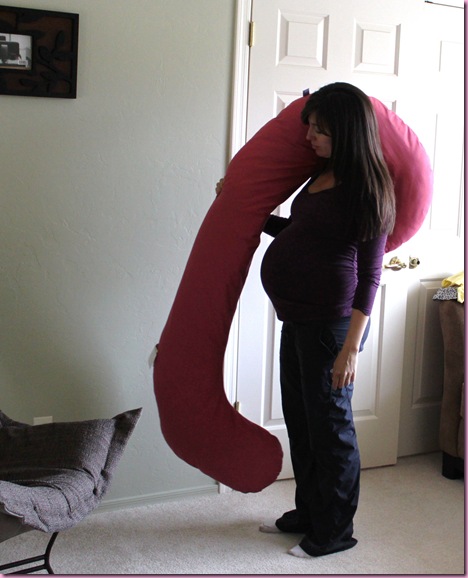 I'll miss you, Snoogle.
Random: I had a dream last night that two friends took the baby swimming, and the Snoogle was the baby's raft. I can't swim, so I was doggy-paddling behind them and trying to catch up.
5) Babycenter app.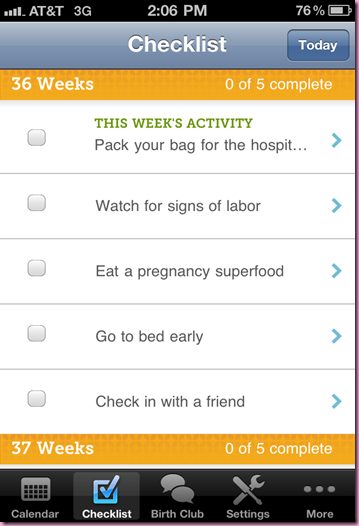 I really liked the weekly updates with the baby's progress (and what fruit or vegetable its size could be compared to), along with medical reminders, links and stories. Some of the things on there kind of freaked me out (like reading about all of the things that could go wrong), but for the most part, made me feel a little more prepared.
6) Lotion bar. This is all that's left of my sad little lotion bar I picked up at the Patagonia market.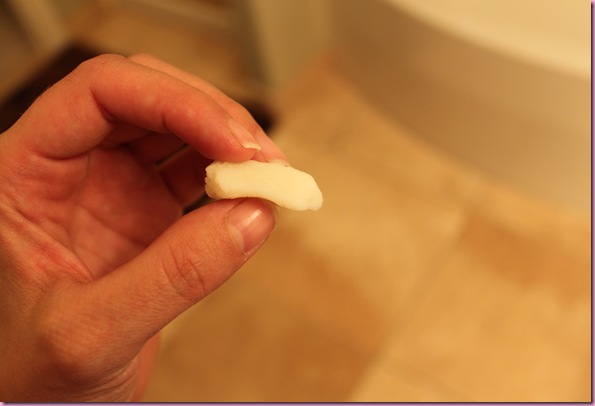 I've been using it every other day since then, and it's the best stretch mark prevention I've found. The L'Occitane was good, but I got sick of the smell pretty quickly (it's beautiful, but strong), and I liked the ingredients in the lotion bar more: cocoa butter, shea butter, beeswax, essential oils. I can't get ahold of the woman who makes them, so I may venture into making my own this week. I think they'd be fun stocking stuffer ideas, too! You just warm a piece of the lotion bar with your hands until it becomes smooth, and use it like a body lotion. I rubbed it on my belly, hips and boobs, and am 100% belly stretchmark free. (I think some of that has to do with genetics, but I figured it couldn't hurt to use something to prevent them, and I really think it helped)
7) The little things. Just like pre-pregnancy, I had my days where I felt great, and others where I felt totally gross. I think all girls have those "I feel blah and not-pretty days" and I found that during pregnancy, it felt worse if my eyebrows weren't waxed or my toenails needed some help. Keeping up with my normal routine and the little things that I enjoy really made a difference. Spa days, daily walks, hanging out with friends, snuggling with Bell, a little power nap, regular hair cuts and wax appointments, a little tinsel strand, all made me feel not-so-blah on my otherwise blah days.
What was your pregnancy must-have?
Friends sans kids, what's your pick-me-up on a blah day?
A crier: Mom's Hug Revives Baby (Thanks to Karen for the link!)