7 things I learned the hard way
 Hi friends! How are you? I hope you had a wonderful weekend! We met up with the family for Pizza Saturday, did a donut run, I took another hot yoga class and got in a strength workout, and we went to the pool not once but twice on Friday with friends. 
I'm catching an early Peloton class – Alex's classes are my faves right now – and then we're spending the rest of the day enjoying some summer adventures. School is starting next week (what?!), so I feel like it's the last hurrah. About a month ago, I felt like summer was dragging on forever, and here I am wishing it would last just a little longer. I'm absolutely craving a little bit of routine again (and solid blocks of time during the day to work), but at the same time, I'm going to miss these lazy mornings and days at the pool. 
Hands in the air if you're watching The Bachelorette tonight. I'm feeling ALL the emotions: excited, scared, nervous, devastated. I've read all the spoilers so I'm 99.9% sure it doesn't go the way I'd like it to go, man, all the drama has made for some fabulous TV entertainment.  
Today's post is a little bit random, but aren't those ones the most fun? I thought I'd share 7 life lessons that I've had to learn the hard way. You know what I'm talking about: the things you think are going to work out splendidly but end up being a major fail. 
Things I learned the hard way: 
Always put an extra pair of underwear (bonus for an extra outfit), contacts, and a toothbrush with toothpaste in your carry-on backpack for all humans in your travel party. Our checked baggage has been lost too many times. When I was stuck in Phoenix with the girls and zero necessities, I told myself that I will never, ever make this mistake again. (Thankfully our cousins swooped us up for a Target run so I could get some essentials!)
On the same note: never leave the house without snacks and water bottles for all. Something about driving makes the everyone equally parched and starving. 
Nail salons are for nails and waxing/threading salons are for eyebrows. Many years ago, I let a nail technician sweetly convince me that I should get my eyebrows waxed. As I felt her spread the wax from my eyebrows all the way down to cover my entire eyelid (!) I prayed I wouldn't end up like Christina from Grey's Anatomy. 
"Mama took my eyebrows."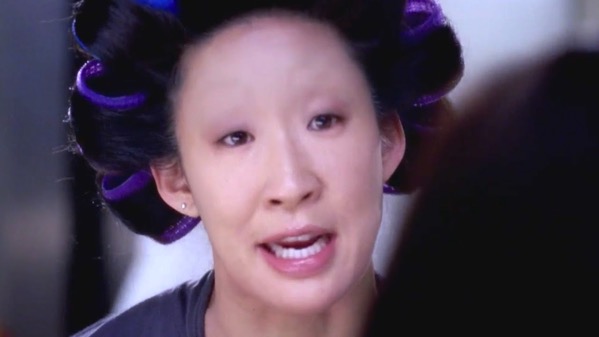 (Source)
Don't cook the Trader Joe's cauliflower gnocchi according to package directions. You'll have a goopy, soggy mess. Pan saute in a little avocado oil for about 10 minutes and they're crispy perfection.
Cutting your own bangs is always a bad idea. 
If you hate a book, quit reading it. Reading time is too precious to waste on novels that don't suck you in with their story or provide relevant information.
Never put steak in the Instant Pot. This is something I'll never forget. While the Pilot was deployed, I bought a nice grassfed steak from Whole Foods that the girls and I could share. I have no clue how to grill – my mom is now determined to teach me – and pan-searing never quite works for me, so I figured I'd put it in the Instant Pot. I retrieved a chewy, round, leather shoe. As Liv was chewing it (and each bite took maybe 30 chews for it to be possible to swallow), she sadly said, "I hate steak." I had to remind her that she actually loves steak when it's cooked properly. 😉 (Thankfully the Pilot and Kyle have cooked steak many times since this sad occasion.) 
I'd love to hear any of the random things you've learned lately; drop your life tips in the comments sections. Can't wait to read these.
xo
Gina