8/21: Thoughts from the week
-Thank you so much for all of the awesome car seat tips and recommendations! I'm excited to check out the brands the you listed and decide soon. Little miss is getting to be too tall for her seat, and while we're going to keep her rear-facing as long as possible, she'll be more comfortable in something larger.
-While I was pregnant, I couldn't imagine what labor would feel like, and towards the end with every little twinge, I'd think to myself, "Maybe this is it!!!"
No, not at all.
When it was it, I had no doubt in my mind.
Labor feels different to everyone, and for me, the beginning stages felt like extreme menstrual cramps, with most of the pain my back. When I was in the most difficult stage of labor -which ended up being 3 hours for me since the cord was wrapped- it was like a wash of pain that came from my toes all the way up to my soul. There's nothing like it. (Not to scare any pregnant friends- it was extreme but I'd do it again in a second if I needed to.)
I came across this article on positions to make labor more comfortable, but none of them worked for me. Writhing on the floor on my hands and knees, deep breathing and mooing seemed to do the trick, and towards the end, draped over the back of the bed with warm compresses on my back was the only thing that seemed to work. I tried everything and things that I thought would feel good didn't. It's really a matter of experimentation.
– I may or may not already be thinking about family Halloween costumes. It's been tricky to think of something for the 3 of us- all I have so far is a mermaid for Oliv, Tom as a fisherman and me as a… ? I don't know. Fisherwoman? Taking ideas 🙂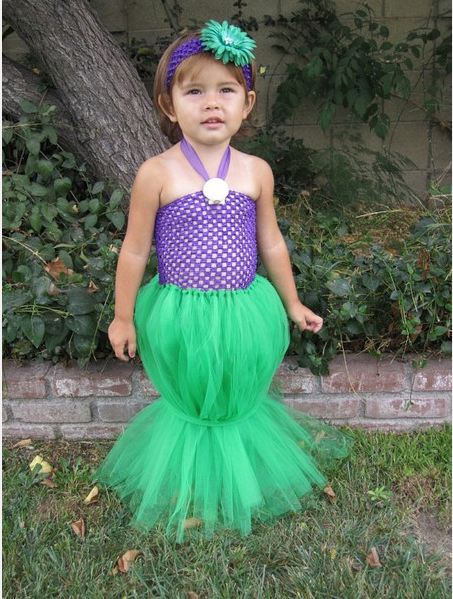 – Oliv LOVES music. If she ever starts to fuss, I start singing a song and she immediately forgets what was wrong. Maybe she just thinks I'm crazy, but it works. When she was a newborn, she wasn't a fan driving around in the car very much- it took her a week or so to get used to it, and we had quite a few ped and lab appointments. The cure: Zumba music. I'd pop in a ZIN cd and.. silence. I think she remembered it from all of the dancing we did together while I was pregnant and teaching.
She also loves when I put music on my computer for us to listen to during the day. We have our favorites (Pandora children's, Elmo, Jewel) and recently when we visited Jeni, she gave us a stash of music to burn. Liv has enjoyed her new tunes, and was also given a stack of CDs from our Australian baby whisperer friend, Lisa.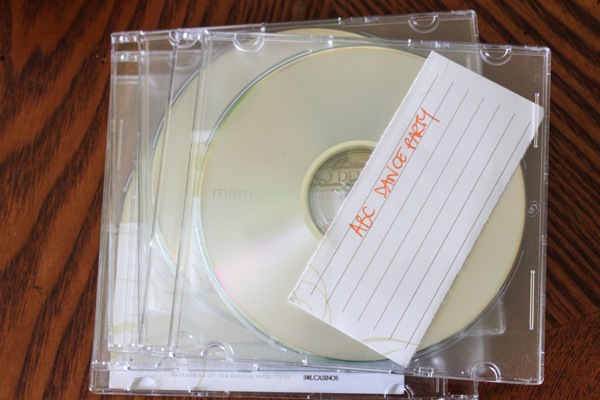 Here are some of the ones we listen to often:
-Jewel- The Merry Goes Round (from Target- has some unique songs as a fun way to change it up from the usuals)
-Baby Mozart
-Raffi
-Fisher Price- "If You're Happy and You Know It" has all of the classics, and Liv's favorite: "Bringing Home a Baby Bumblebee" even though their version is slightly different than the one I used to sing at summer camp.
-Lisa's CDs, including Paul Jamison, "Hello Mr. Whiskers," "Franciscus Henry," ABC Dance Party and other mixes
-She also gave me a ton of ideas for fun things to do with Liv around the house. (You can only sing songs, read books and play with toys for so long. At least my sanity can haha)
I'll share the ideas with you in a full post, but here's today's:
Mess-less fingerpainting!
All you need are finger paints, a zip baggie and tape.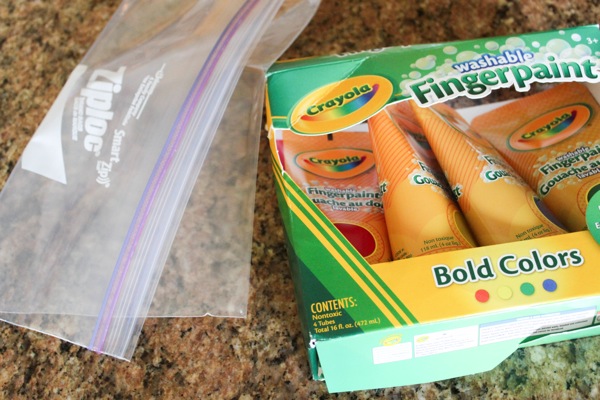 (these are for baggie painting only until she stops trying to eat everything. For *real* finger painting we'll make our own using a recipe like this, so when she inevitably puts it in her mouth, I won't be freaking out. I ordered her a baby smock for our first real finger painting adventure)
Just fill the baggie with a combo of paint and tape to the high chair tray (we used packing tape).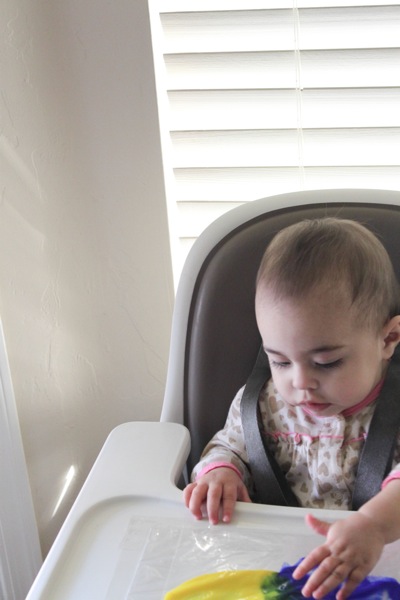 She was in awe of the colors and loved pressing down and mixing the colors in the middle. So much fun, and a great way to distract her while I put our lunches together. (Usually I'll give her raw fruit in the mesh feeder, but I'm in desperate need of a grocery trip)
Art minus the mess!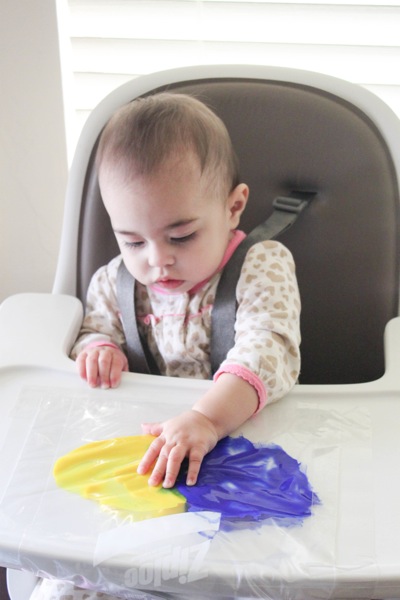 I'm excited to do more projects like this in the future. (Here are some of the other things we do together)
So what did labor feel like to you? What helped?
Any fun art or other activities you like to do with your kids? Thank goodness for Pinterest… and nanny friends 🙂