9 Months On, 9 Months Off
Back before I was ready for kids of my own, I used to get agitated when I would hear that phrase. "You should give your body at least 9 months or a year to return to pre-baby size." I'd think Why? Have you seen Jessica Alba? She was rocking a bikini way sooner than 9 months after having her baby. When you read gossip magazines, you're infiltrated with celebrity body-after-baby photos. Women are celebrated if they lose the weight quickly, slammed if they don't, and it can skew your view of what's expected/exaggerated.
Way back in the day, before Livi was a twinkle in my eye (and my heart), I wondered about how my body would react to gaining weight while pregnant. Here I was, maintaining a solid weight loss for so long… how would I feel to watch weight creep on, slowly and drastically?
When the time came….
I loved it.
Every time they weighed me at the midwives' office, instead of dreading it, I knew that every pound meant that my baby was growing. She was healthy, and that's all that mattered. I watched my stomach grow round and huge, and could picture her inside, swimming and hiccuping around. My booty was bigger and rounder, my cups spilleth over, and my skin was dewy and glowing (when it wasn't sallow and green with morning sickness, haha).
Before I had Liv, I thought that it would be hard for me to watch my body change, but the fact that I enjoyed every change instead of fearing it was a true sign that I was mentally ready to have a baby. If it would have happened sooner, like right after our marriage, maybe I would have had a harder time. I was still really insecure with my body -I think that it's just part of the package when you've been previously overweight- and I guess I'll never know how well I would have handled it. I'd like to give myself the benefit of the doubt and think I'd be mature enough to realize the miracle that was happening and let my insecurities fall to the wayside, but I like I said, I'll never really know.
9 Months Postpartum Body
So here I am, 9 months out from having a baby.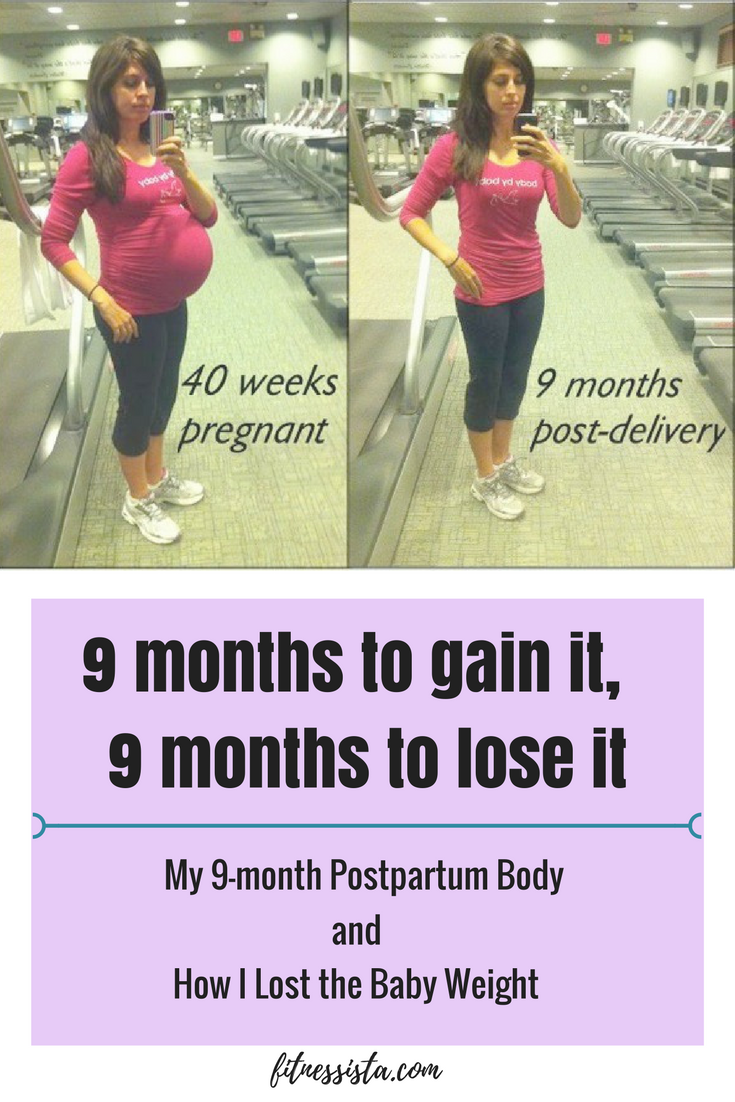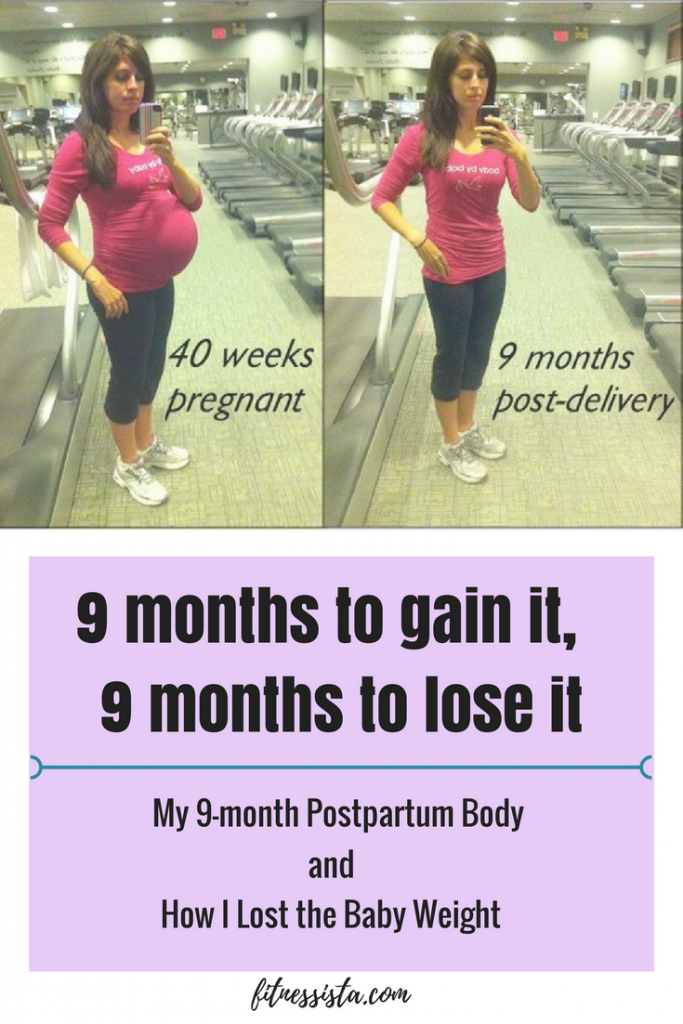 Am I where I was before?
In some ways yes, in other ways, not at all.
I lost the weight pretty quickly
It happens slowly for some people, fast for others, and so many factors can influence this. Pre-conception and pregnancy eating and fitness habits, breastfeeding, sleep, stress, hormones, genetics, and type of birth can all have an impact on recovery and weight loss. When I did my 4 month PDB post, I was pretty much back to my pre-pregnancy weight. Even though the weight loss was there,
My strength and muscle definition was no where near previous levels
While I was pregnant, I'm thankful that it was easy for me to stay active. Almost-daily cardio sessions felt great, whether it was a walk with Bell or teaching a Zumba class. Even though cardio was no prob, when it came to strength training, I took it easy. I didn't want to lift super heavy weights, so I worked to maintain where I was without increasing anything. Before long, strength training no longer felt good or "right," so I stopped.
My stomach was smushy after giving birth, and still is
My abs are finally visible again, but my lower stomach still has a way to go, and that's ok. Despite using stretch oil religiously, I have stretch marks. They've faded, but will probably always be there. I'll proud of my little souvenirs and am so thankful to have been able to carry and deliver a healthy baby. Close up, you can see the silver slivers that I'll never take for granted.
This is what my 9-month post-baby belly looks like: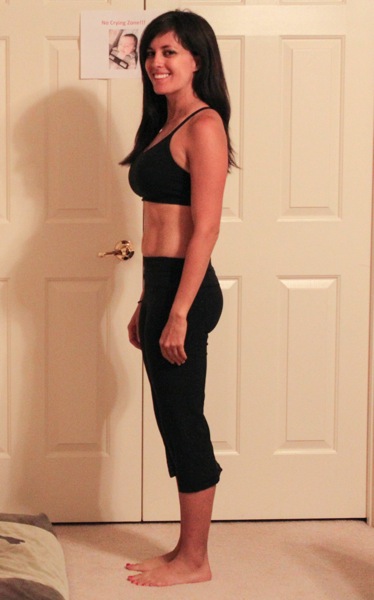 It's my new happy maintenance mode
It's the kind that allows me to exercise for health and enjoyment, while indulging in treats on a regular basis. If I wanted to eat only chicken breasts, green veggies and 1/2 sweet potato all day (aka fitness comp diet), my abs would look very different, but I don't want to live like that- I like food too much.
My boobs look 100% normal
This is despite my breastfeeding woes and exclusively pumping for months. This may be TMI, but I had always heard that breastfeeding gives you saggy breasts. I only breastfed for almost 6 months, so maybe the amount of time has something to do with it, but there are no visible effects from breastfeeding. Now, internal effects… there are a few. I was debating on writing about this in detail, but I've talked about it a little before- I damaged the tissue in my breasts from pumping. I was desperately doing everything I could to increase milk supply, so I would pump after every feeding and sometimes in between every feeding.. on high.. for as long as I could take it. I've pumped blood a few times and then would cry as I dumped it out (the midwife said I could feed it to her, but the thought of giving her bloody milk on top of the fact that I couldn't make enough for her broke my heart). I'm still healing, and sometimes I'll feel intense jolts of pain- so that's why I've been taking it easier on the arm/chest strength training.
How I Lost the Baby Weight
Since I've had quite a few requests for this, here are some of the things that helped me lose the "baby weight":
Making a healthy lifestyle change way before planning to become pregnant
By eating well and exercising, it was more feasible for me to continue those patterns and gain a healthy amount of weight during my pregnancy (34 lbs).
At the same time, be easy on yourself
This one I learned soon after becoming pregnant, as there were times when all I wanted was mayonnaise and salt and vinegar chips. I ate it, it was delicious, and then I made sure to get enough veggies for Liv to get some awesome nutrients. I enjoyed a lot more treats and fatty foods while I was pregnant, but just tried to keep a balance, reminding myself that as much as the baby wanted chocolate, she needed nutrients, too. In a lot of ways, I think it was good for me to relax because I've maintained a lot of this attitude after Liv was born. I want her to set a healthy example for her, and that includes enjoying treats and the "fun stuff."
Choose sleep over exercise
Yep, that's right. There were certain times when I really wanted to go to the gym because I hadn't had alone time all day, but I was truly exhausted. So, if Liv was sleeping, I napped or went to bed early. When you're sleep-deprived, your body will hold onto fat. As a new mom, you are perpetually sleep-deprived. So while it's important to get in some movement for an energy boost if you have a small amount of time, if you're dragging and wouldn't enjoy it: rest.
Don't diet
When I was breastfeeding, I was eating the same way I was while pregnant, with lots of healthy fats to promote milk supply. When I stopped breastfeeding (I pumped until I had nothing left), it was easier for me to listen to my body's cues (I wasn't as hungry all the time) and transition back to a lower fuel level without thinking about it too much. Your body will tell you what it needs- you just have to listen. Focus on eating well with the baby in mind, but also enjoy the things you enjoy in moderation. (Like when I switched to one cookie instead of multiples)
This may seem like a contradictory tip with everything else I'm saying, but it's a pretty passive way to guide your body back into place without thinking about it too much. I'm pretty sure this is the reason why my old clothes fit. It helped me figure out how to use my core again -I was hardly engaging it for the pregnancy because I felt like contracting my abs was smushing Liv- and the hip shrinker helped rein the hips back in. You can think I'm cray, but I think it worked.
RELAX
Stress can actually make your body hold onto and create more fat. Be patient with yourself and remind yourself to enjoy every moment, even the not-so-fun ones, and that your baby could care less about what your body looks like. I can now honestly say that babies grow SO fast. It feels like just a week ago that we were giving her her first bath, and now we're starting to plan her first birthday party. It's important to me to enjoy Liv as much as possible, while nourishing her, caring for her and giving her all of the love I can. At the same time, exercise can be a fantastic way to relax and unwind, depending on how you're feeling.
Way before I was pregnant, reading posts about baby weight loss tips were so fascinating to me. Then I realized when it was my turn, it wasn't that big of a deal. I was so focused on Liv, so thankful and so in love, it's not what mattered. I worked out, and still do because I enjoy it, but at the end of my life, I know I won't be thinking about that "one awesome elliptical sesh!" – I'll be thinking about the sloppy wet kiss Liv gave me on the cheek last night before putting her in her crib. At the same time, I hoping that my commitment to health will help me enjoy a longer life.
The skinny jeans will always be there. The chance to create beautiful memories? Fleeting.
If you are pregnant or have had a baby, I implore you to check out this incredible short film about the transformation of bodies and bellies post-childbirth.
<3
This will probably be my last PDB post, until the next bambino a comes around 😉 (added a link for my update from baby #2!)
Past posts:
Update: My Post Baby Bod Fitness Plan is now available!