As soon as I mentioned doing a candy corn popcorn recipe for the blog, the Pilot was hooked.
"Hey… so… um, when do you think you'll be making that recipe?"
"Which one?"
"That one you mentioned the other day… it sounds really good."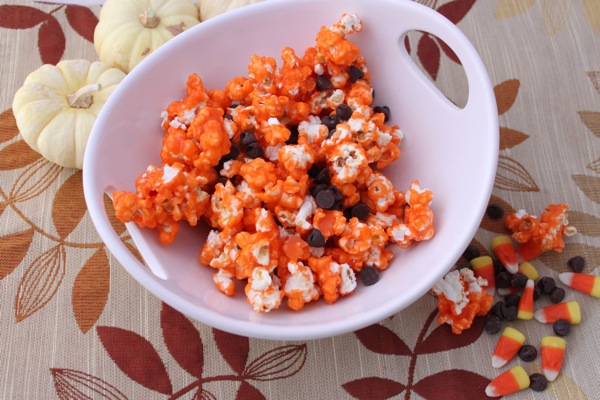 I think he was hoping I'd make it while he was home instead of at work, but it finally happened during a naptime cooking blitz. During naptime, I'll quickly clean up around the house, find something to eat, work/blog, paint my nails, and/or lay on the couch with Bell and watch Kardashians. (I used to keep it on during the day but now I'm starting to realize Liv understands everything.) It's a party, really.
And then sometimes, I get a little crazy in the kitchen.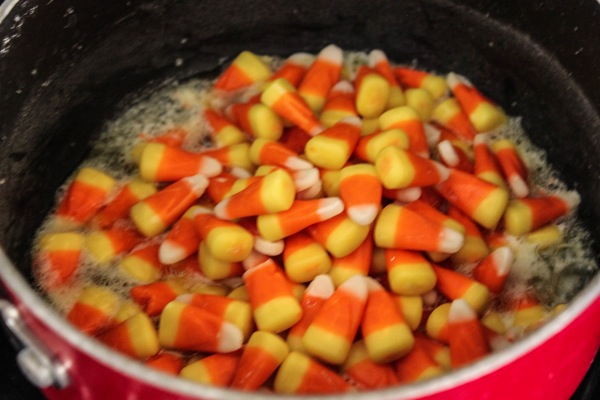 I do things like melt down my favorite Halloween candy and Paula Deen-ify it.
I debated posting this recipe, because I like my blog to be a resource for quick, effective workouts and healthy recipes (with shenanigans and adventures thrown in there, too). As far as "healthy" foods go, this one is pretty low on the totem pole. But then again, indulging IS healthy- sometimes all a certain food can nurture is the soul, and that's ok. It's important to enjoy your favorite things in moderation and candy corn… well, it's one of my favorite things.
I could make some kind of lame claim here like "it has whole grains from the popcorn!" but lets be real.
Just make some and enjoy, with eyes closed and whatever sound effects you desire 😉 If you're feeling generous, save some to share with the hubby.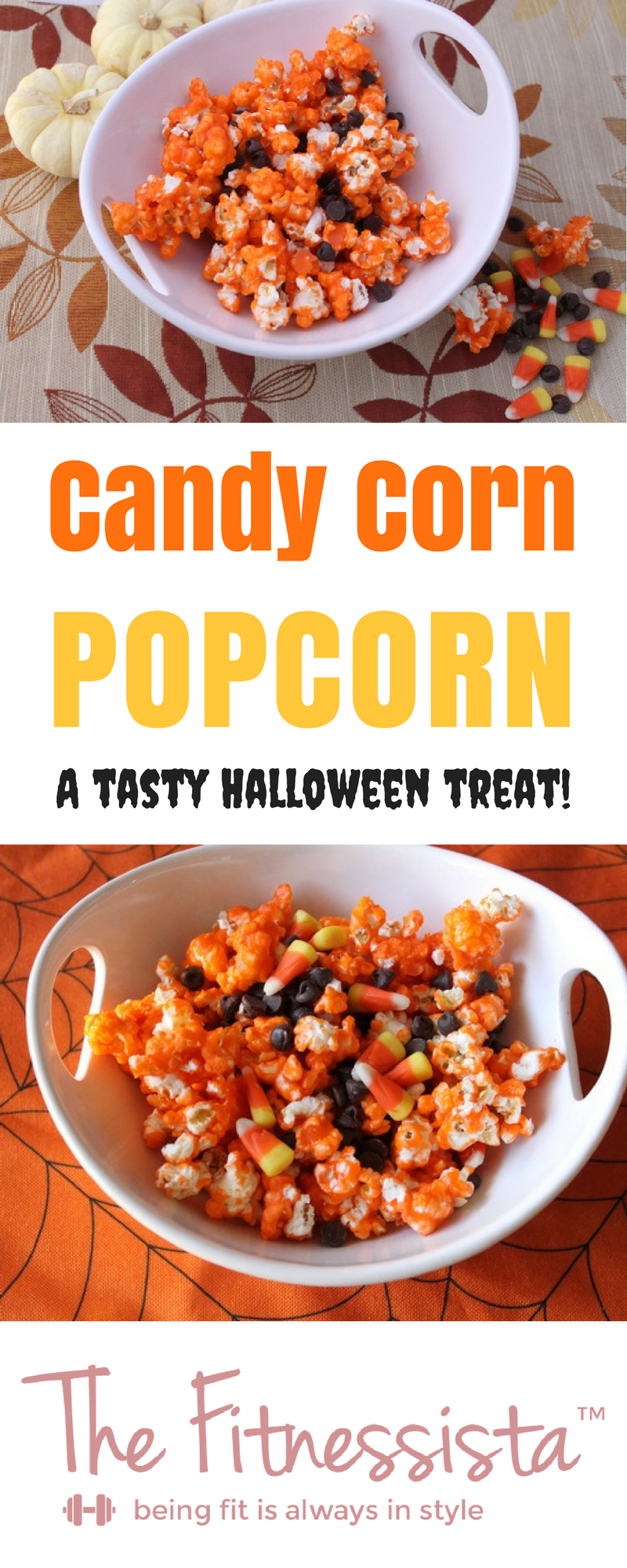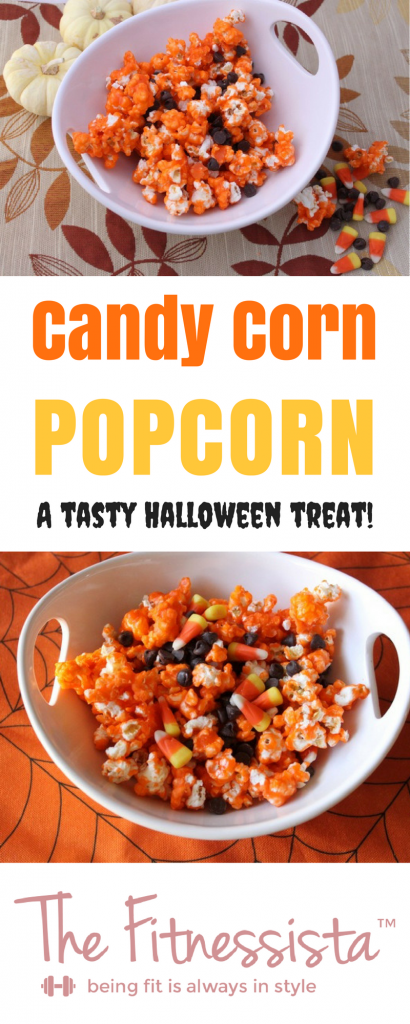 Candy Corn Popcorn
Like caramel corn's eccentric and way cooler cousin
The most annoying part of this recipe is popping the popcorn. I always have a minor panic attack as I remember the great popcorn fire of 2010 (I set a bag on fire at my mom's house and screamed bloody murder while my stepdad took care of it). You can use your preferred method or try the one I've put in the recipe.
Candy Corn Popcorn
3/8 cup

popcorn kernels (doesn't have to be exact, but I pop 3 rounds of

1/8 cup

popcorn in the microwave)

3 tbsp

butter

3/4 cups

candy corn

1

heaping tbsp brown sugar

1/4 tsp

sea salt

1/4 tsp

vanilla extract
Optional: extra candy corn and chocolate chips to sprinkle in
Instructions
Heat a medium-sized pot over medium heat and add the butter.
Pop the popcorn–add 1/8 cup popcorn to a paper bag, fold the top over twice and microwave for 2-3 minutes. Take the popcorn out when you can count to two between pops.
Pour popcorn in a large bowl and do the next round of popping (three times total).
While the popcorn is popping, add the candy corn, vanilla, brown sugar and sea salt to the butter and stir to combine as it melts.
Next, pour the liquid candy corn buttery magma on top of the popcorn in the bowl.
Spray a spatula or wooden spoon with cooking spray and gently stir to coat well.
Pour the coated popcorn onto a greased cookie sheet and allow to cool for 30 minutes of so until set.
Sprinkle with extra candy corn and chocolate chips if desired.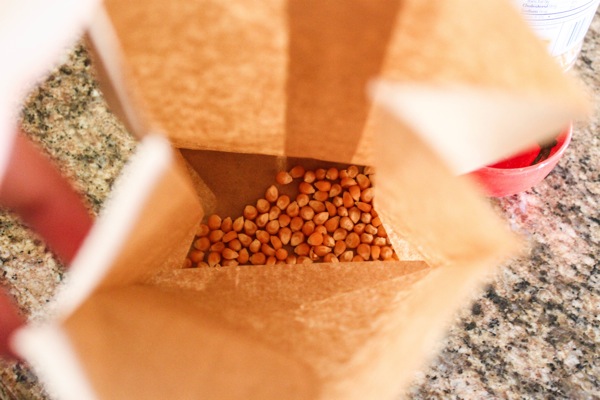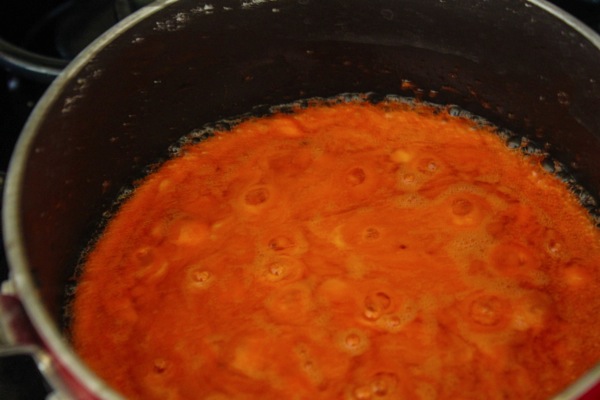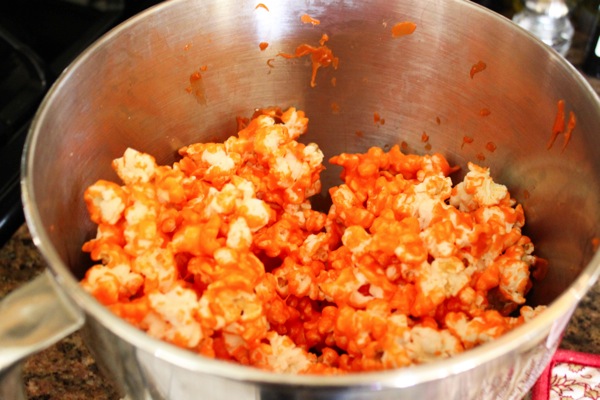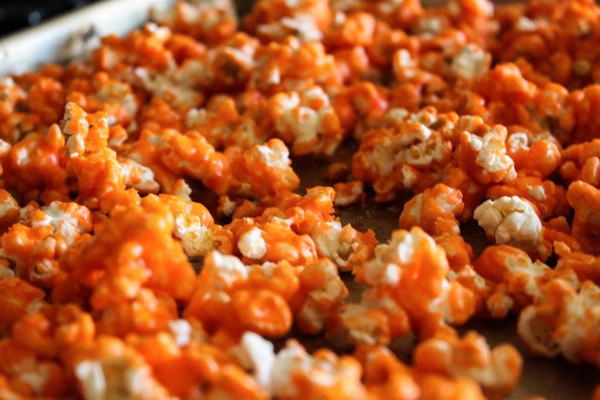 Waiting 30 minutes for it to set basically requires willpower of steel, but it's worth it for the crunch (but if you're like me, you'll like it warm and ooey just as much).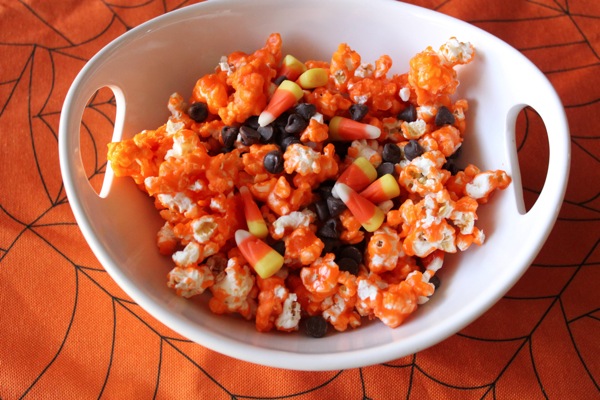 Enjoy! <3
More:
-And since we're in the spirit of foods that are low on the nutrients, high on the love, check out this dump cake recipe– the Pilot's bday is coming up, so I'm excited to make him a birthday cake