Hi friends! How was your night? Ours was pretty bueno- it was nice having the Pilot around for 4 days in a row! We actually got to hang out. I kinda liked it 😉
I was ready to post about our adventures in baby registry, but it was pretty uneventful. I'm more of an online shopper girl, so our online registry is way more beefy than our brick-and-mortar fare, and the only exciting thing was the crazy lady who cut in front of us in line at Target. [We didn't care at all] The cashier said, "Sorry ma'am, I think those people were waiting." and the Pilot said "It's ok, go ahead" and the lady got in his face and yelled at him. I had to turn away so I didn't laugh.. he was so nice to her, per usual, and she was a little riled up about something.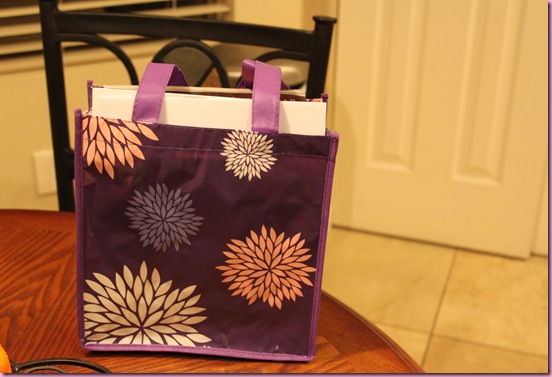 To make up for lack of afternoon adventures, I do have a legend to show you.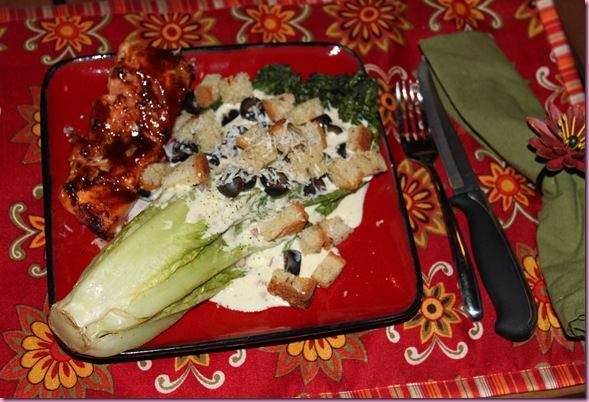 A grilled salmon Caesar salad beast.
Basically all of my favorite things in life on one plate: greens, goat cheese, salmon, homemade croutons, dressing… I swoon and faint.
When we got home, we were definitely ready for dinner and this only took 20 minutes start to finish.
I seasoned some salmon with steak sauce, sea salt, pepper and a little bit of BBQ sauce: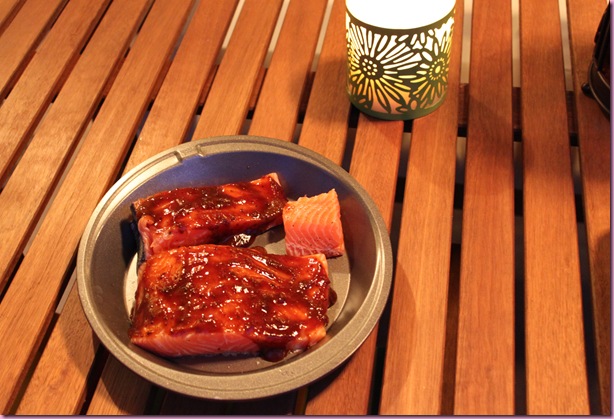 [I'm sure you can guess who the little unseasoned piece was for…]
and sprayed some romaine with the Misto and seasoned with sea salt and pepper.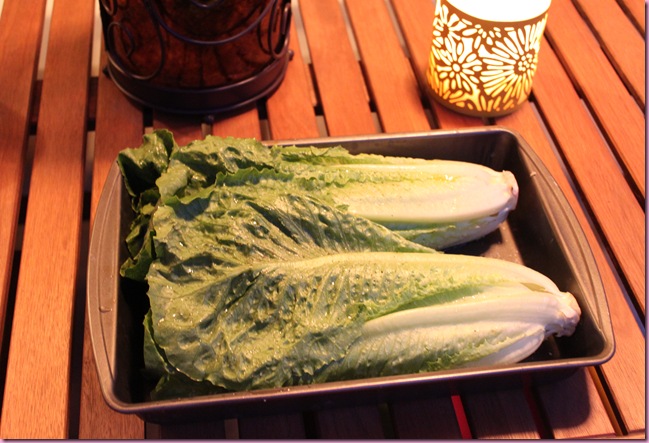 The Pilot grilled them up: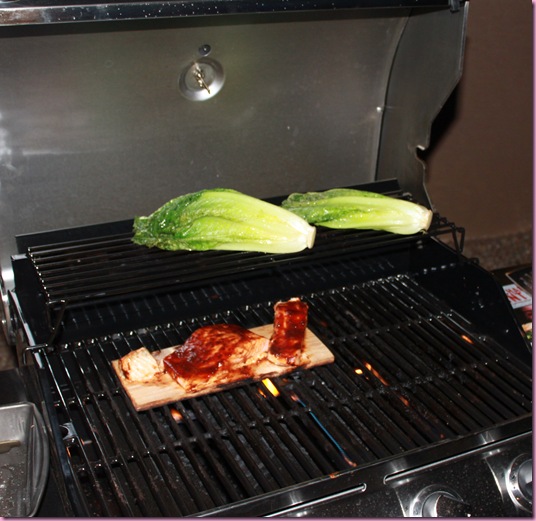 and while he was working his magic, I made the dressing and croutons.
Caesar Dressing

-juice of 1 lemon

-2 anchovy filets, minced <—do not fear the little fishy

-3 cloves of garlic, minced

-sea salt and pepper

-1/4 C shredded aged goat gouda + more for topping

-1/4 C almond milk

-2 T olive oil

-1/2 T Dijon mustard

-1 T Veganaise

Whisk all ingredients in a bowl and adjust seasonings to taste.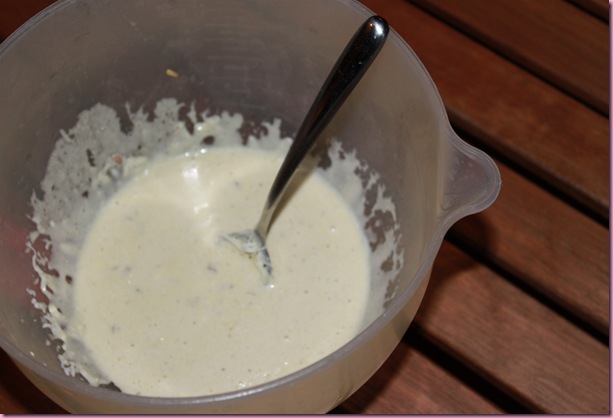 When the grilled goodies were ready, we poured the dressing on top of the grilled romaine and topped with sliced olives, more shredded goat cheese, and homemade croutons (cubed gluten-free bread sprayed with olive oil and put under the broiler for a couple of minutes) and pepper.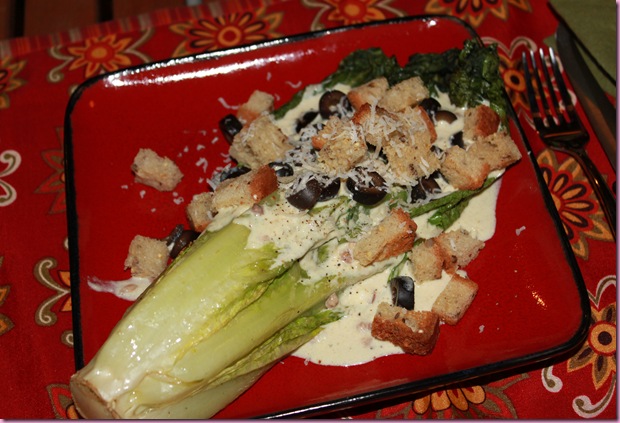 Cedar-plank salmon on the side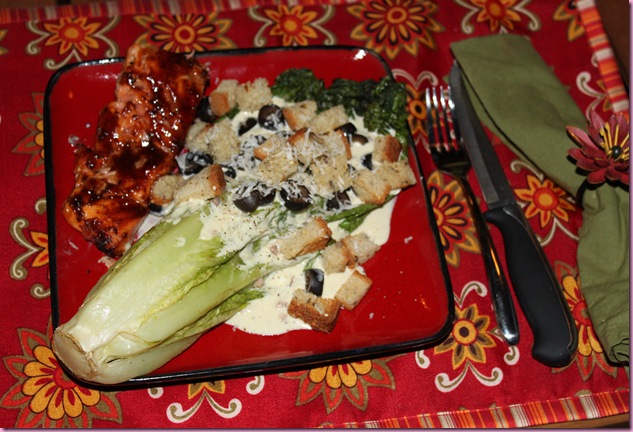 It was a legendary dinner.
So quick and easy, too!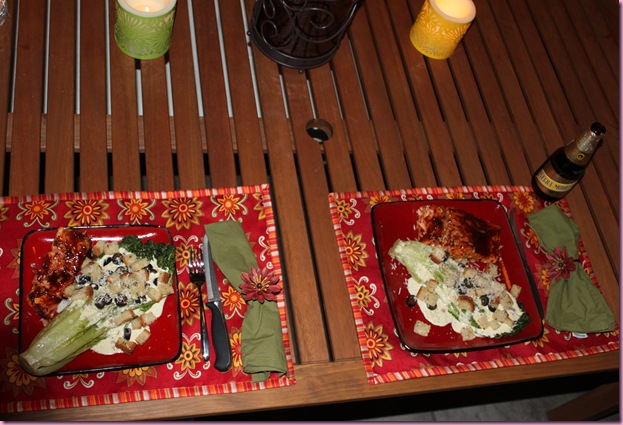 [Not my beer, but I did smell it]
I think there's only one person dog who enjoyed it more than we did.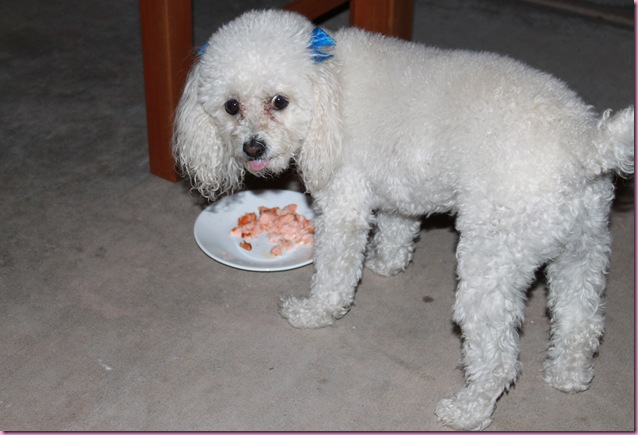 Bella = salmon freak.
A couple of work things left to do, and then it's bedtime 🙂
See ya in the morning with the Schweaty September workout <3
xoxo
Gina