A beautiful bloggy dinner
Hey everyone! How are ya? I'm bueno over here… even though I'm moving a little slowly after last night's vino 😉
To re-wind a little to the last part of yesterday's class, we went in after lunch and starting working on some fig tarts.
We were given the option to use the very basic recipe and be as creative as we wanted with spices and flavors.
I grabbed some of these little gems: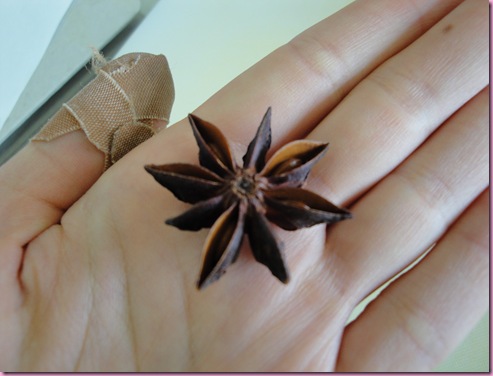 (Yes, I cut my thumb while working a couple of nights ago. I'm pretty sure that makes 6 cuts since I got here. I'm great with a knife, can ya tell? Haha)
I chose star anise because I love the licorice flavor.. and my adorable little cousin is named Anise 🙂
So to flavor up the tart shells, I used anise, nutmeg, vanilla extract, a little agave, and orange zest.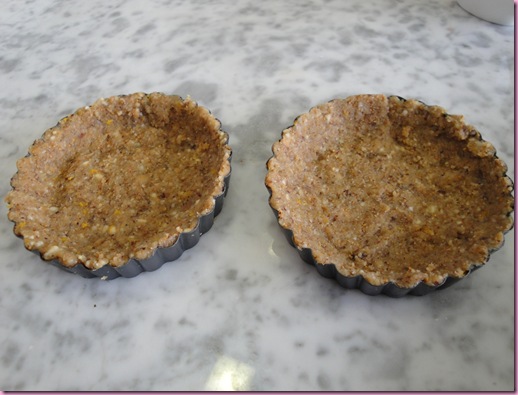 They smelled like heaven, and I flavored up the tart cream similarly but also included some orange juice into the mix.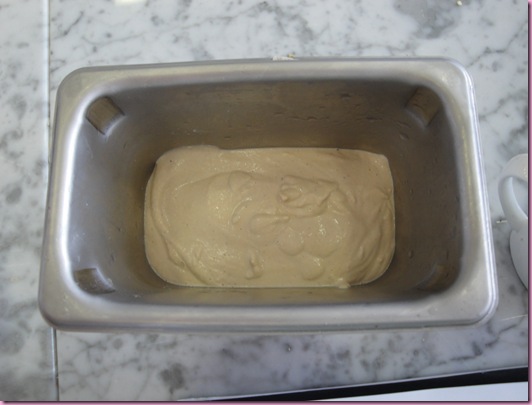 All of the tart ingredients are in the fridge, and today we'll be assembling them and topping them with fresh figs. And eating them, of course… should be ridiculous 😀
After school, a bunch of us stayed to do prep work for the kitchen since the restaurant has been SLAMMED all week. It's definitely a good thing, but we're trying to catch up with everything we've sold. The thing about raw foods that makes it tricky is that you have to make a lot of your ingredients before you can start (soaking nuts, making nut milk, hacking coconuts if there isn't meat available, juicing fruits, irish moss paste, date paste) so it takes a lot of pre-prep work. Then you can start making the components, then finally put it all together. So before we got started on our un-cooking extravaganza, a group of us make some green smoothies for an energy boost.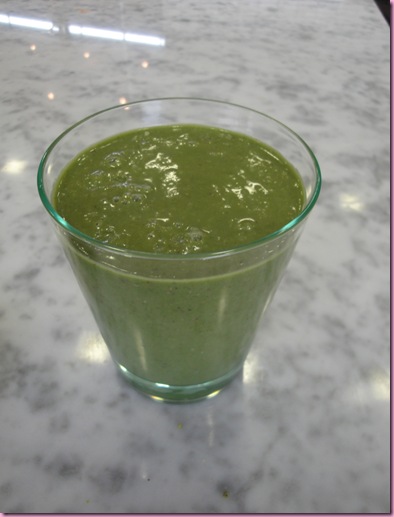 Mine had banana, Swiss chard, pineapple, almond milk, aloe, spirulina and chia seeds. Deeeelish.
I made some biscotti, malted chocolate tarts, and mango tres leches custard and then it was time to come home and get ready for a bloggy dinner 😀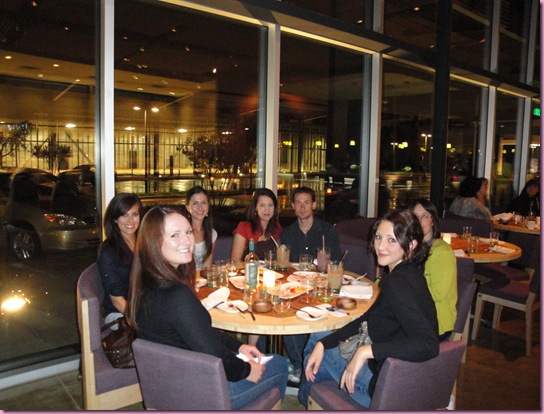 Meghan, myself, Michelle, Kacy, Dustin, Traci and Megan
First things first: a foodgasmic glass of Shiraz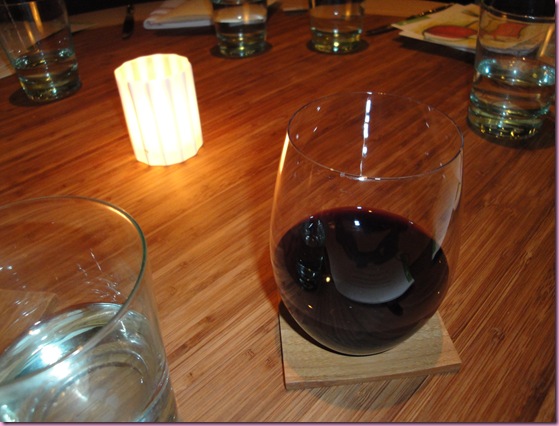 For the entree, I chose the sushi, which I've had before, but I really love it and it's the perfect size for a small meal—I was still feeling a little full and bloated from everything we ate at school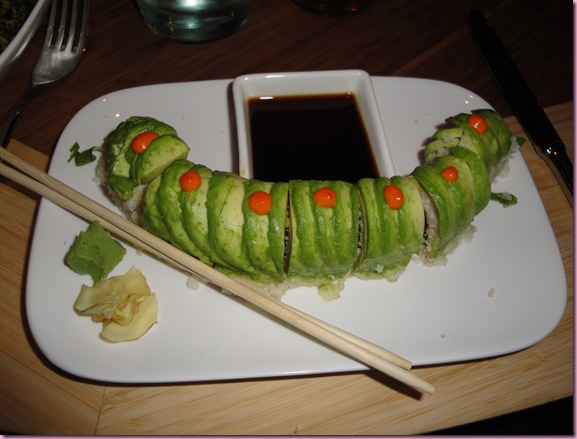 (that pic is for you, Donny)
And shared eggplant chips and hummus and kale chips with Michelle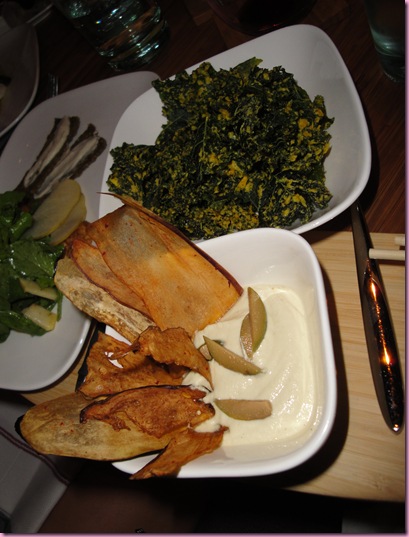 Those kale chips could quite possibly be my favorite thing ever. I'm so glad we learned how to make them in school because when I get back to Valdizzy, the dehydrator will be packed with those things 😀
The restaurant was so busy and by the time we got there and ordered they were out of some things, so the restaurant manager hooked us up with a bottle of wine and a table full of desserts. I don't think I would have minded at all because I was enjoying myself chatting it up with everyone, but I'm never one to turn down wine… or dessert 😉
Kelly (aka pastry genius) was so sweet to make a passion fruit parfait for me since I've been wanting to try it: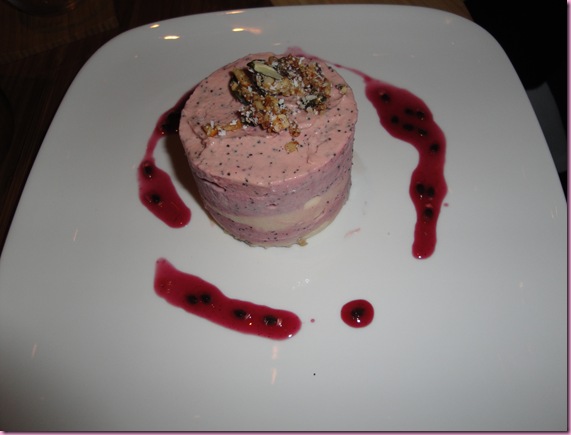 We all shared, and everything was amazing.
It was so cool to enjoy a meal at the restaurant from the customer side of things. It felt good to sit, sip wine, chat and enjoy a beautiful meal instead of stuffing my face on a quick break back by the dish pit 🙂 Thank you so much to Meghan, Kacy, Traci and Dustin for coming out last night!! I had a blasty hanging out and it was so lovely to meet all of you.
Well I'm off to get ready for class—have a great day and I'll see you later 😀
xoxo,
G