Hey guys! Happy almost weekend! Got anything exciting going on?? I get to see my husband. I'm kinda nervous, I hope he still likes me 😉 I'm way excited to take him on a date tomorrow night after our class final.
Before work last night, I busted open a new type of smoothie since I'm out of Vega: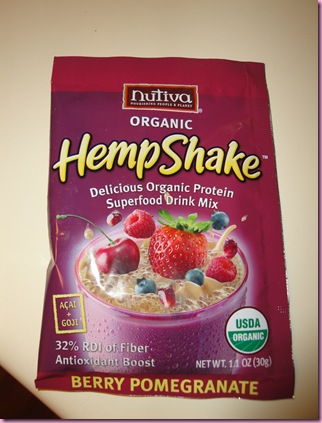 The nutritional info wasn't too shabby: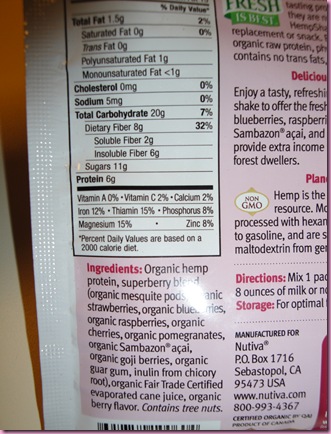 So you would think that this powder would be pink from the looks of the packaging, right? Um, not so much. It was the mangiest color of brown I've ever seen.
I added some frozen strawberries and almond milk to it in the Vita-mixalicious, which helped to give it a pink color, but it will had murky brown undertones 😀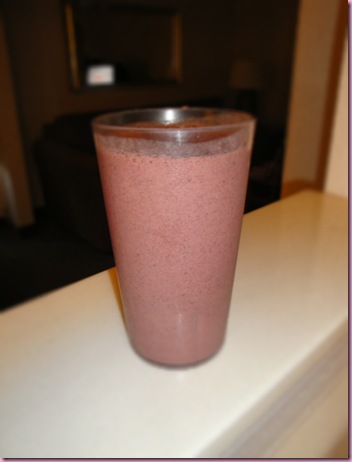 The verdict: delicious! Once I got over the color factor, I totally loved it and slurped away happily before heading to the mall 😀
I got some jeans, 4 shirts and a pink and grey scarf. Success 😀
Then went to work…
You guys wont believe what was waiting for me when I got there: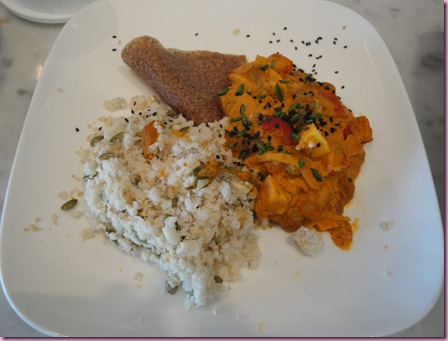 INDIAN FOOD!!!!
Raw vegetable korma with rice and dosa. I can't even explain how elated I was. I packed it up in a to-go box to munch when I got off work 😀
Plate of the night: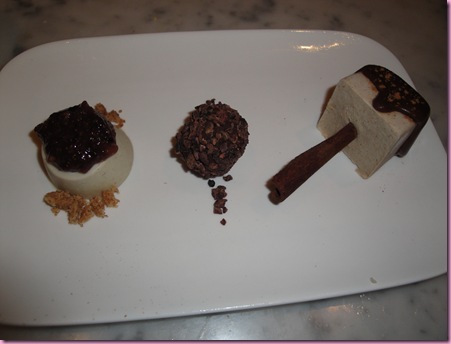 Cinnamon Trio- panna cotta with fig compote and crumble, cinnamon-spiced brigadiero (a glorious chocolate truffle with a little cayenne), and a ganache-dipper popsicle
Work was bueno but that Indian meal was even bueno-er. I scooped up every last bite of gloriousness with that dosa and went to bed quite happy 😀
Speaking of Indian food, holler to Rose who celebrated Indian Food Wednesday with an Amy's samosa, and to our girl GC who is actually going to India. Can you feel my jealousy through the computer screen?! 😀
Well it's time for me to start prepping food for tomorrow's meal! A famous raw foodist is actually going to be one of the tasters. Any guesses on who it might be?? Hint: SHE is one of my absolute favorites and I shrieked a little when I found out she was coming 😀
Have a great day bloggies!
Gina