The Day the Taste buds Died
Hey guys! How's it going?? I loved reading your guesses for whom our celebrity taster is going to be. You may have just hit the nail on the head. That's all I'm saying 😀 SO EXCITED!
Today was an off-day from the gym, so I slept in a little made a fun bfast.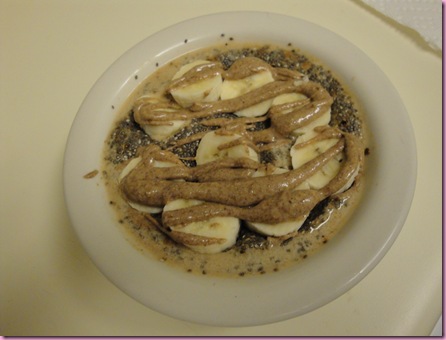 Chia pudding! 1/4 cup chia seeds (I can't help but think "ch-ch-ch-chia" every time I reach for the chia bag), 3/4 cup almond milk, sliced nanner, mesquite powder, Stevia, cinnamon and a drizzle of almond butter.
All mixed up: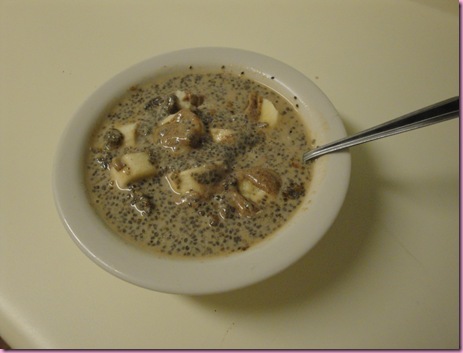 I got to class and we got started on our final exam. You may have seen me on Twitter instead of studying 😉 The exam went pretty well but I do know of one question I missed. For the record, maca is from Peru and not Chile 😉
A stinky drinky to celebrate the test being over: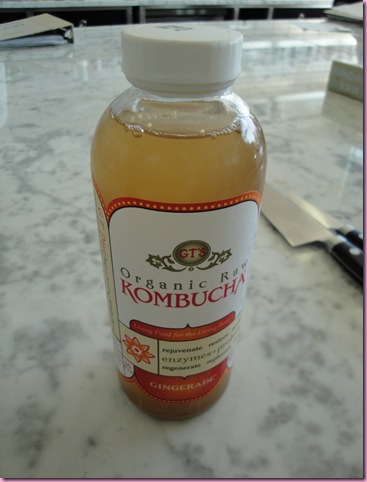 (Gingerade is my favorite so far)
And then I spent the entire day cooking with dead taste buds. (More on that in a second)
I made raw crackers as part of the appetizer: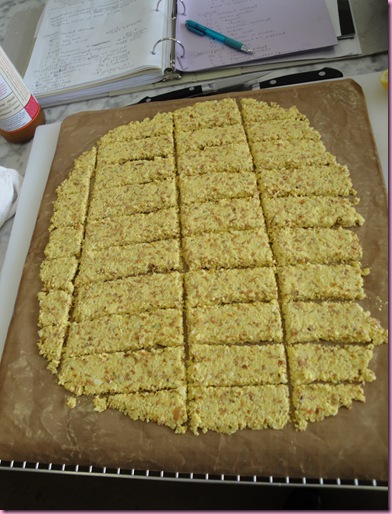 And started on that one thing you saw the other day and it would not come out right to save my life. I made it three times and the texture was off and the taste wasn't right, no matter what adjustments I made. I kept tasting it and adjusting and it tasted so bland to me! I took it up to our instructor who said the flavor was wonderful. I told her I couldn't taste anything and she said that clove can numb your mouth (it's used for dental ailments) and that was probably the reason why I couldn't taste anything anymore. So I spent the entire day prepping food that I couldn't taste!! So we'll see what happens with that….
I did make a salad beast for lonchi when it was all over: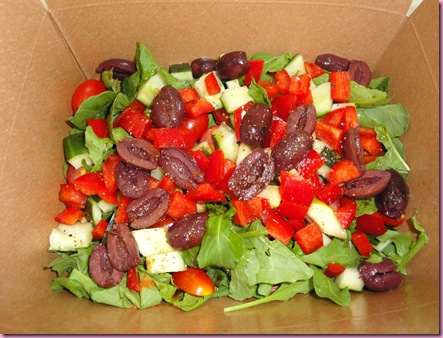 And ate almost an entire $10 bag of kale chips because I felt bad depleting the kitchen's stash.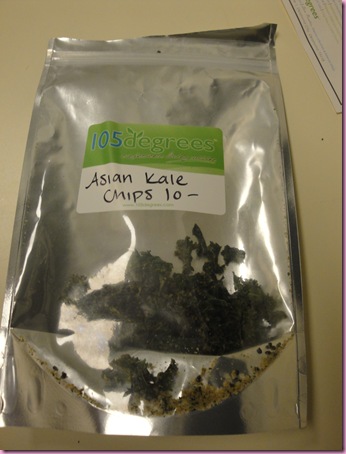 They were delicious though 😉
To unwind a little after school, I did a beautiful 20 minute Power Vinyasa #4 podcast courtesy of YogaDownload and am about to head to work.
Here's the plan for the rest of my time here:
Work tonight
Hopefully drinks with the twins after work (I need some vino in my life!)
AM run
AM salon appt (to look less like a homeless person when I see my husband)
Prep for dinner
Final 3-course dinner presentation
Date with the pilot
Saturday yoga
Saturday event at the restaurant
The next couple of days are going to be a whirlwind but I'll be sure to take lots of pics for ya and keep you updated when I can 😀
Tomorrow I'll be posting pics and ALL of the recipes for my 3-course meal.
Have a great night!
xoxo,
G