Heyyyyyy 😀 How are ya, bloggies?? Did you have your Indian food yet today?? I wish I could say I have a belly full of baigan bhartha, but alas, that is not the case. We actually got out of class super early and I was thinking of hitting up the Indian buffet but I'm trying to be patient. When I have my beloved Indian food again, it needs to be a nice sit-down dinner, not a stuff-your-face frenzy before work 😉
I went to the gym this morning with Michelle but feel kind of like a truck ran over me. I think all of the craziness is finally catching up with my body because I am sooooooore! I think yesterday's vinyasa blitz has something to do with that, too 🙂 So I walked on the treadmill with Shape mag for an hour and it felt good to take it easy.
Bfast this morning was an old favorite: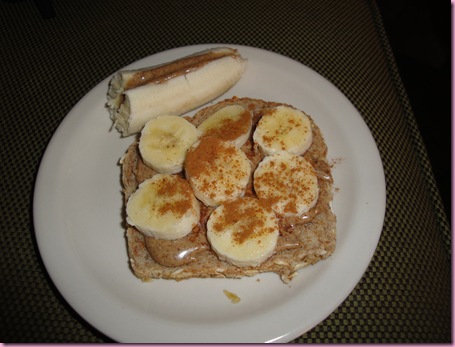 MY OTHER VIDEOS
Ezekiel with almond butter, 1/2 nanner and cinnamon on top, and the other half of nanner sandwich-style with almond butter
We got to class, and I had a stinky drinky while we reviewed for the test we have tomorrow: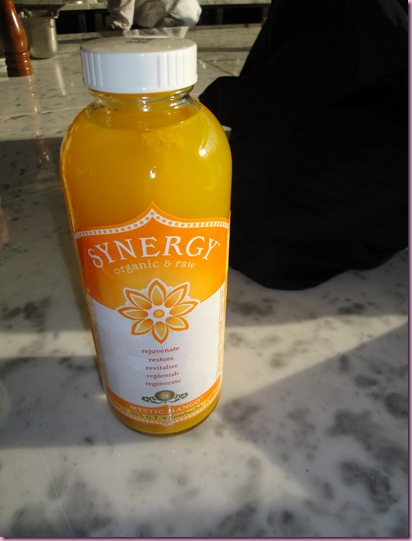 After the review, we got to work making some raw ice cream.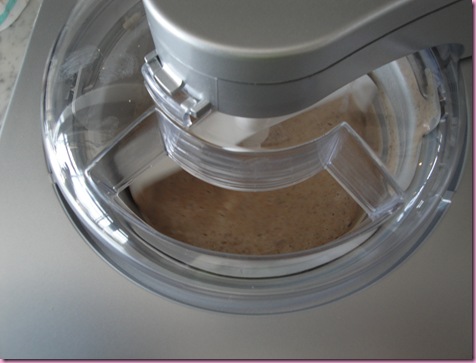 Michelle and I wanted to do a fall flavor so we made the basic vanilla recipe and added cinnamon, cloves, cardamom, and ginger.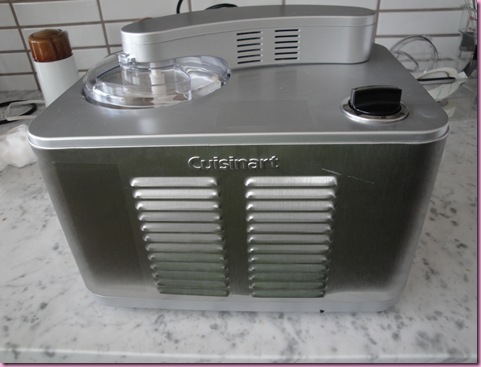 And I had a little scoop of it for my mid-morning snack 🙂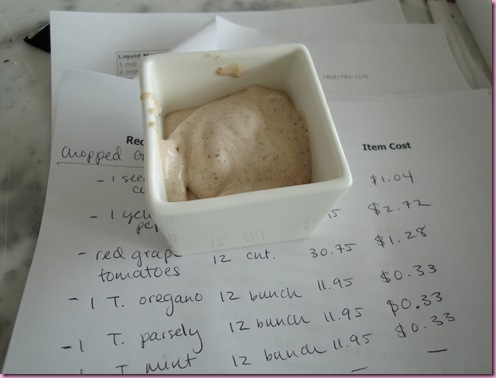 It was sooooo delicious! I love fall flavors and this ice cream tasted heavenly. I've got a pint in the freezer to share with the pilot when he gets here.. unless it mysteriously disappears before then. Muahaha >:) For an excellent (and very similar) recipe for raw vegan ice cream, check out this page.
We worked some more on the cost of our meals for Friday (so that we'll be able to determine prices, etc. when we decide to open our own business) and then it was time for lunch.
I made another Greek-style salad because I have a love affair with the kalamata olives we got in.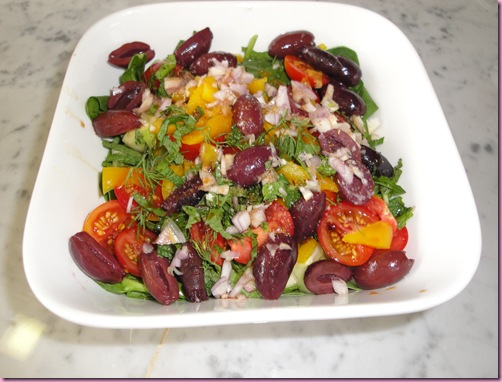 They're so plump and salty! Mmmmm.
This particular salad beast had spinach, yellow bell pepper, cherry tomatoes, kalamata olives, mint, dill, shallot, red wine vinegar, salt, pepper and a drizzle of EVOO. And I devoured it 😀
I'm back at the hotel-casa and thinking I'll hit up the mall (again). I need to live up civilization while I can!
See ya soon.
Much love,
G
Something to talk about: Health intentions falling through. So you guys know how I bought that dry brush? Eh, haven't used it. Or maybe the sprouts I had growing in the hotel-casa? Threw them away because I was afraid of salmonella. Sometimes I get so excited about doing something new for my health, and then I either forget about it, get discouraged about what exactly I'm supposed to do with my new idea, or just blow it off. Does that happen to anyone else? Every night I tell myself I'm going to use the dry brush when I shower in the morning and every morning I seem to forget. I guess it's just difficult to add something new when you have your routine pretty much set, but once you can make that little change, it's totally worth it.