Adventures in breastfeeding
I can always count on my good friend Jeni for advice. When I first got pregnant, she told me that I would be tempted to learn and read as much as I could about pregnancy and childbirth, but to definitely take the time to learn about baby care and breastfeeding, because breastfeeding is tough work.
I had no idea. Breastfeeding is intense… but once it clicks, it really does.
As I mentioned before, we had a rough couple of nights when we got home from the hospital. I had a delay between the colostrum and my mature milk coming in –which is pretty common- but that meant that little Livi was nursing around the clock, many times every 30 minutes to an hour from start to start. Combine that with a poor latching technique, trying to figure out what her cues are (is that the hungry cry? or the dirty diaper cry? or the "burp me" cry?) and no sleep, and it was a party over here.
Despite the fact that I read a couple of books on breastfeeding and we took a class together, it's really different when you have an actual squirming, hungry little one in front of you. We would get to the point where her face would be red like a beet, she'd be shaking her head at me, and there was fury in her eyes- aka the angry elf face. At one point, she was pounding her fist against my breast, trying to beat the milk out it. There were quite a few times when I didn't know if I'd be able to do it any longer, but I focused on one feeding at a time, even if the feeding took an hour to make sure she was getting enough. Now, we're working as a team and getting the hang of it.
Things that have helped me:
Pumping-
I am SO glad I ordered this breast pump.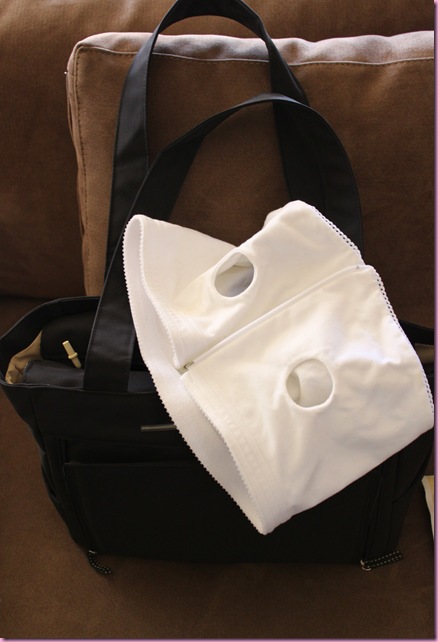 I started pumping in between feedings right away to stimulate production, so I'd feed Livi, Tom would burp her and change her diaper while I pumped. When I was done, she was ready to eat again. Now, my milk is completely good to go, so I don't have to worry about pumping unless I want to take the edge off (like in the morning) and just to have a little extra to have in the fridge. The fact that I don't have to pump during the night any more is a huge game-changer: I got 6 hours of broken sleep last night, and feel amazing. The pump will also come in handy when I go back to work.
Tom got me the hands-free pumping bustier to wear so I can pump both sides at once, and the other night while I was double-pumping, I told him I felt like I was being milked. He said to think of it as a supercool Lady Gaga boob contraption. 😉
A representative from Mama's Latta came to speak to our Bradley class in the last week of classes. The consultants were highly recommended by our instructor, so I referred them to a friend who had similar challenges to mine a week before our baby was due. She said they helped immensely, so after our first tough night, I called Mama's Latte and a consultant came to the house that day. Not only did she introduce me to My Brest Friend (more on that in a sec), she helped us with our latching technique and determined a strategy to increase my production and make sure that Livi was getting enough food. Since last Wednesday, she's called every day to check and see how we're doing, and has also emailed me handouts and videos.
(La Leche League is another great breastfeeding resource)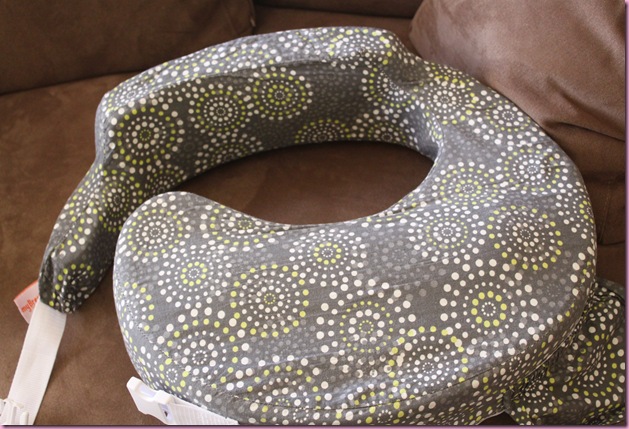 At first we were using the Boppy, but it was too low, so I'd try to prop it up with a pillow and Livi would slip into the middle. It ended up being more of a pain than a help. The representative from Mama's Latte brought a Brest Friend pillow, and it's made a huge difference. It straps on underneath your breasts and can be rotated around to accommodate different types of holds. When I walk around wearing it, I look like a hotdog vendor at a football game.
Nursing tank tops
I have a total of 4 (2 Target, 2 Bravado) and they've been through the wash many times in the past week and a half. Thank goodness I've been stuck in the house, because when I start to venture into the world again, it will be interesting to figure out nursing-friendly outfits. When we went over to our friends' house on Saturday, I wore an Express tank top with a blazer, and it was easy to go into a guest room and feed the little one without any major costume changes in the process.
Lansinoh
First I was using the Motherlove salve and while it felt good, it didn't do anything for healing the damage from a couple of days of poor latching. The Lansinoh has helped a ton.
Talking with friends.
I talked to my friend Michele for about an hour the other day, and she had a baby a few weeks ago. It was so nice to get to talk to someone who recently went through everything I'm going through, and discuss things you can't exactly bring up in everyday conversation (like comparing nipples, haha). Just the fact that someone else has been there, agrees that it's extremely hard, and can reassure you that it does indeed get better was incredible.
And she was right—everyday it's getting easier and easier. Those first few nights, though… wow.