Afternoon energizing stretch
When was the last time you got an awesome stretch??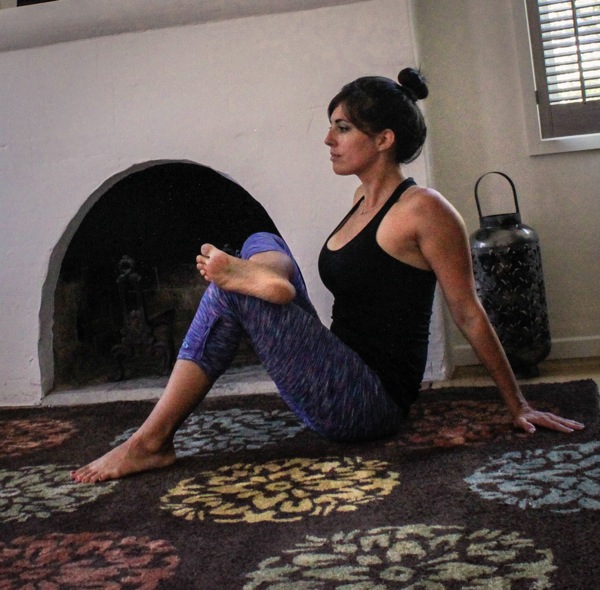 Usually yoga is my go-to for serious stretching, but lately with my subbing/teaching schedule I've been lucky to make it to yoga once a week. One of my favorite things about taking and teaching barre classes is that you stretch the muscles after working them throughout class. I've often heard people say that stretching the muscles in between sets makes them longer and leaner, but that's not true: it just feels good, especially if your legs are angry from doing a thousand tiny plie squats with your heels off the ground. 🙂
The benefits (or lack of benefits) of stretching are mixed –you can read more about that in this post if you'd like!– but I find that I still like to do it on a daily basis. It relaxes me and helps to soothe any sore muscles. Also, I find that a quick afternoon stretch gives me a boost of energy, which is much appreciated since I cut down my coffee intake. My afternoon jolt has been replaced by a giant green juice or green tea and an awesome stretch. This could be as little as three minutes, or as many as 15 if I get some free time. The chocolate or bite of something sweet is still there, too 😉
Here's a stretch sequence I put together, which stretches some of the commonly-sore muscle groups (back, chest, hamstrings, glutes…).
Some tips for stretching:
-It's uncomfortable, but not painful. If you feel legit pain, you need to decrease the intensity. Stretching straps are a fantastic way to do this.
-Breathe into the stretch. With deep breaths, your body will be able to relax into the stretch instead of fighting the tension.
-Modify as you need, especially if you have contraindications that would require you to avoid the supine position (on your back) or flexion/extension of the spine. I included some modifications below.
-This includes some movement-based stretching (inhale for one, exhale for the next) and static. For the static holds, try to hold them for 20 seconds before moving onto the next.

How often do you stretch? Any favorites, or any muscles that are particularly sore this week? (Talking to you Shape Up friends! heh heh)
Hope you enjoy the rest of your day!
xoxo
Gina
More stretching stuff:
Guest post up on the lovely Heather's blog here <3