B-fast Relleno- sneaky giveaway ENDED
Hi friends 😀 How's your day going? Hope it's been lovely so far.
Lately in the mornings, I've had to drag Bella out of bed to go outside.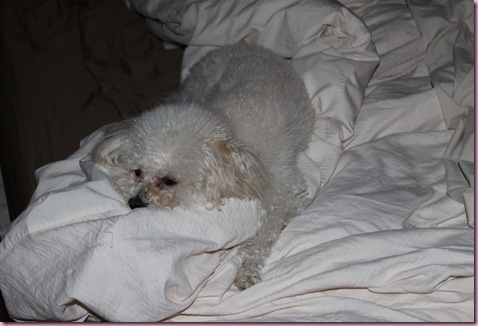 We wake up to my alarm, she covers me in Bella kisses and then she goes back to sleep until I'm ready to leave for the day. She's not a morning person, either 😉
______________________________________________________________________________________________
Since I've been living in Tucson, so many Mexican food memories have come back to me. Tamales, pink cookies from the Mexican bakery, nana's homemade tortillas and beans, salsas, etc. etc. etc. For the past couple of days, I've had chile rellenos on the brain. When my family and I would go to Mexico more often we would always stop to have chile rellenos at the mercado. The lady who would make them would spend all day making chile rellenos- fresh peppers stuffed with cheese and lightly fried. The egg batter was so light and crispy – they would literally melt in your mouth. Definitely swoon-worthy.
So today, the breakfast relleno was born 😉
Last night while I was making dinner, I roasted two polano peppers in the oven for 30 minutes at 350.

I popped them into a container and put them in the fridge to be waiting for this morning.

When I woke up, I cut down each pepper and removed the seeds with a knife:

and then filled each one with goat cheese 🙂

The peppers went under the broiler for 4 minutes, and while they broiled, I made some scrambled eggs (1 egg + 2 egg whites).

Stuffed the peppers with said eggs:

And served with pico de gallo (you can make fresh or buy), tea and (brown rice) toast.

Vegan? You could use vegan cream cheese of choice and a tofu scramble in lieu of eggs (tofu, peppers, nutritional yeast, sea salt, pepper and cumin)
They took less than 10 minutes to make and were AMAZING. Spicy, savory, and perfectly filling. The beautiful aroma even got Bella out of bed 😉
Well I'm off to work!
See ya laterrrrrr <3
xoxo
Gina
Thank you so much to everyone who entered the sneaky giveaway! The random winner is China, who said:
Gina, your blog is my favorite. It's so inspiring, and the perfect mix of fitness, nutrition, and everyday life stuff. I don't know how you manage to generate so much new content, but I'm glad you do! And here's a secret: I've been dreaming of winning some of your macaroons since I started reading way back in 2010!
<3!
I appreciate all of your comments and thank you for reading, whether you're a veteran or newbie. I am so very grateful to all of you! Stay tuned for more giveaways coming up and China, check your email 🙂
xoxo