When we first announced we were expecting, we were often asked how we thought Bella would take having a sister. I never really thought it would be a problem- Bella loves babies.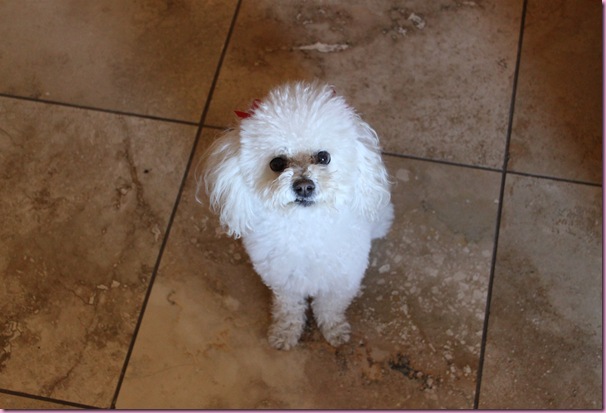 However, Bella also loves being queen of the castle.
I'm still convinced that Bella knew I was pregnant before I did, and also that she's known for a while that something new would be coming to the house..and it wouldn't be for her. One day, while I was putting laundry away in the nursery, I asked Bella to come in there and hang out with me. She walked to the doorway, saw what I was doing, and walked away. She wanted nothing to do with it.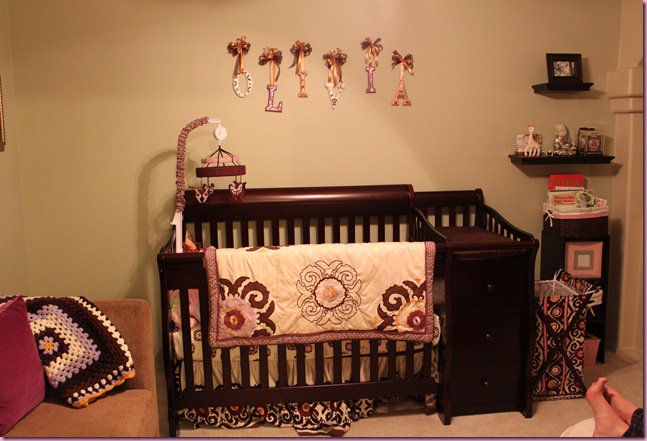 And then, I started catching her napping under the crib with her legs hanging out.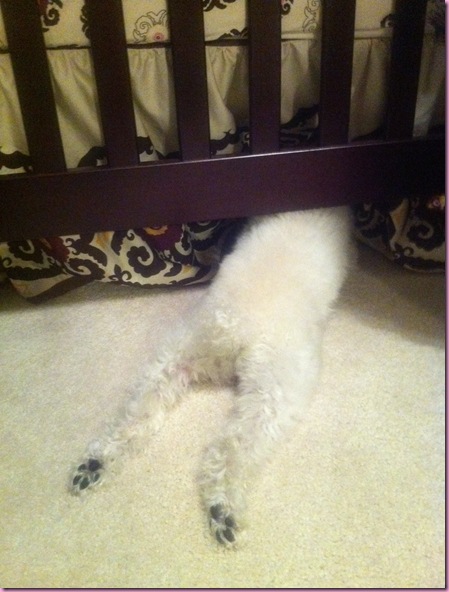 Per your amazing tips, here's what we did to help Bella get used to the situation:
When we were in the hospital, my mom was watching Bella and we sent home one of Livi's hats to see how Bella would react to the new scent. I asked mom to make Bella sit, and then put the hat down in front of her and let her smell it. After a few seconds, I asked her to tell Bella to "Leave it" so she would leave the hat alone and know it wasn't for her. It didn't really go that like. Mom had Bella sit, put the hat down, Bella walked up to the hat, sniffed it, and curled up in a little ball next to it. A very good sign 🙂
When we got home from the hospital, Bella was there waiting for us. Tom had gone home to get the car seat and take a shower, and picked up Bell on the way. I went inside first, snuggled Bella and told her how happy I was to see her, and Tom and the baby came in a few minutes later. We put Livi in her bassinet, and Bella kept a cautious distance, except for walking up every now and again to sniff on her hind legs.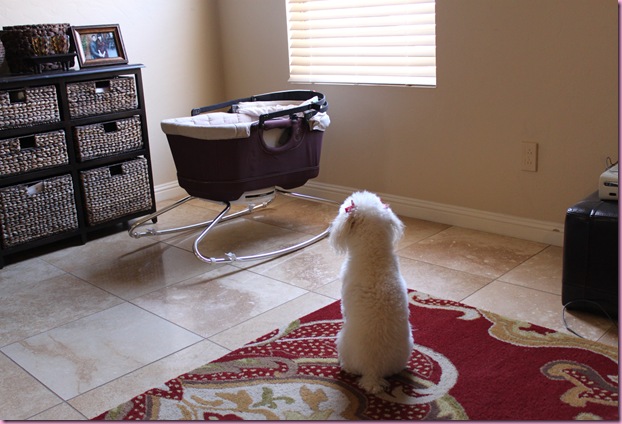 For the past week or so, Bella hasn't wanted anything to do with Olivia. When she cries, I think Bella gets worried about her, because she'll walk over to make sure she's ok. When she cries at night, Bella just glares at all of us. Last week when we were up for 3 solid nights in a row (that was a little rough), Bella looked a little worse for wear. She was so mad… and eventually went to sleep in one of the guest rooms.
And all of a sudden, starting yesterday, she gets it.
She actually wants to hang out and snuggle with me again,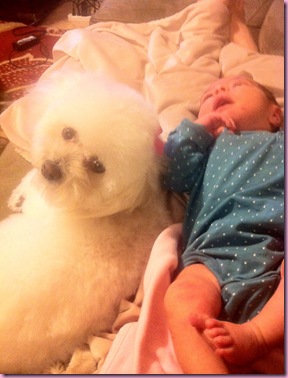 (that was my lap for a couple of hours last night)
started bringing out her toys to play fetch again
and is more comfortable with her new sissy. She's not allowed to kiss her on the face, but got in pretty close for a good smell today.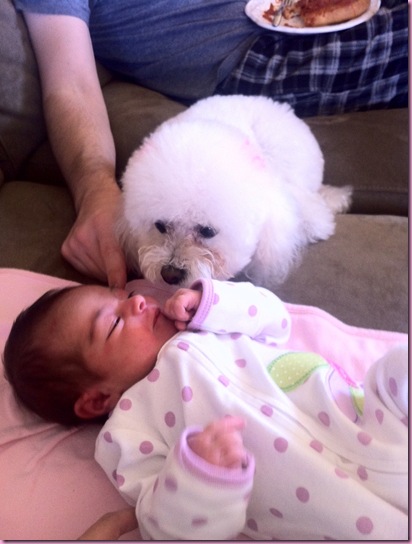 They'll be best friends before we know it <3