Back from T-town + our surprise shower
Hi friends! Happy Monday! Hope you had a wonderful weekend. Huge congratulations to the winner of the year's supply of LaCroix:
Emeka D.!
Check your email and the sparkling water fairy will get the prize on the way! Thank you again to everyone who entered, and stay tuned for some more amazing giveaways on the horizon this month.
We are back in San Diego after a fun-filled weekend to see the fam. It was a quick trip, but while we were there, we were able to catch up with family, friends, and also enjoy some truly *Tucson* adventures, which I'll recap later today.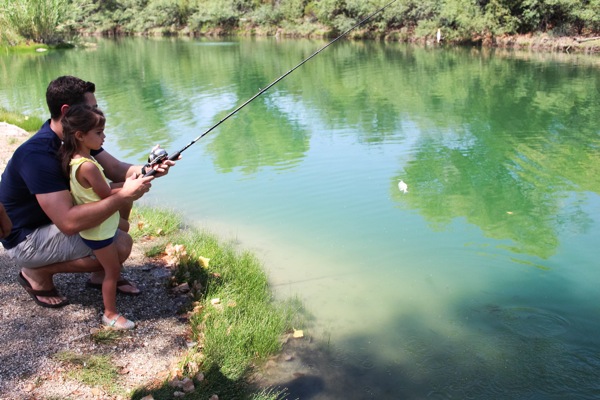 (Livi's first time fishing!)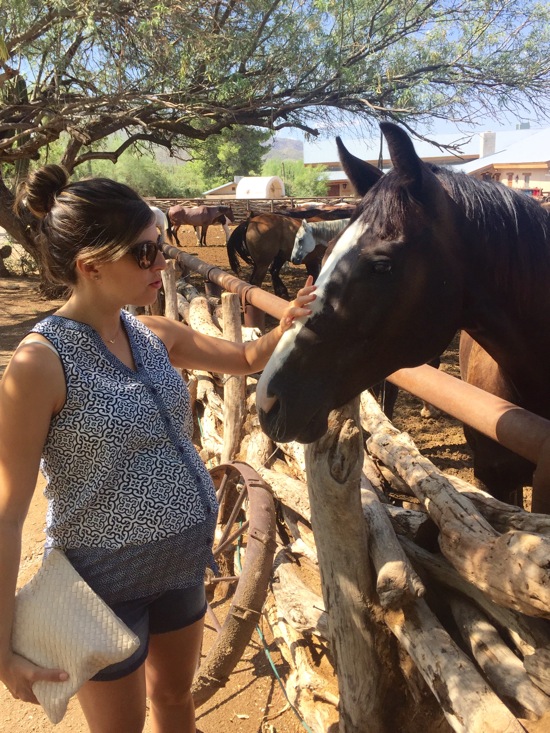 (Petting the horses each morning after breakfast)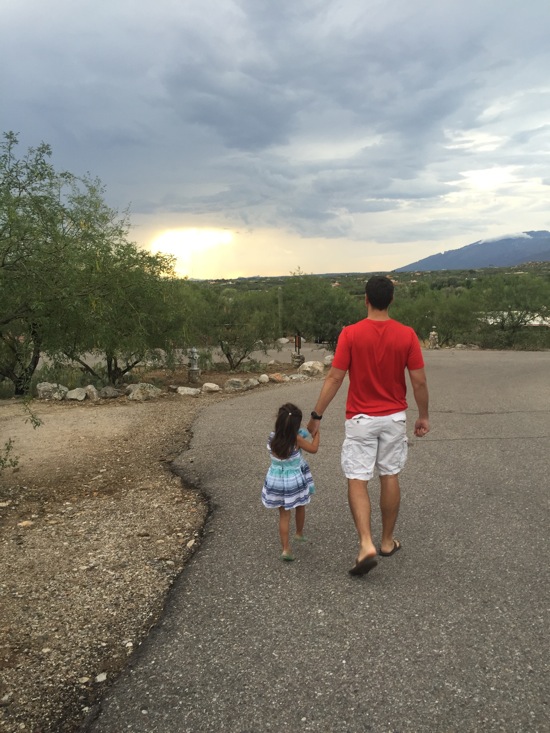 (Post-monsoon walks with that magical "fresh rain in the desert" smell)
Just as I'd hoped, we were able to experience some breathtaking Tucson monsoons. During monsoon season, it storms almost every afternoon. It will quickly transition from sunny scorching 100+ degree temps to dark clouds and torrential downpour with lighting flashes and rumbling thunder. It also cools things down a bit, which is always appreciated. 😉 We enjoyed some good monsoons while we were there, and the rain cleared just in time to make it to my little brother's football scrimmage,
then to my dad's house for pool time and pizza.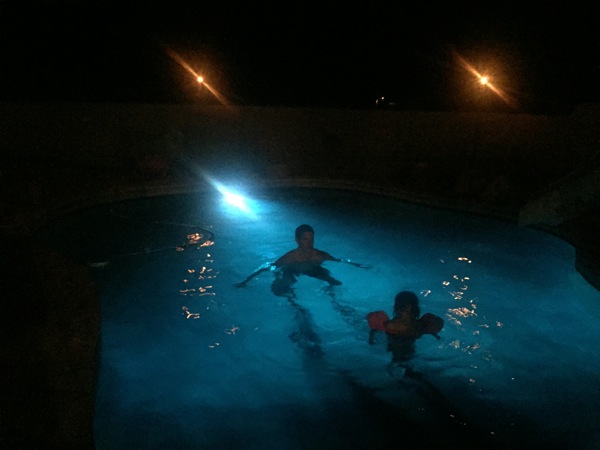 Saturday afternoon, we had planned to meet at my aunt and uncle's house so Livi could play with her cousins. We picked up a party pack of eegee's on the way, and I figured we'd spend the afternoon enjoying lunch and walk over to their pool so the girls could swim together.
Little did I know that we were driving to a surprise shower mom and nana had planned for us. When we walked in the door, almost all of the ladies in the family were there with the kiddos running around, gorgeous decorations, and an exquisite spread of food. It was everything in my power not to break into the dinosaur cry.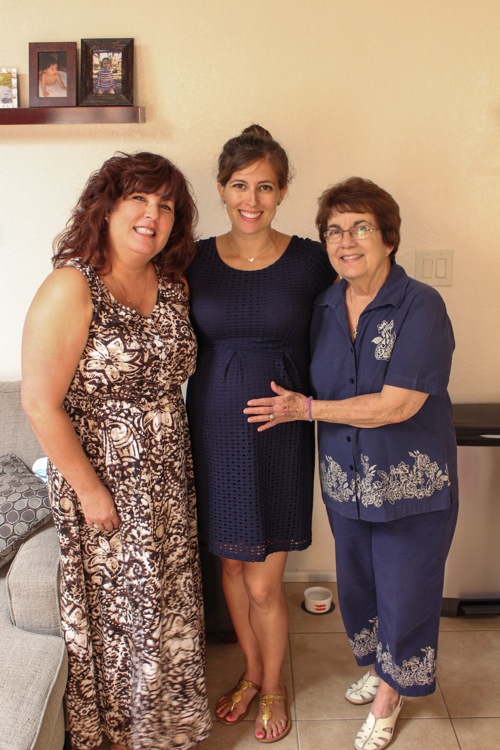 My mom asked me a few months ago if I wanted to do a baby shower or "sprinkle" before baby #2's arrival. I told her I thought it would be fun to maybe all meet for lunch at a restaurant one day, to share in the excitement together while keeping it low-key. This was my mom's version of low-key… 😉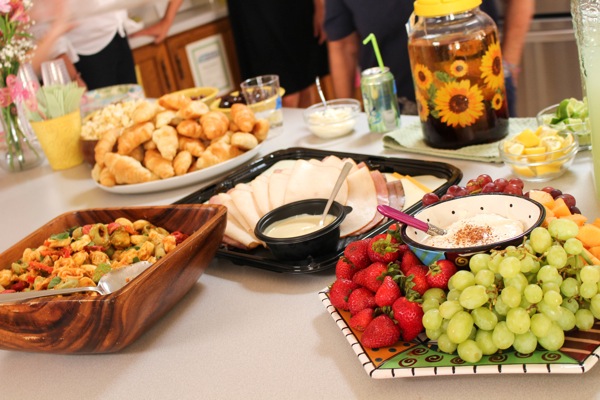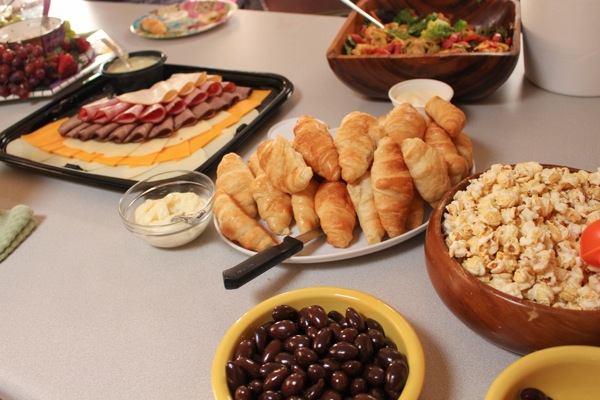 They had a lovely collection of food with pizza, deli trays and bread, fruit platter, chips, salsa, guacamole, beverages (and sparkling water galore haha), a Whole Foods cake, cupcakes, and my uncle's famous pasta salad. My mom, nana, aunt, and family put so much love and thought into putting this together (all while keeping it a huge secret from me!), and we are filled with gratitude for them.
It just goes to show how oblivious and preggo-brain I've become, too. While we were getting ready to head over, I was just going to wear a swimsuit and a coverup. The Pilot was like, "I'm going to wear real clothes over there," hinting to me to maybe not walk up to the door in my bikini. 😉 He's known about it the entire time, and I had NO idea. I was blown away!
After hugging everyone and enjoying a fantastic lunch together, The Pilot, Livi and I opened the sweetest tiny outfits, books and homemade gifts,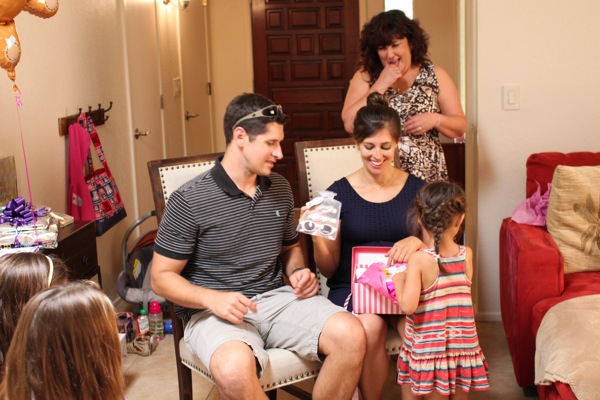 (and they surprised Livi with some presents of her own)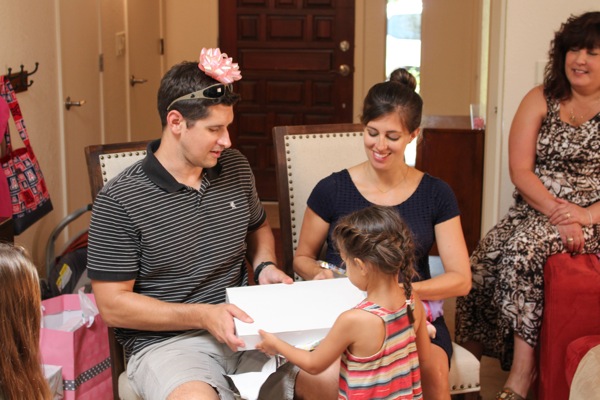 all while being surrounded with people we love so much. Our entire family, and especially our babies, are so blessed to have them.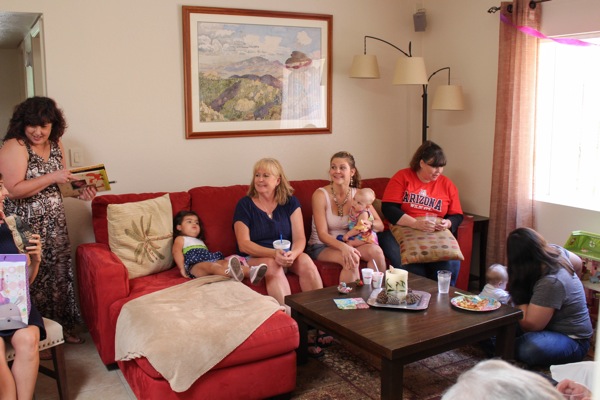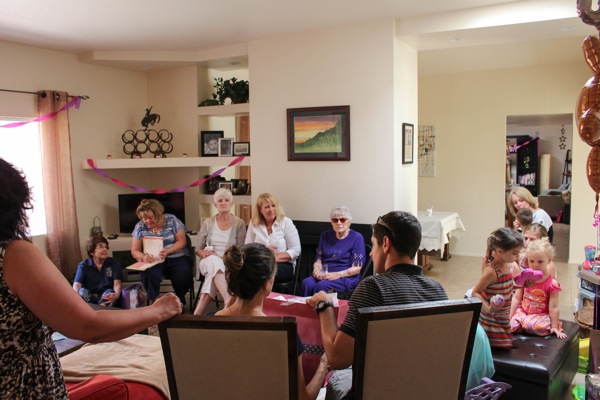 It was our last trip *home* before we become a family of 4 (6 if you count the pups!) and while the entire weekend was a blast, this meant so much to us. Thank you again to madre, nana and the family for such a beautiful and thoughtful surprise, and for making us feel so much love this weekend.
Hope you have a wonderful Monday morning and I'll see you later today. <3
xoxo
Gina