What's in your purse? + an Invisalign update
This post is sponsored by the Invisalign® brand.
Hi friends! Hope you're having a wonderful day! Keep those giveaway entries coming, too. 🙂 I feel like nesting mode is already taking over a bit, because clutter bothers me more than usual. I've been putting random things away, and also decided on a whim to clean out my purse. It's funny because the purse I've been using is really more for date nights or going out. It's a large clutch, and even though the style doesn't really "match" most of my day-to-day outfits (= lululemon), it's the perfect size for stashing all of my stuff. I decided to transition back to my beloved hobo bag, so in the switcheroo, I thought I'd post some of the random goods (you know, minus the wadded up cash, random toys, and receipts).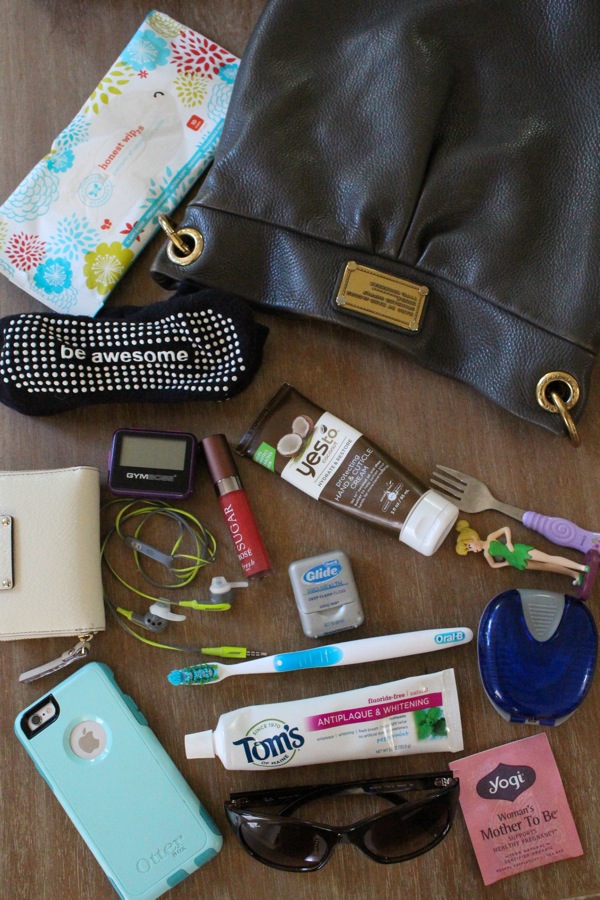 1) Sunglasses. I got these to replace the ones I lost while paddle boarding and LOVE them.
2) A Kate Spade wallet I've had forever.
3) Headphones. I have quite a few pairs but always gravitate back to these. They're perfect for workouts or phone calls.
4) Barre socks! I almost always have a pair in my purse. You never know when the opportunity will strike. 😉
5) Little figurines. I always have at least a couple in my purse or some crayons for when we go out to eat. It keeps Liv occupied and happy at the table while we wait for food.
6) Travel wipes. These are great for a quick face cleanup for Liv, but also for the food I will get on my outfit at some point or another during the day.
7) Tiny utensils. Restaurant cutlery can be HUGE, so these are ideal for Liv, especially since we'll be out and about and grab a bite to each together.
8) Lotion and lipgloss = my beauty product essentials.
9) An interval timer! I almost always have this one on me for the classes I teach, especially for spin drills.
10) Tea bag. I'll usually have a bar or some type of snack in there, too.
8) Dental gear: floss, toothbrush, toothpaste and Invisalign clear aligners.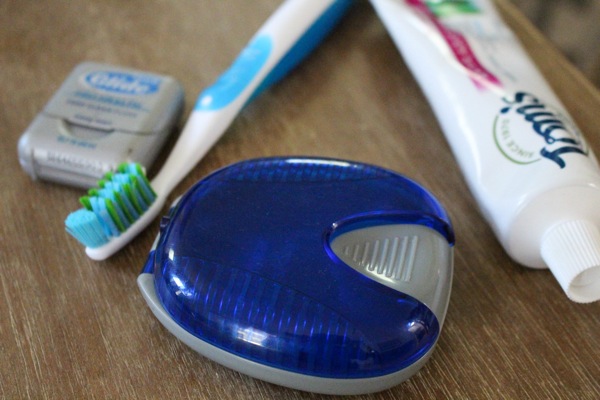 A little update on my Invisalign treatment this month: they've officially become a "normal" part of life. At first, it was hard to imagine them becoming second nature -especially with extra brushing and having to pop them off to eat meals- and now, it's just part of the routine. I can definitely see how it's easy to become a bit of a slacker and leave them off longer than necessary, but I'm determined to do this the right way and finally ditch the ol' overbite.
Some of the things I've noticed this month:
-Don't talk to your husband while putting in your rubber bands. Not only is probably unattractive, but I missed and the runaway band almost snapped him in the face. (Sorry, Pilot.)
-An easy way to clean the clear aligner's case: put it on the top shelf of the dishwasher. Since I usually put the clear aligners in my case to eat and brush them before putting them back in, the case holds "used" aligners and I don't want it to be gross. It's easy just to put the case through the dishwasher at the end of the day and it's nice and clean.
-Keep your old clear aligners! I was really worried that I'd lost a set, and while I found them, I was glad to know I had my last pair as a backup if for any reason I needed to get my current set replaced.
All in all, I'm still absolutely loving my Invisalign clear aligners. My mom said that she noticed my teeth already look straighter, and I can feel them working. You can hardly see them while I'm wearing them, which is great. People ask me how I like my Invisalign all of the time.. I think they're far less noticeable than traditional metal braces and I love that I'm improving my smile every day without interfering in my professional or personal life.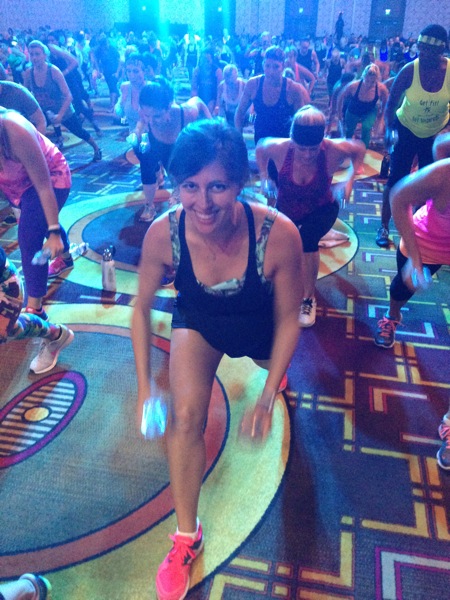 (Getting my sweat on during Jillian's BODYSHRED class at IDEA)
What's something random in your purse??
Hope you enjoy the rest of your day!
xoxo
Gina
I am an Invisalign brand spokesperson and I am filled with gratitude for this opportunity. All opinions expressed are my own. Full disclosure is here.
p.s. To find out if Invisalign clear aligners treatment is right for you, click here.