Staying at Tanque Verde Ranch
Hiiii! Hope you've enjoyed the afternoon. I'm getting back in the routine over here: hit up the gym this morning, Livi and I went to the park and Trader Joe's to replenish the sad post-vacation fridge, and I'm slowly tackling laundry mountain.
While we were in Tucson, we had the opportunity to stay at an entirely new location and enjoy some authentic Arizona adventures. When Tanque Verde Ranch reached out to me about visiting their property, I was so excited to check it out. Last time I was there was for my Tata's 80th birthday party, when I was in middle school! I could vaguely remember the food and scenic landscape, and was thrilled for the chance to participate in some new Tucson experiences with the family. It was also awesome timing: we'd already planned a trip to Tucson to see the fam, so it worked out perfectly.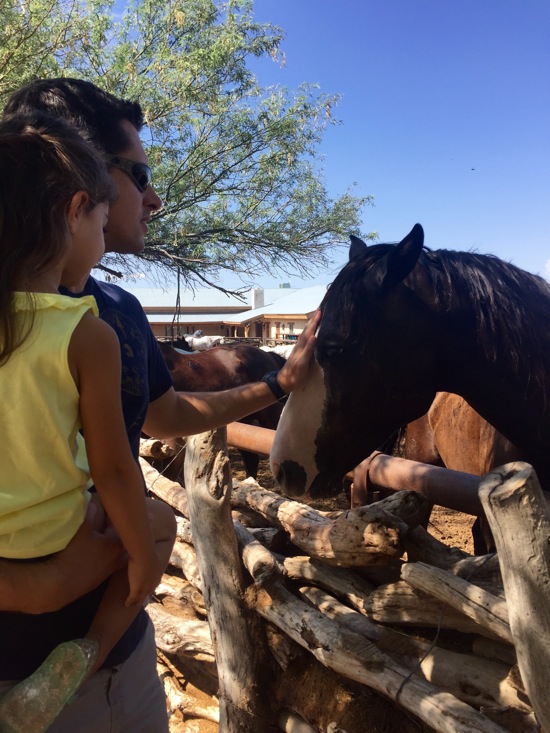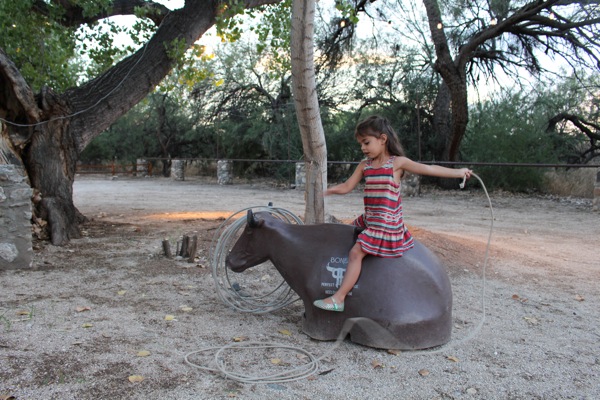 First-time adventures
During our stay, Livi was able to try a couple of big events for the first time: she rode a horse, and went fishing. I grew up riding horses, and Liv has never been up closer than 3 ft away from one. I wasn't quite sure how she'd react -would she be totally into it, or totally freaked out?- and after petting the horses after breakfast on our first day, she said, "I want to ride a horse." It was love at first sight.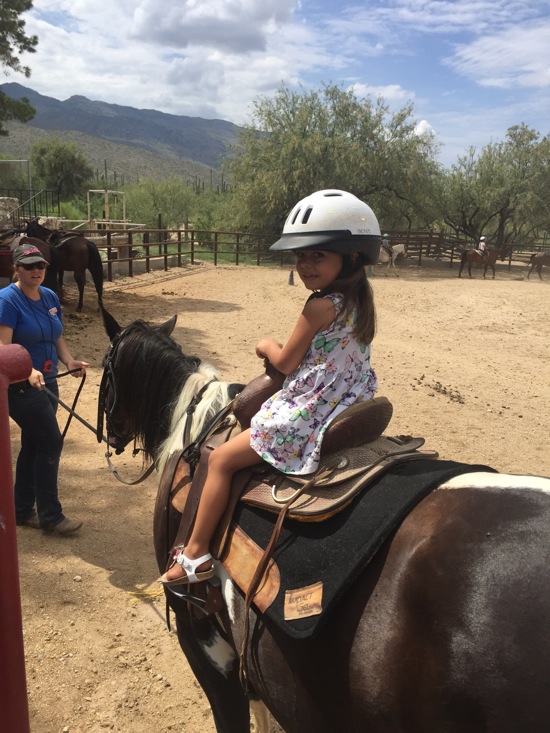 At Tanque Verde Ranch, they have a full kids' camp from ages 4-12. They have daily activities, with events like swimming, horse grooming, riding lessons, lunch, etc. Since Liv is 3 1/2, she wasn't quite old enough for the daily program, but I found out that she could go to any of the events if we were there with her. We went to the kids' riding lesson, and they gave her the sweetest, most mellow horse named Magpie. He was so docile and wonderful, and she confidently held onto the horn of the saddle while saying, "I'm a cowgirl now." We definitely have a new obsession; she's talked about it nonstop and I'm pretty sure it was the highlight of her weekend.
The ranch also has a picturesque lake, which is the backdrop for many wedding photos.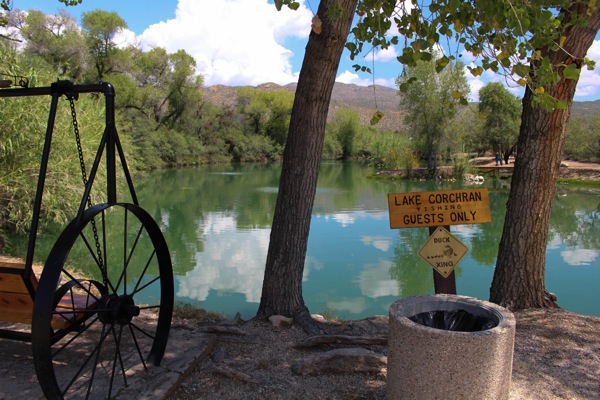 It's stocked with fish (bass, blue gill and catfish), and guests have the opportunity to catch and release during their stay. We thought it would be fun to take Liv -the Pilot and I both enjoyed fishing when we were younger- and see what she thought about it. She had a blast. The tiny blue gill were easy to catch, and she loved being able to gently touch his sparkly scales before we put him back in the water.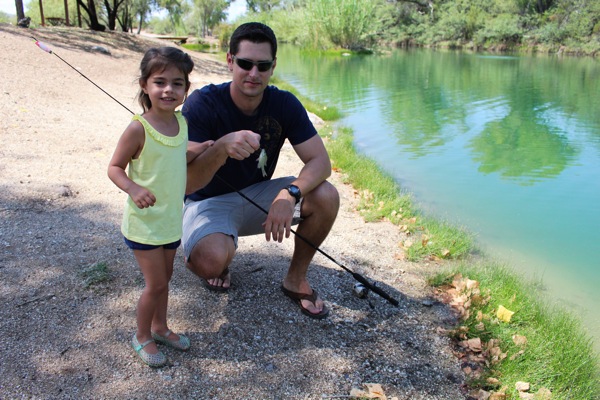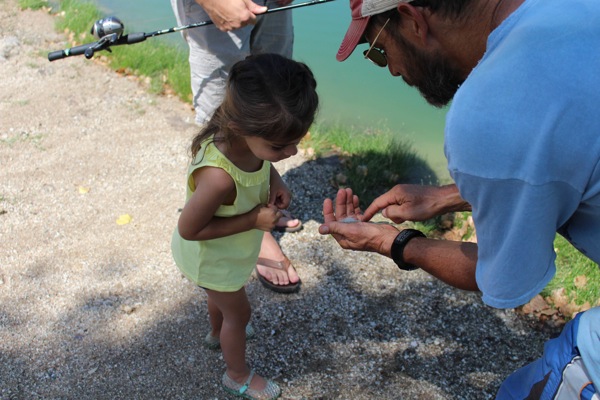 Check out the giant bass I caught!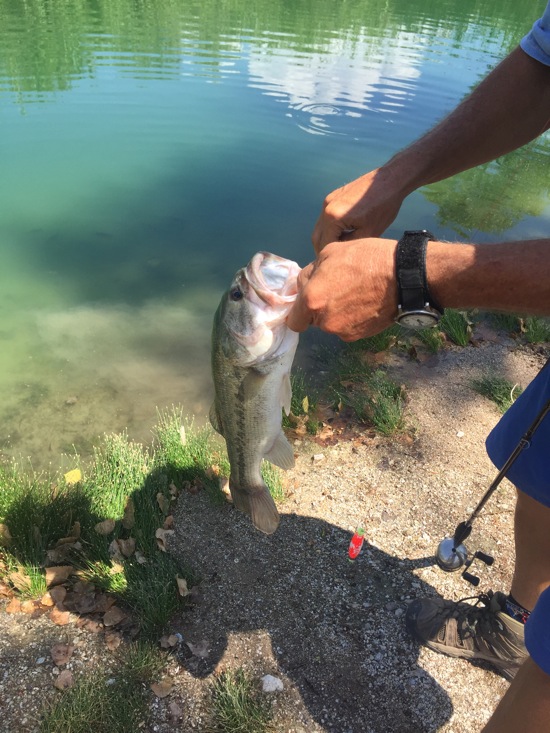 He was so huge, I couldn't reel him in by myself haha. (He also gets bigger each time I tell the story.)
Tanque Verde Ranch is rich in history, dating back to the 1860s. They first started to accept guests to participate in the ranch experience in the 1920s. Throughout the property, there are placards, photos and memorabilia from the early days of the ranch. They managed to create a very upscale experience while preserving the historic Arizona feel.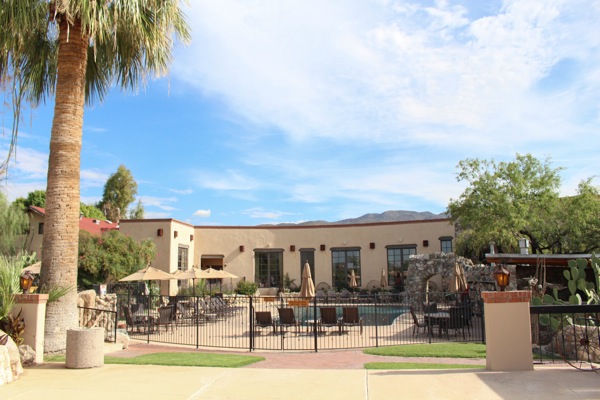 The lobby: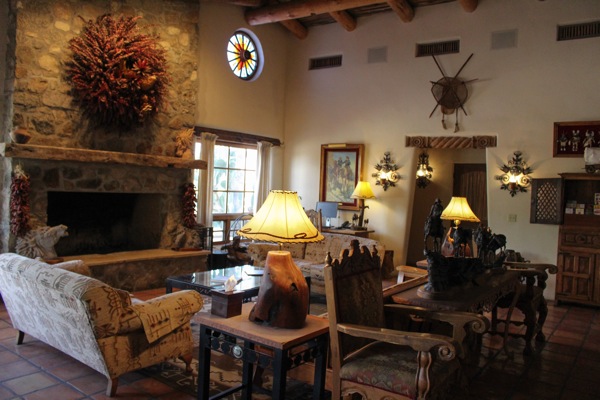 Accommodations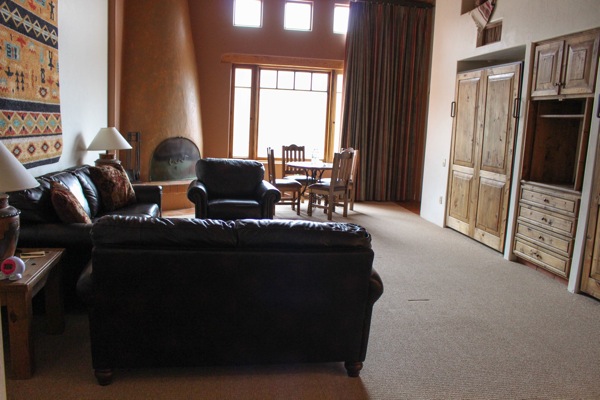 We stayed in a hacienda, which truly had the feeling of a small house. It had high ceilings, antique Western furniture, two off-the-wall beds, a large Master bedroom and bathroom.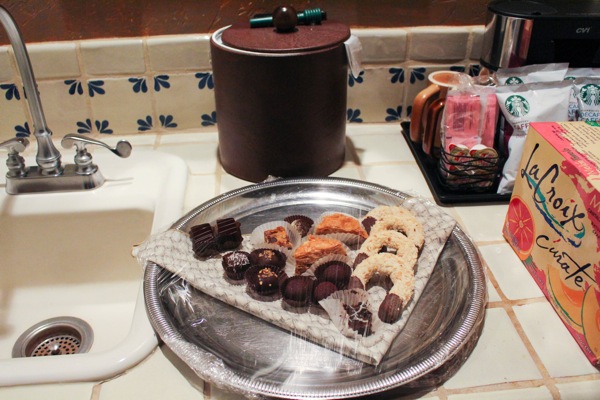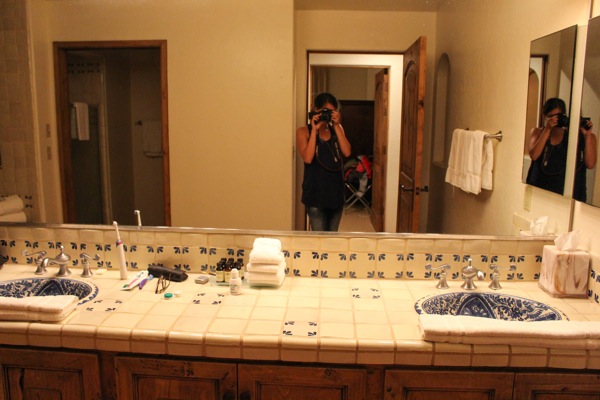 The tub was dreeeeammmy.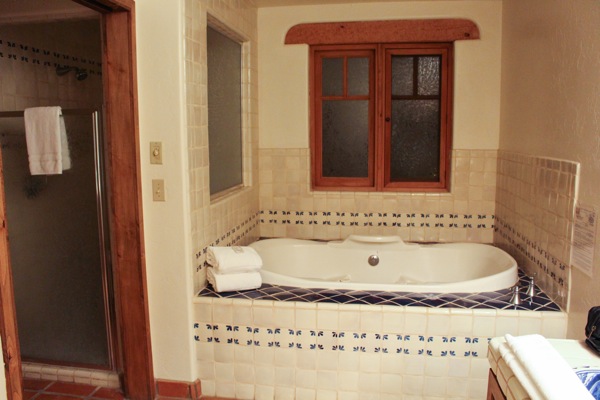 Check out the view from the patio: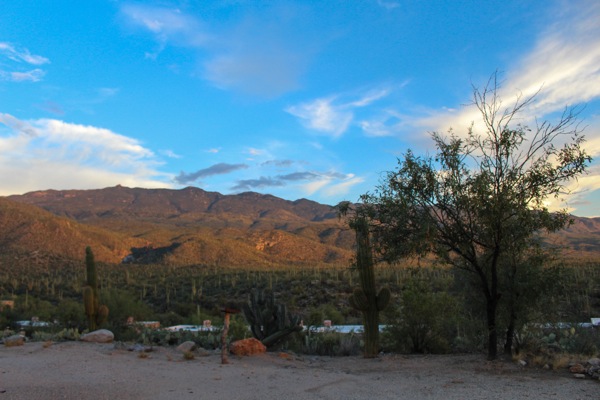 The food!
One of my favorite things about Tanque Verde Ranch was the food. The breakfasts were either ordered off the menu or buffet-style, and they always provided a collection of fresh pastries, yogurt, fruit, oatmeal, egg dishes, meat (bacon, sausage) and juices.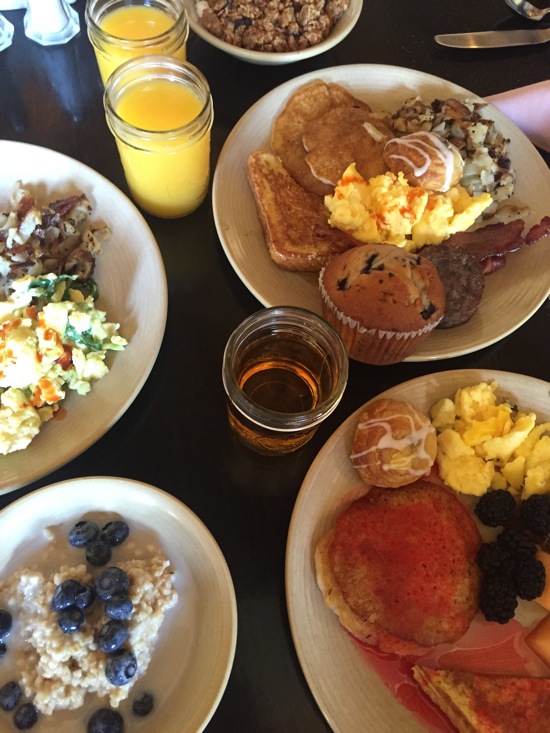 Most of my breakfasts looked something like this: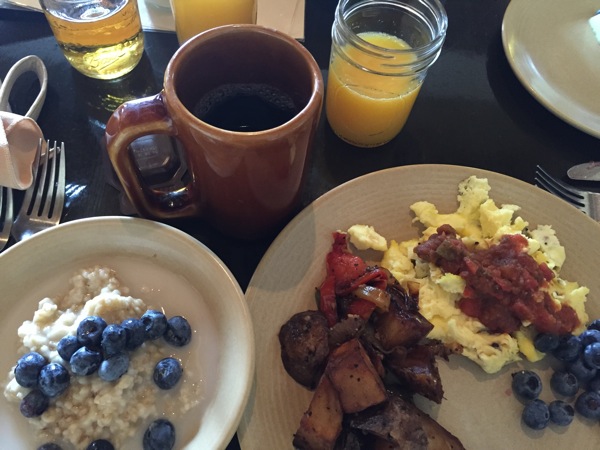 We had one lunch while we were there, which was also buffet-style.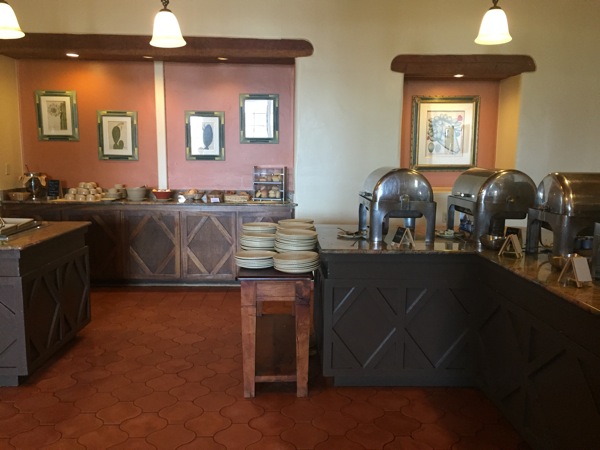 They offered fresh salad and toppings, pasta salads, grilled fish, chicken-fried steak, manicotti, flank steak, and this beauty of a dessert table.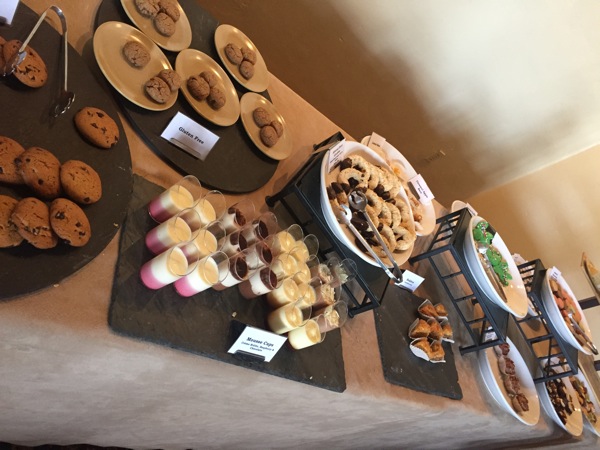 (Including MACARONS, gf cookies + the best 7-layer bar bites)
For our last night, we attended the family outdoor BBQ, which was complete with twinkly lights,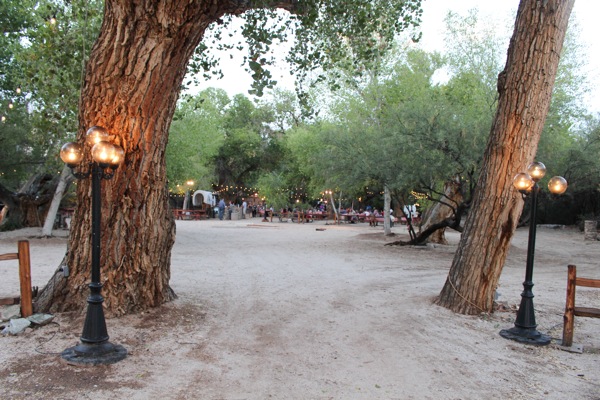 a full-service bar (and they make an awesome virgin prickly pear margarita)
live music, line dancing, horseshoes,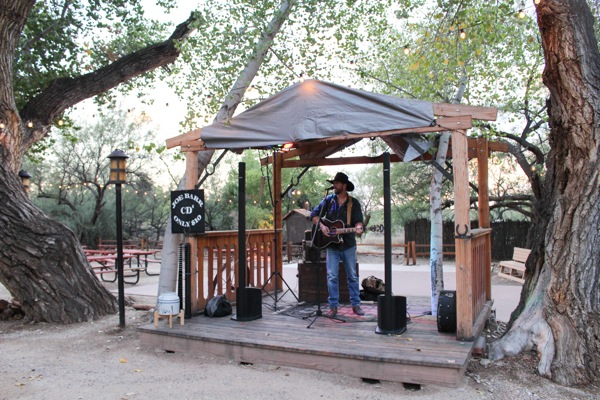 and so.much.food.
The meat is cooked right in front of you (steaks, burgers, hot dogs, ribs, chicken, fish)
and accompanied with BBQ sides like pasta dishes, baked potatoes, jalapeño corn bread, collard greens, beans, salad fixings, and condiments. I appreciate the fact that they had no less than 5 hot sauce varieties at each meal. 😉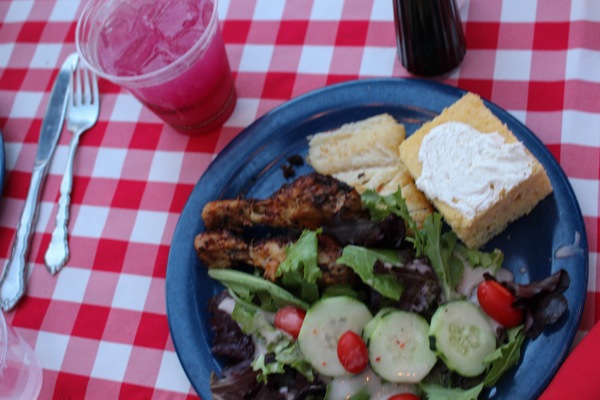 Fun fat: the prickly pear is harvested on property each year.
My preggy dream come true.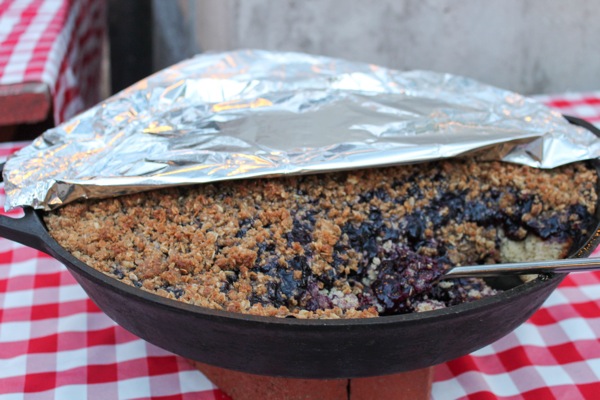 I wanted to grab the enormous skillet with a fork and call that dinner. The blueberry cobbler had orange zest and the cherry cobbler skillet was with a touch of fresh mint. I'm definitely going to try those combos here at home!
Family table: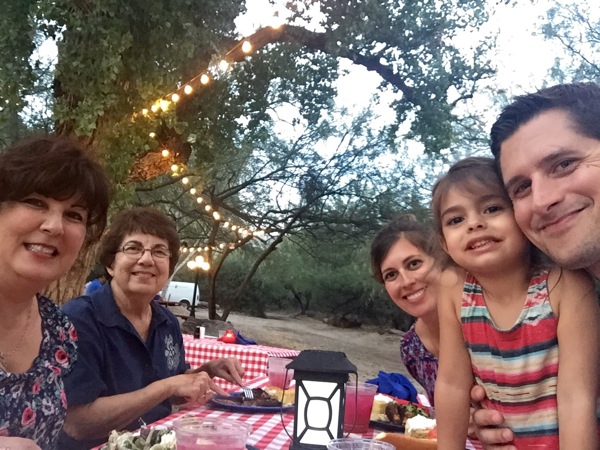 A little date night
Madre and nana spent the night with us after the BBQ dinner. They played Candyland and read books with Livi before putting her to bed, and while they were playing, the Pilot and I went on a little date. We walked down to the Doghouse Saloon, which has a full bar, a popcorn machine, pool tables and a lounge area.
The Pilot ordered a beer, I had a club soda: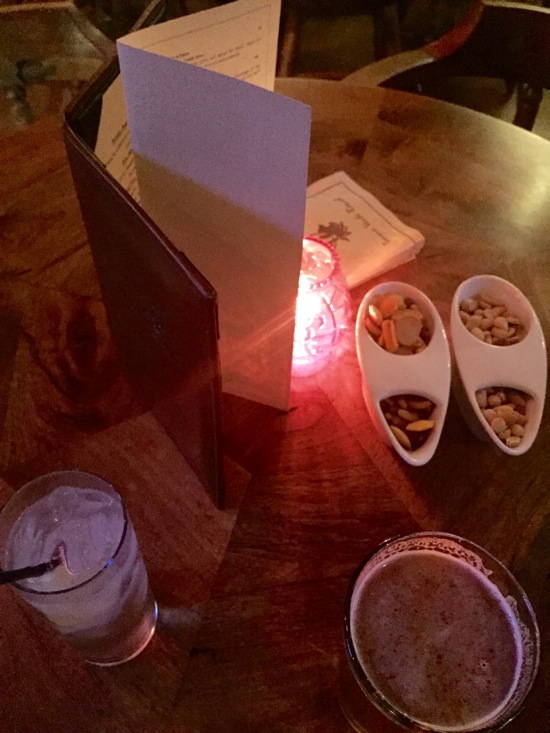 and we sat outside on the patio and chatted for a while. When you're a little bit removed from the city, the stars are INSANE. It was so dark and peaceful. After we finished our drinks, we walked down to the basketball courts and played an intense game of H-O-R-S-E. (Intense = he crushed me. I'm a great basketball spectator, but I've gotta work on my 3-pointer.) We encountered some creatures on our walk back to the hotel room: a GIANT bullfrog -which I've never seen in Tucson!- and a tarantula.
My favorite parts about Tanque Verde Ranch:
-The fact that you're still in Tucson, and still feel somewhat secluded. The property is vast, quiet, and very peaceful, especially at night. If you want to venture into the city, you can, but you can also stay entirely on property enjoying the swimming, various activities, nature excursions and meals.
-The "home" feel. While there are fantastic hotel accommodations (and those extra beautiful things like having the bed freshly made each day), it lacks the stuffy hotel feel. Usually when I'm at a hotel, even when it's a very nice one, I'm excited to get out of the room. I was so comfortable hanging out in the room, and it was a lot of fun to be able to take Liv around the property to enjoy the scenery and activities. They offer a variety of hikes, fishing at the lake, horseback lessons (from very beginner to very experienced) and full a full daily activity schedule.
-Limited TVs. The rooms on property do not have TVs in order to encourage family time and time out in nature. We're guilty of using the TV as background noise, even when we're not actively watching it, and the silence was so nice. I was surprised that Liv didn't ask to watch a show over the course of the entire weekend because there were so many other things for her to do and enjoy. They do have a TV in the living room area attached to the dining room and also in the saloon if guests want to watch TV during their stay.
-The chance to try something totally new. We were able to experience a lot of new things together as a family, and some great memories together during our stay.
Some of the ones that stand out:
Livi playing horseshoes with her nana at the BBQ
The smile on her face riding Magpie
Trying to wrangle that catfish
Livi holding her Tata's hand while they walked together (my Tata and stepdad met us for breakfast the last day)
Petting the horses after breakfast each morning (and how much they loved the Pilot!)
and enjoying such a wonderful vacation. <3
Thank you again to Tanque Verde Ranch for hosting us this weekend!
Have you done any staycations or anything similar in your hometown? If you could have any random animal as a pet, what would it be? I still want a goat. 😉 One day, it will happen.
Have a great night,
Gina
Tanque Verde Ranch kindly provided our all-inclusive accommodations during our stay this weekend, and did not ask or require me to post about our experience. I wanted to spread the word, because it's an amazing place and a unique option for a getaway or destination travel. We provided our own travel to Tucson. xo