Hi friends! Happy Monday! Hope you had an amazing weekend with some fun and relaxing on the agenda. <3 We enjoyed our first family camping trip! Before I get into that recap, here's some adventures from the weekend:
My Friday morning started off with my first full post-digital-nerve-repair-surgery BODYPUMP class. The verdict? Not only did I survive, but it.felt.awesome. I was ready to modify the clean and press (I'm still clawing the barbell even though I can put weight in between my thumb a thousand times better than I could before the surgery) and to my surprise, it was like I never left. Everyone in class was cursing and grimacing in pain with the 100th biceps curl, and I was in the back row smiling like a creeper. It felt so good to be back!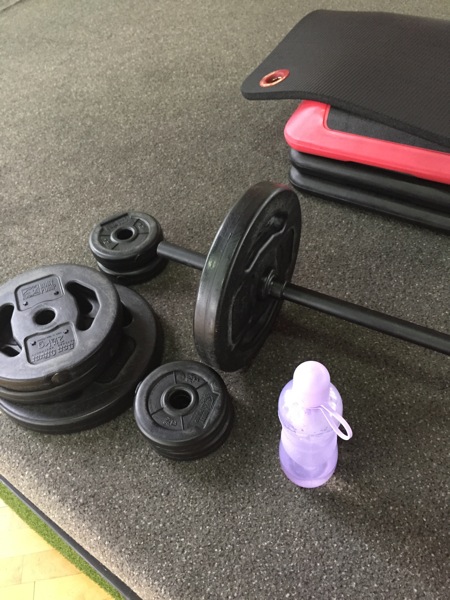 I probably won't start teaching BODYPUMP again since we leave soonish, but I can definitely sub again in the meantime. I'm pretty stoked about it.
After class, I had an awesome work productivity blitz,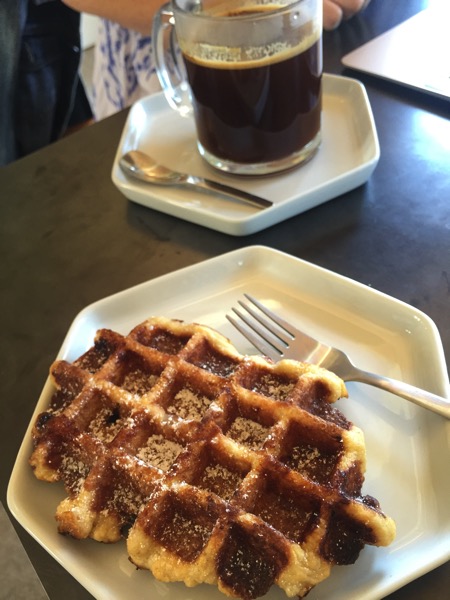 (Betsy got me a Moniker waffle because they always smell incredible, and it was just as delicious as I thought it would be)
spent lots of time playing with P, and that afternoon after the Pilot was home, I headed to work for a group fitness meeting. Our fitness director is so encouraging, and we have occasional meetings to discuss tools and strategies to become better instructors. When we arrived, she had an envelope for each of us with positive feedback our class participants shared about our classes and teaching styles. It was really heartwarming to read, and it's encouraging to receive positive feedback about something you love so dearly. After our meeting, we headed over to Solare for cocktails and pizza. We also shared some of our most embarrassing teaching moments and there were some gold stars in the mix hahah.
Saturday morning, we started packing up for our first family camping trip! The Pilot has taken Liv on a daddy-daughter trip with some friends, but this was P's first time camping. We met up with a huge group of friends and their kiddos -there were 8 little girls, 2 babies, and 1 little boy- and had a blast.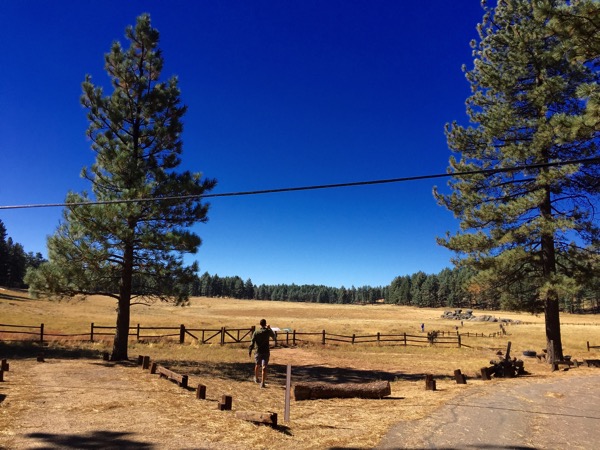 The weather was mild and pleasant, so we were able to bundle up outdoors, play games,
watch movies,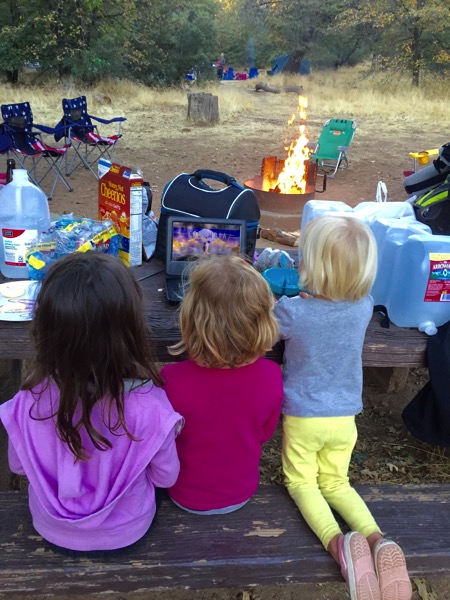 cook dinner over an open fire,
and s'mores our little hearts out. (S'mores is a noun and a verb.)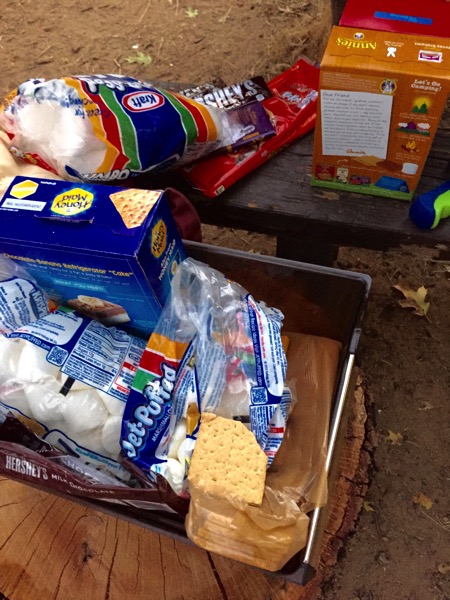 For the record, Reese's on a s'more is everything.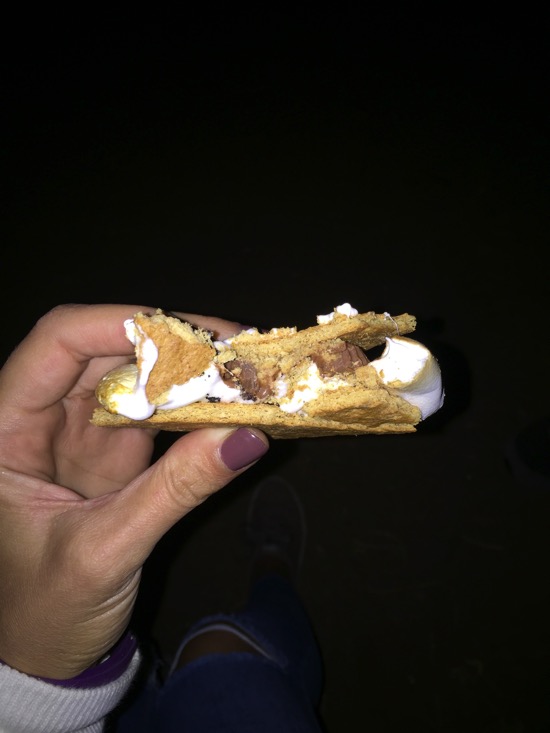 I didn't snap a picture, but before we left the house, I made a huge batch of house guacamole, and used Julie's recipe to marinate chicken breasts. (I followed it exactly and just added sprigs of fresh rosemary to the bag. It was a huge hit!) I also washed a bag of sweet potatoes and double-wrapped them in foil to throw on the fire. When we were ready to eat, everything was in the cooler, prepped and ready to go. It made it so much easier.
Even though I think I slam-dunked the meal prep portion, we still have a lot to learn about camping. To confirm our noob status, we bought a tent that day. We have a smaller tent, but knew we couldn't fit the pack-n-play in there. So we opted for a bigger option, and it was a little ridiculous.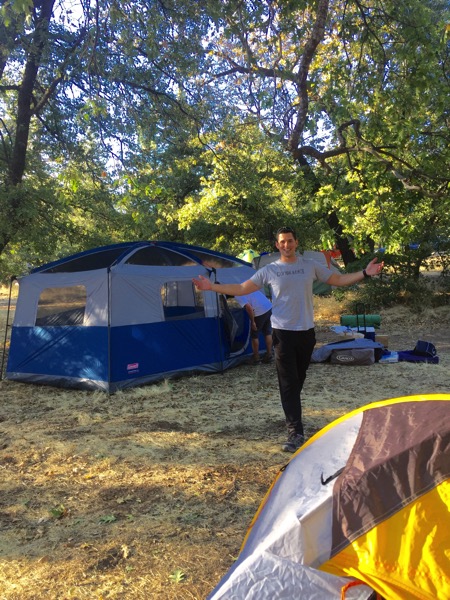 Here's the inside with a queen-sized mattress, Liv's kiddo cot + air mattress, said pack-n-play, plus tons of room to spare.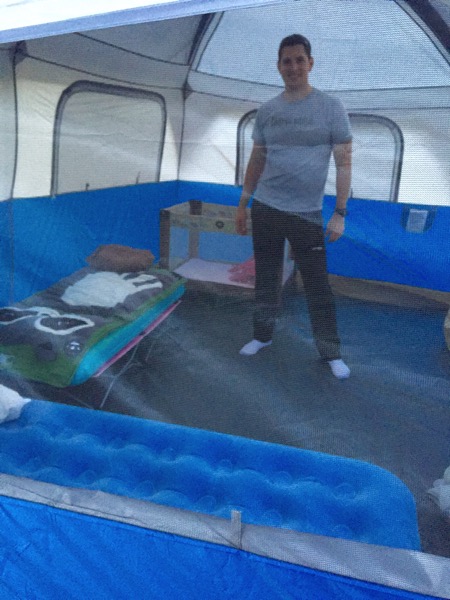 It actually ended up being a nice hub for occasional breaks with P. She had lots of room to stretch her legs after being held so much, and crawl around. (I did totally end up letting her crawl around in the dirt, but it was nice to have a bug and plant-free option.)
We had dinner, the adults enjoyed some wine and beer in solo cups, and the kiddos played so well together.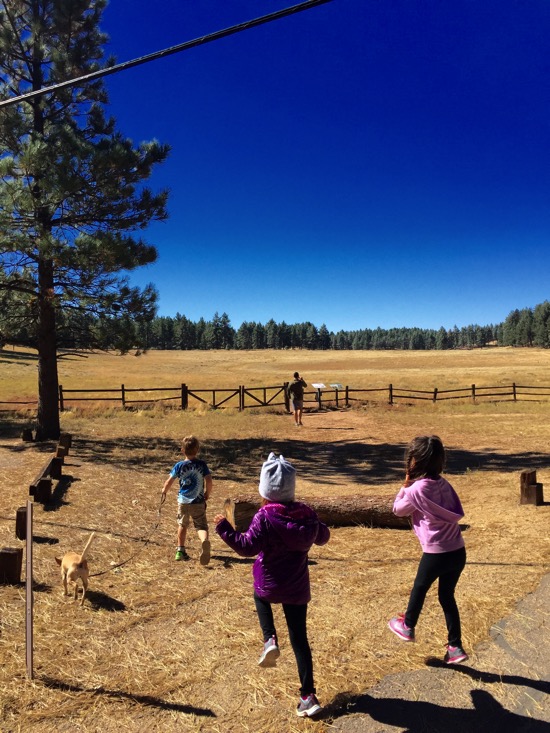 When the sun went down, we broke out the glow sticks and turned up the dance music. It was our own little campfire rave. 😉 (Also, the glowsticks were key with the preschoolers running around. We could see where they were at all times since each kid donned necklaces and anklets.)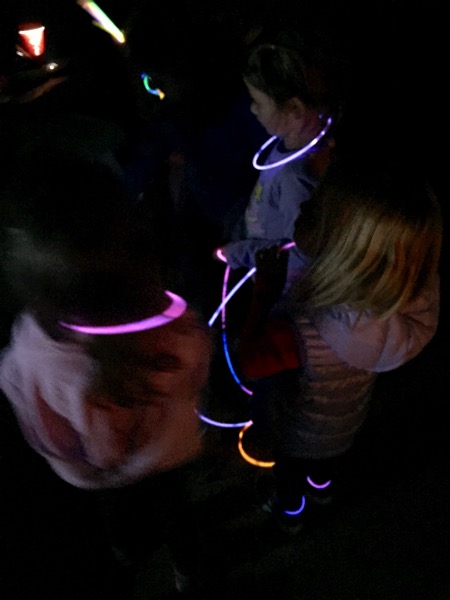 I wasn't quite sure how P would do with the sleeping arrangement, but I think the extra activity and stimulation wiped her out. She crashed pretty quickly.
As far as sleep goes, I slept the worst out of anyone in our tent. Liv definitely did the best. She crashed out and had a comfy snooze until 8am. During the night, the winds started going CRAZY and were super loud. They woke P up a few times, so she and I had a bit of an all-nighter. (The Pilot could fall asleep after helping out with P, but I couldn't do it.) I think if it wasn't so windy, she would have easily slept through the night in the pack-n-play. (Since it was cold, she wore two layers of footed pajamas: one regular and one fleece. It seemed to do the trick! We tried to put a beanie on her, but that lasted about 4 seconds.)
The next morning, the winds were still so strong that no fires were allowed. So, we ventured down to the lodge and had breakfast in the cafe.
Some of the crew: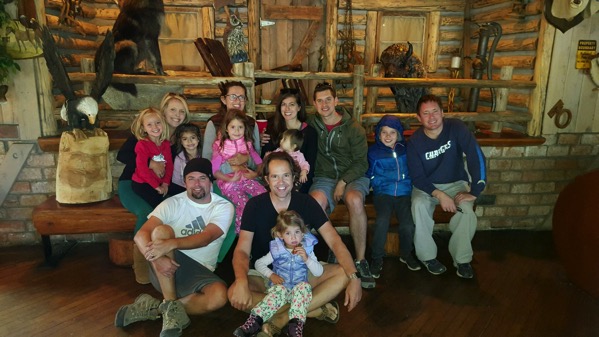 It was an interesting little place. It was founded in 1926 (!) and was packed with taxidermy, rows of books, and tchotchkes. Also, what happens if you don't tip?? We didn't want to find out.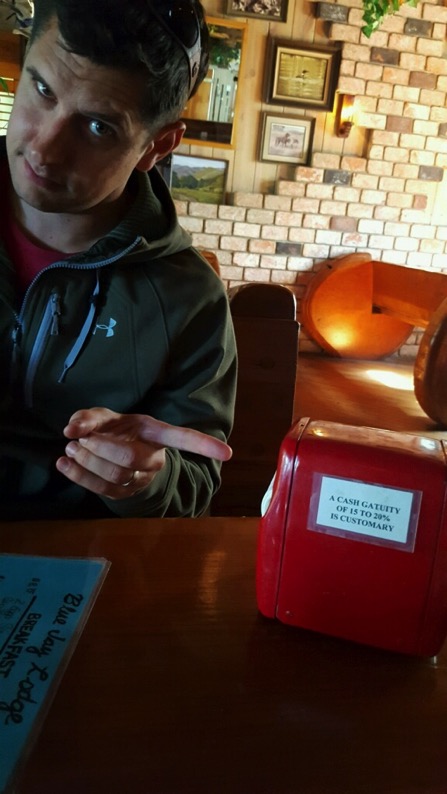 After breakfast, we explored a nearby meadow with exquisite rock formations. The kids loved climbing to the top of the rocks, and running freely through the meadow. It was absolutely beautiful.
It's hard to believe that not too long ago I was trying to convince Liv not to eat rocks,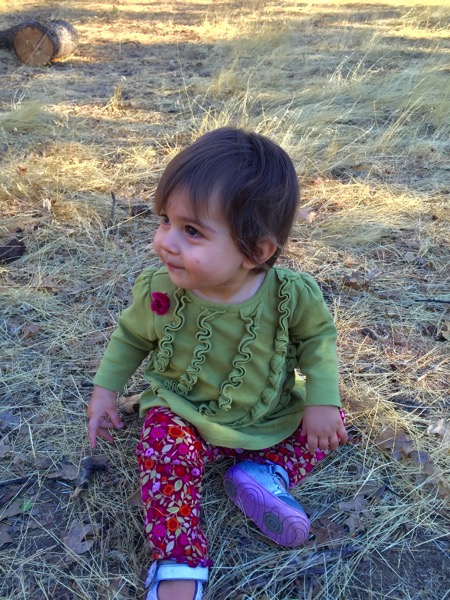 (now it's just keeping P from ingesting them)
and here she is now, climbing to the top.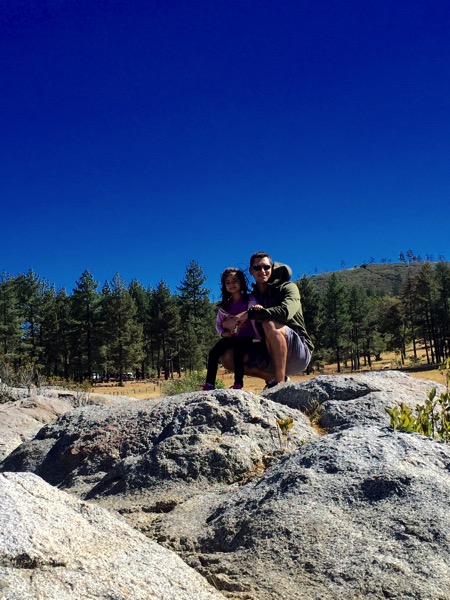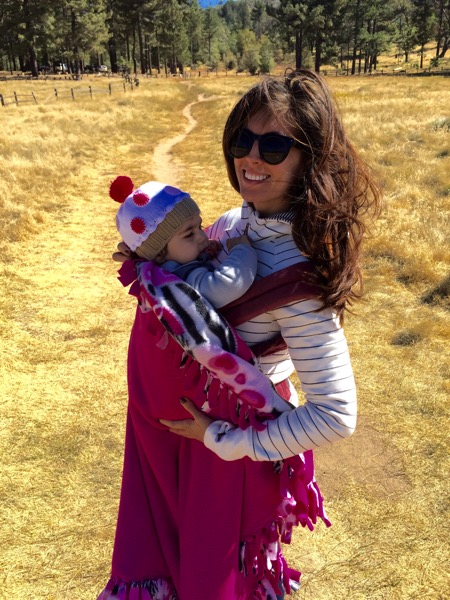 After our little hike, we packed up and hit the road back home! It was a memorable little getaway, and another way to enjoy our friends and nearby surroundings while we're out here.
I hope you had a great weekend, too! Are you a camper, or not so much? I would say maybe we'll go out camping when we're in Georgia, but there's that whole "gators in the wild" thing. #lodgeftw
xoxo
Gina