Back in the game with Old Navy
This summer, I am back in the game. It feels like I really had a year and a half off limitations, since I was pregnant (and was advised to ditch the impact workouts to resolve a pregnancy-related complication) and my surgeries following the birth. I was able to implement bits and pieces of my *normal* fitness routine while I was pregnant and recovering, but haven't felt free rein of the gym quite a while. While recovery and healing is so important, it can be hard to get back into your routine afterwards because… it's no longer a routine. The habits you set in place are no longer there (oh hi, couch time and wine instead of nights teaching fitness classes) and you have to create new ones. In many ways it feels like starting over completely, and while it can be a little bit intimidating, that excited feeling of a fresh start is invigorating.
I teamed up with Old Navy to create a fitness goal this summer, and mine is simple: consistency. Finding the balance of my old healthy habits, and making consistent steps each day to be active. A huge component of this is strength training. It seems like it's the easiest one to fall off the radar -especially when I depend on cardio for mental clarity and stress release- and also something that gives me significant results in strength and fitness gains.
This summer I will strength train 3x a week.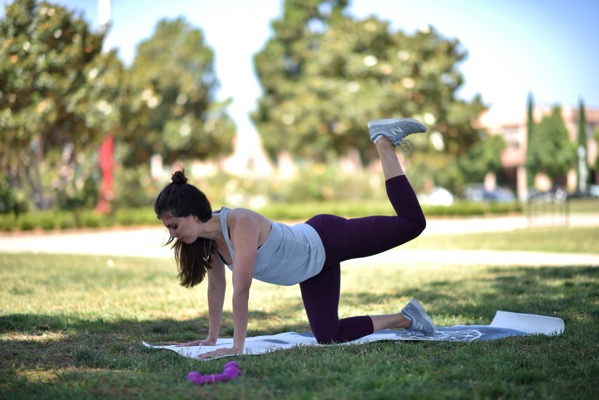 Will you join me?!
We have Summer Shape Up starting NEXT week, and I also created the workout plan below if you're just getting back (or started!) in the fitness game.
Here are some of my tips as you start to work towards consistent training and re-establish healthy, active habits.
Walk, then run. If you're usually a runner, experiment with walking first to build up your cardio base. From there, you can start to add in running intervals. Start off with 30 seconds of running and 1-2 minutes of walking. Decrease your walking time and increase your running time gradually, until you're able to maintain a steady run.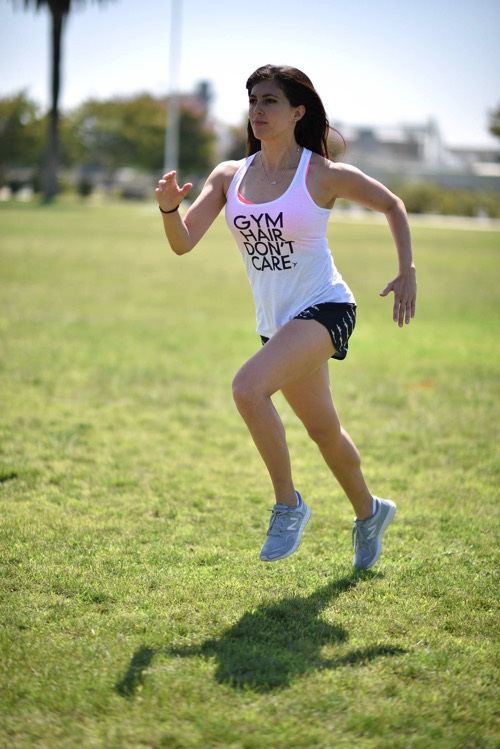 Stretch! Researched is mixed on stretching, but I find that it feels good, particularly after a tough workout.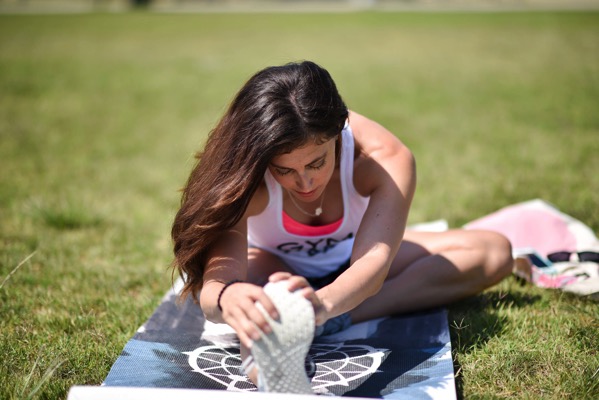 Also, if it helps to reduce muscle soreness, it's worth it! Take some time to breathe and stretch if you find that you enjoy it and it works for you.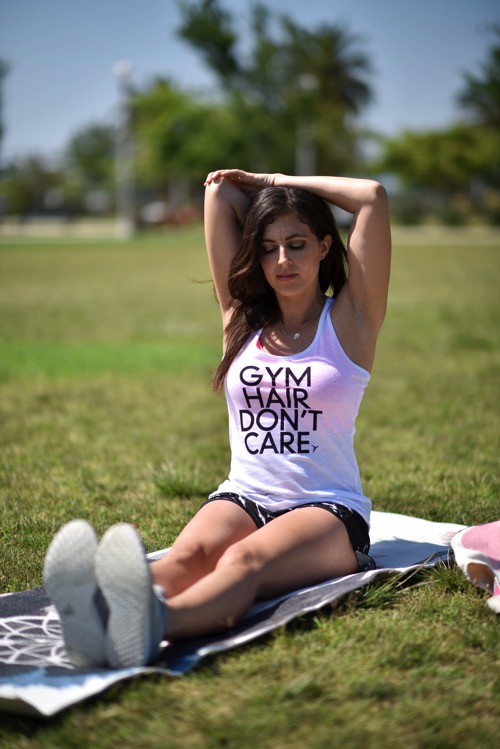 Ditch the jumping. If you're doing a workout that calls for explosive movements, and you haven't done that in a while, you can still perform the movement while keeping your feet on the ground. See how you can modify your favorite plyo exercises to keep one foot on the ground at all times.
Start with lighter weights than your usual set. You can always go heavier! I find that when I'm getting back into it after a hiatus, ALL weights make me feel sore. 😉 So I start with super light weights to get used to the movements again -muscles have amazing memories!- and build up from there.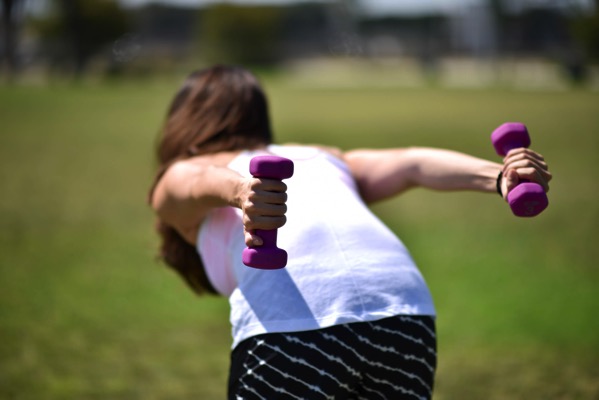 (Wearing "Gym Hair, Don't Care" graphic tank, Go-Dry Printed run short, Go-Dry seamless light support bra. I wore this outfit to teach spin and loved the lightweight and wicking material.)
Here is a workout I created for those who might also be getting back in the game, or getting started on your fitness journey. As always, talk with a doctor before making any fitness changes and honor your body. Modify as needed.

(Wearing the Go-Dry Fitted Performance seamless tank, Go-Dry strappy cami light support sports bra, and the Go-Dry High Rise Stripe Compression crop. The tank is made of luxe tech material and is very light, and I loved the flattering higher waistband of the crops with gentle compression. This outfit was perfect for a sweaty barre class.)
So tell me, friends: what fitness goal are you working towards this summer? Who's joining me for 3x a week strength training?
xoxo
Gina
This post was sponsored by Old Navy. Thank you so much for supporting this blog! I truly appreciate it. <3
Photos by Henry Young