I love Sundays. Especially ones filled with family brunches, getting chores checked off the list, and spending time with the people I love.
Sunday flowers: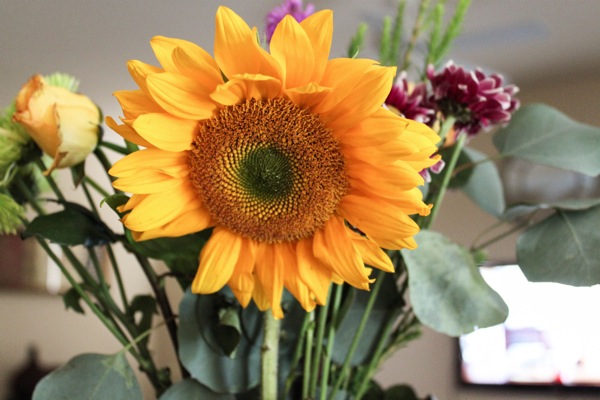 We ended up doing a lot yesterday, and when I went to upload pics from the day.. there were only three.
One of Bella patiently waiting for a green bean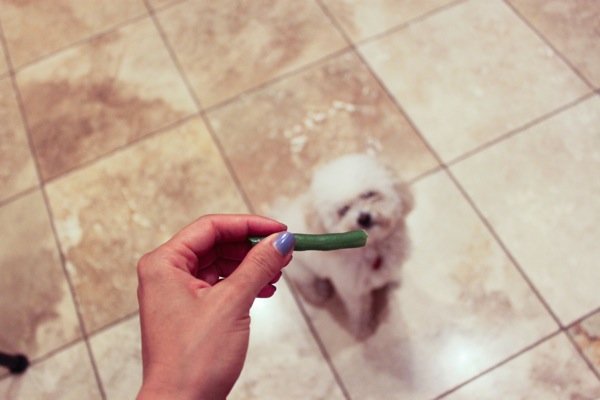 and two of my salmon dinner. Salmon, green beans, and sweet potato with almond butter.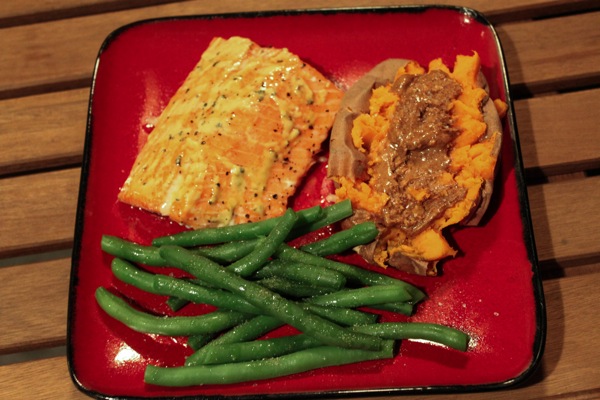 I also went to a yoga class.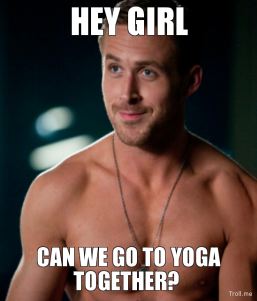 (source)
Sorry Ryan, but I had already made plans to go with a friend 😉 We met at the Children's Museum and her daughter is 4 days older than Liv! It was technically an off day, but when she texted to see if I'd take a yoga class with her, I decided to go for it- I've missed yoga like crazy.
Even though wasn't my favorite class, it was so glorious to get in a good stretch and "om" session. The instructor seemed pretty awkward and cold throughout the practice, so I figured it might have been one of her first times teaching. I always have extra patience with new instructors, especially since I know how it feels to be super nervous, and I also know how it feels to teach a class that yoga nightmares are made of. For my first and only time teaching yoga -they desperately needed a sub on base, so I got sucked into doing it- and looked down after finishing my sequence to see that we had more than 30 minutes left! Fail whale.
Anyway, it was more of a restorative class with lots of deep stretching and hip openers. I haven't practiced yoga in over a month, and it was nice to get in another class where I was able to focus and relax.. for the most part.
Some things I learned:
-My right pinky toe is most certainly broken. I stubbed in on the ottoman -notorious toe-stubber- and somehow managed to stop the flow of curse words that usually escape from my mouth, because it HURT. At yoga, I noticed that it's kind of contorted out to the side and I can actually see the bone sticking out. Lovely.
-I'm ready for a trip to the chiropractor. My right hip is still out, so when I lay down, the fact that one side touches the floor and the other doesn't, makes me feel like I'm ready to get adjusted. Savasana was spent thinking about getting my hip popped back into place.
-Yoga really is just like riding a bike. Even when I've been away for a while, even if I'm rusty, it's fairly easy to go back into familiar poses, while the poses themselves may feel different. Whenever I finally get in a yoga practice -it seems to skip the radar because of the time commitment- I'm glad I went. Hopefully it won't be so long between now and my next practice, even if I just do a short flow on my own before bed.
For now, I'm off to run! I'm listening to the playlist I put together for the September Workout. Hopefully it will pump me up enough to make 6.2 miles 😉
xoxo
Gina
Coming up: Giveaway!
New on the Family page: Thoughts from the week
Make it Happen Monday: Take a second today to write down what you're going to accomplish this week, and make the steps to go after it <3 I'm so happy to hear many of you will be joining me for a week of clean eats! So far, so good.