I mentioned before that I was trying to think of ways to make bath time more fun, and that Liv was hinting that she was getting too big for her baby tub. She kept trying to climb out, and would sometimes look up at me like, "Really, mom? I'm way too old for this plastic thing."
So, per your awesome suggestions, we transitioned to the regular bathtub a couple of nights ago.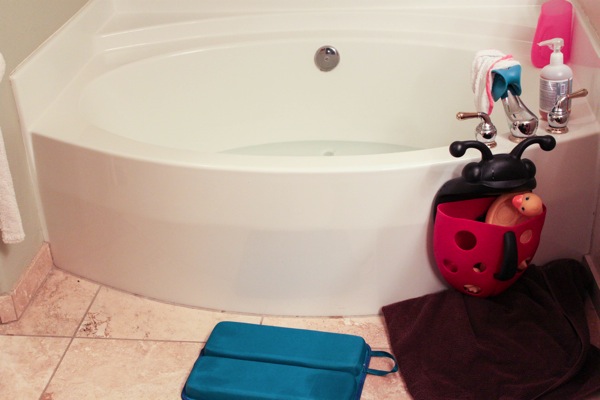 The verdict?
She LOVED it. 
I think she loved having the freedom to crawl and splash around (she's a splashing machine!), and kept looking up at me in wonderment. Initially, we were going to use the guest bath as her bath, but I just put all the kiddo stuff in our bathroom. I never use the bath -it was great right after I had Liv, but I'm more of a shower girl- and figure that this way the guest bathroom will always be ready if we have company.
Here are some of the bath essentials I picked up:
(they had great reviews and are BPA-free)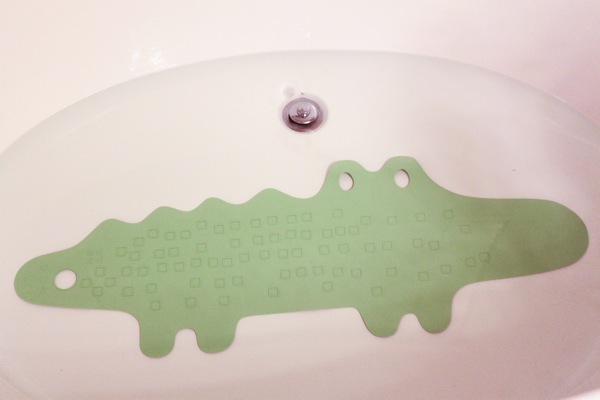 2. Kneeling pad <– not the hugest fan of this one. It's kind of hard and painful to kneel on- I'm better off on the tile.
3. Boon ladybug pod and suction cups
5. Sassy bath toys – Liv figured out how to make the toys squirt right away, she thought it was hilarious
What we already had on hand:
6. Lots of washcloths and towels (after I wrap her up, I sing the "burrito girl" song haha)
7. California Baby shampoo/body wash
9. Rubber duckies galore
Are there bath essentials that you love and would recommend?
xoxo