[Warning: gross eyeball pics ahead. Please skip if eyeballs and veins make you squeamish, or if you happen to be eating your lunch]
So, I'm a bit of a stubborn one. (It's part of my Scorpio nature.) Sometimes it's in my favor, as I think it helps me to work a little bit harder, and sometimes it bites me in the face. Or in the eye, in this case…
As you guys know, I got eyelash extensions a few months ago. I liked how they looked, but didn't really love the procedure. It was uncomfortable, the glue burned a little, but when it was over, they were kind of fun while they lasted. I wasn't in a hurry to get them done again, until one of my friends convinced me. She said that I needed to go somewhere else, since the procedure is NBD (even relaxing!) and her eyelashes always look insanely gorgeous. Since I don't usually splurge on beauty services -my haircuts are courtesy of the madre, and I paint my own nails- I figured I'd treat myself and give it another whirl.
I researched quite a bit online, found a place with fantastic reviews, a great price ($89) and decided to go for it.
Surprisingly, the procedure was fun and relaxing. The eye pads didn't hurt, the technician worked quickly, and they didn't burn until the very end, when I opened my eyes.
They were long and luscious,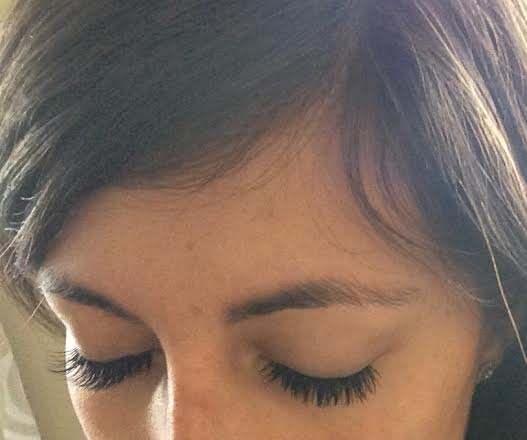 but when I looked in the mirror, I noticed my left eye was neon red.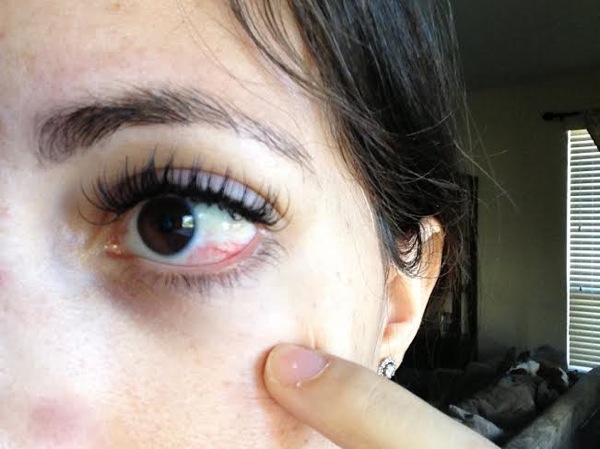 "Oh, that's normal. It will go away by tomorrow."
Two days later, it was still there. I was still wearing my glasses since I didn't want my contacts to irritate it further, and decided to get into the eye doc to make sure it wasn't infected. Turns out, I had a cut in my eye from the procedure. Doctor visit (cha-ching!), antibiotic drops (cha-ching!) and had to wear my glasses until it cleared up (just annoying). Even though the cut healed and my eyes looked ok, the extensions never really felt good. They were always a little itchy and it was almost like I could feel them touching my eye. Multiple times during the day, I'd find myself looking in my eye to see if one had fallen in there and that's what was bothering me.
This morning, I woke up with swollen, puffy eyelids. They were extremely itchy, and before attempting to peel them off myself -which would have been a nightmare- I called my favorite waxing technician (who also does extensions.. don't ask me why I didn't go to her in the first place) to see if she could remove them for me.
It took two and a half hours to get them taken off.
She was so patient; after waiting for the glue to dissolve, she gently removed the lashes one by one. I felt instantly better afterwards, and am so glad my eyes can finally breathe!
The problem: they had been glued onto my eyelids. Apparently, you're supposed to glue the lashes 3/4 way down the lash so that it can easily fall out during the lashes natural growth cycle. Mine weren't going ANYWHERE, and the follicles were clogged from the glue, hence the puffy eyes. Also, they were too heavy and thick for my eyelashes, which was already causing some breakage and damage. 
So there's my sad lash story. They were pretty for about a week, but totally not worth the pain. Just thought I'd share if anyone is considering trying them out soon! Definitely research your technician, their procedures, the glue, and get a referral from someone you know.
xoxo
Gina