New stability ball workout {video}
Good morning! Happy almost-Friday <3
Zumba went really well last night! I had three ladies, who take Zumba classes often together, and they were a hoot. They followed along extremely well, so I threw in a couple of my more complicated dances towards the end. After not teaching for a while, and only being used to 45-minute team-teaching classes while I was teaching regularly, an hour by myself was no joke. I'm a liiiittle out of Zumba shape 😉 I had a blast, so hopefully my three Zumba friends will be back again next week. 
This morning, Livi and I are starting to get things ready because my MIL is coming for a visit! I'm excited that she'll get to stay with us one more time before we move. We have a couple of fun things planned for the weekend, including Livi's birthday party 🙂
This morning, I thought I'd post a little stability ball workout that Sasha and I filmed together: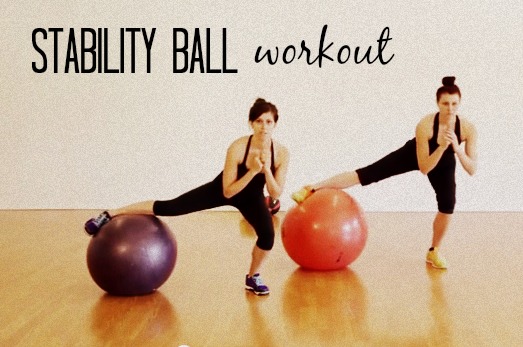 It works your entire body, and you can complete it up to three times total. As always, check with a doc before making any fitness changes, and honor your body.
Hope you enjoy!!
You could combine this with a Zumba warmup, Tabata circuit and arm burner for a killer 30-minute workout. 
Here's the text version for my friends at work: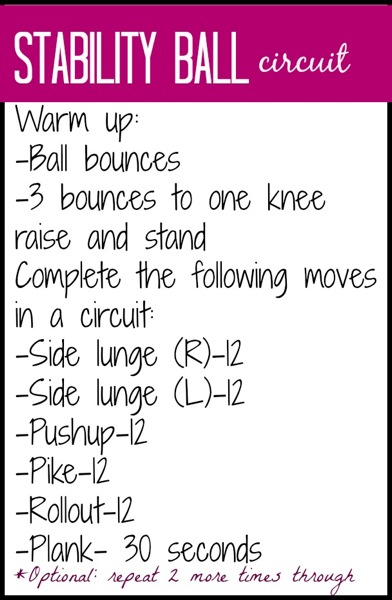 Hope you have a wonderful day!
See ya later.
xoxo
Gina
 How often do you use a stability ball in your training? What's your fave exercise? If you're looking for some more ideas, check out these 20 ways to use one + this Focus On post! It's a great way to challenge balance and work your core 🙂