Chickpea omelet (vegan, gluten-free)
Let us all retrieve the tiniest violins and play a very sad song in mourning….
let it be known that I haven't had eggs in two weeks.
If you know me, eggs are my favorite food in the entire world. With the exception of when P was a baby and we were trying to figure out her reflux triggers (it was about 8 weeks of zero dairy, gluten, eggs, soy, nuts, gassy veggies, and it.was.horrible), I've had at least one egg per day, some times as many as three, for hmm maybe 15 years? A long time. A very long time.
If I'm hungry, I scramble eggs and add hot sauce, possibly throw in a tortilla and it's everything I could ever want.
When I started researching foods for gallbladder health, eggs came up as a top food to avoid in every single article I read. Apparently the gallbladder hates eggs. And hates me. Since I'm trying to get these polyp things to go the F away, I couldn't do it without getting rid of eggs, at least for now. Maybe if I get my ultrasound and they're gone (or at least the same size), I can live my life again. But until then, I'm feeling pretty anxious about everything. Mostly I'm just trying to eat way more produce, eat less inflammatory foods (so really minimizing gluten and dairy), and drinking a ton of water. I'm juicing, I'm taking supplements, I'm saying prayers. And I'm really, really missing eggs.
Breakfast is obviously my favorite meal in the world, and it's a celebration of eggs. You can't look at a breakfast menu without seeing beautiful egg creations like omelets, benedicts, and frittatas. The Pilot and I went out to brunch at Prep & Pastry, and I was trying to figure out what I was going to eat. I thought if anything, I could ask for some chicken sausage, breakfast potatoes, and some fruit.
Then, I saw a chickpea scramble on the menu and decided to go for it. I fully didn't expect it to fill the void of eggs but I was pleasantly surprised. It had SO much flavor and was a perfect substitute for an omelet. It made me feel just as satisfied and happy, and zero weird stomach pain afterwards, so wins all around.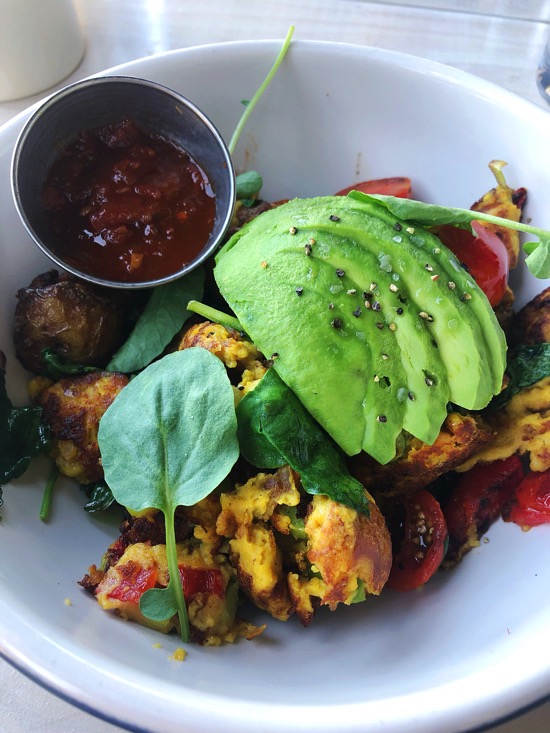 I asked Kyle if I could post the recipe here on the blog, and thankfully he said to go for it.
That was kind of a long story, but here's the famous Prep & Pastry chickpea scramble. 😉
Veggie friends, egg-loving friends, gluten-free friends, everyone needs this in their life.
Here's how it works:
You mix two parts chickpea flour to one part nutritional yeast. Add some veggie broth and whisk it until you have the texture of pancake batter.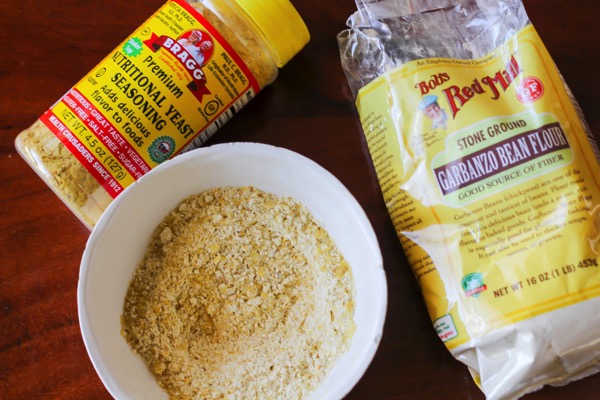 Saute your favorite veggies for the filling. I used a mix of cherry tomatoes, artichoke hearts, spinach, bell pepper, kalamata olives and spinach. Set aside.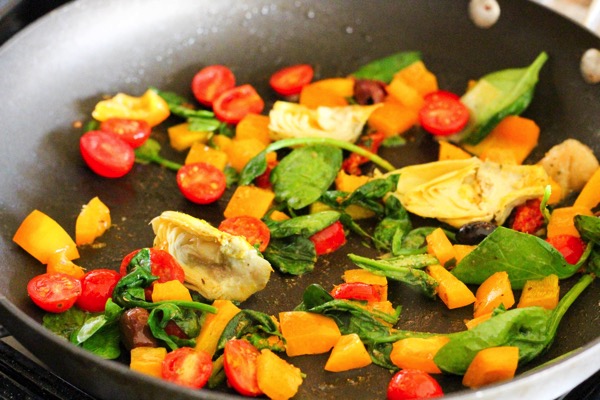 Heat a large pan to medium heat and add your chickpea batter. Scramble a bit, just like you would an egg. When it's almost finished, add the veggies back to the pan and incorporate. Serve with fruit and or breakfast potatoes!
It's also awesome omelet-style. Just cook like a pancake, flip, add your filling, then fold in half.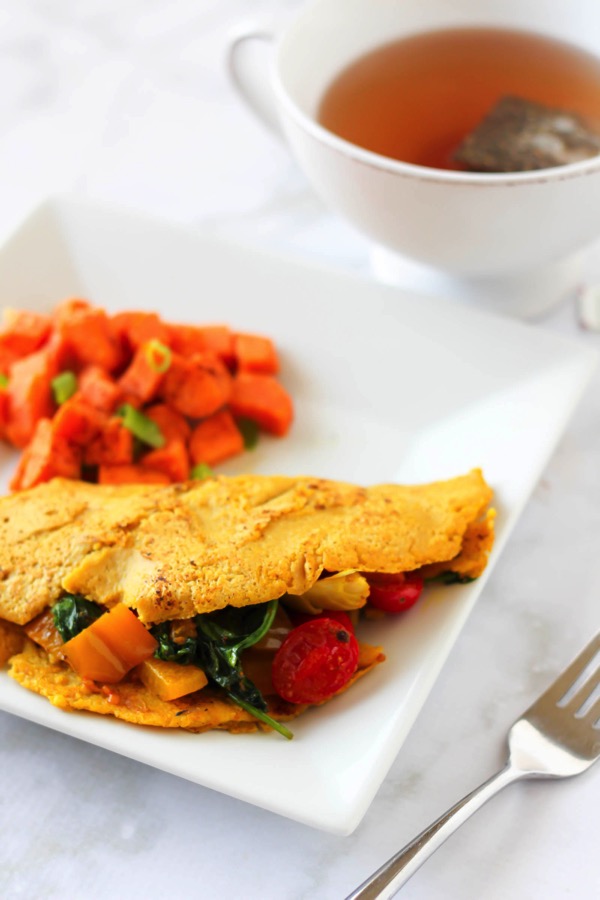 (I made some breakfast sweet potatoes that were bomb.com)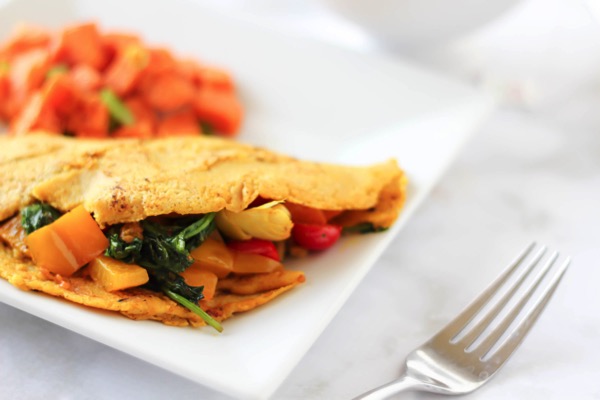 There ya go!
So tell me, friends: what's your favorite egg-free high protein breakfast? I've been doing lots of smoothies, chia puddings, and this is weird: dinner leftovers. I totally had chicken and veggie soup for breakfast last week and it hit the spot. 😉
xo
Gina
PS. Scottsdale friends: the Scottsdale Prep & Pastry opens at Fashion Square THIS MONTH! Get ready for the best brunch of your life.