Chocolate Acai Protein Bowl
I made you lunch.
Or breakfast.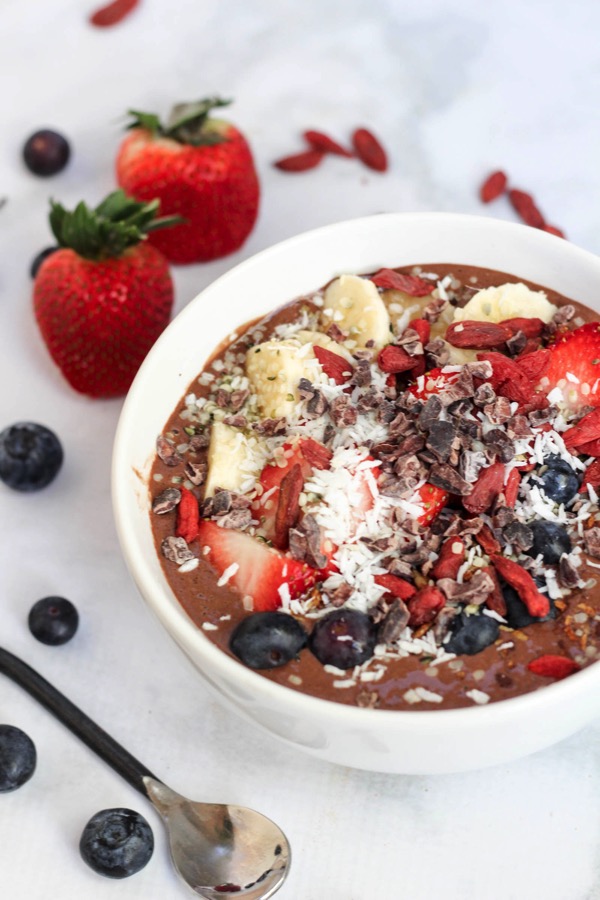 Or a late-night snack.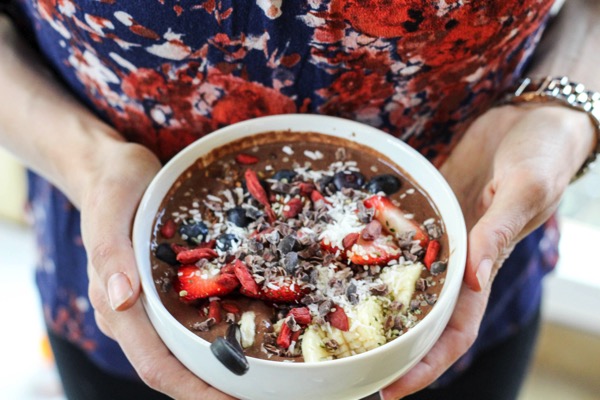 In the world of things that make zero sense, I've been craving cold foods lately. Nothing like scraping ice off your windshield and breathing hot air into your hands to make you think, "Mmm, I could go for a SMOOTHIE right now."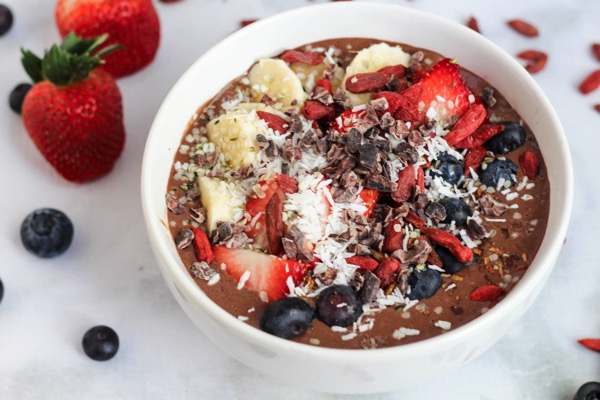 I also really want another spray tan… even though my golden glow will be covered in Patagonia jackets and beanies. YOLO, my friends.
Anyway, let's talk about this acai bowl.
Chocolate Acai Protein Bowl
From the surface, it looks kind of like all of the basic acai bowls. Here's what makes this chocolate acai bowl different: it's loaded with superfoods (hemp seeds! cacao nibs! goji berries!), filled with protein (we'll talk about that in a sec), and there's a giant blob of almond butter hidden in there.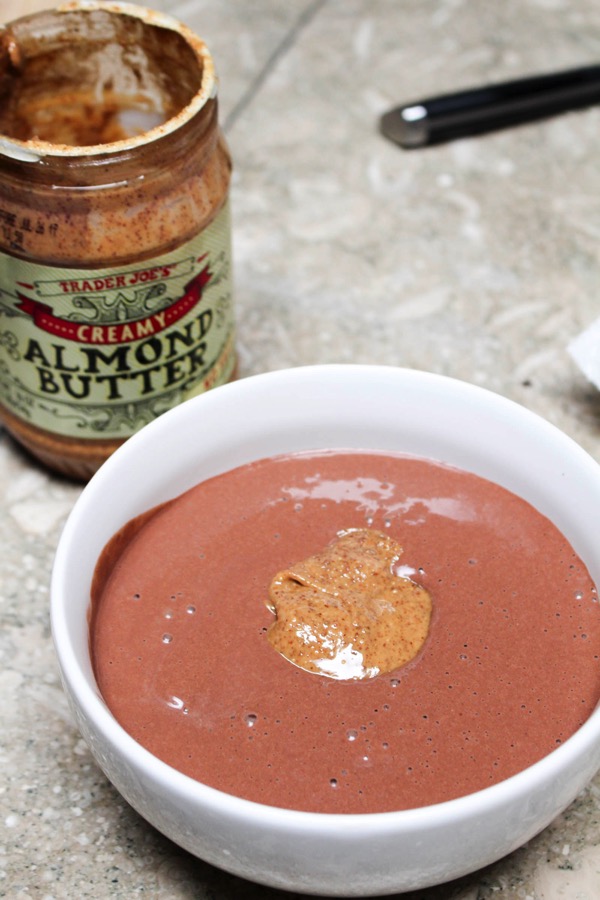 Livi says, "That's how it's done."
So, let's chat about the protein powder. I was really stoked to try out something new, since I'm always experimenting with different types of (mostly plant-based) protein. I've dabbled a bit in egg white and goat whey, and decided to try this hemp protein after hearing Shaun rave about it.
Every week when I dive into the podcast, I hear him gush about Hemp Force protein, so finally I was like, "Ok, ok, I'll try it" (and give him affiliate credit because I like him so dang much.)
But you guys. It's terrible.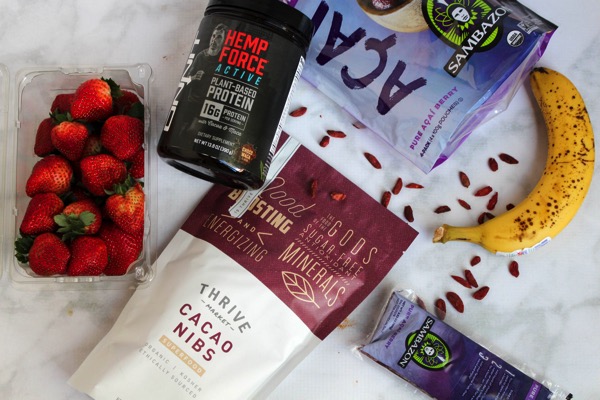 I love the ingredients, but someone get a liiiiittle heavy-handed with the Stevia. It takes a lot to cover up that woodsy hemp taste, but it's intense. I still love Shaun, but now I'm skeptical about trying anything else hahah. I've made this bowl again since then with egg white protein and Shakeology and it was much, much better.
Here's the how-to if you'd like to give it a whirl!
1) Make the acai base. I have a whole post on how to do it here! If you want it really thick and creamy, use two packs of the Sambazon acai. I prefer to use 1 pack, 1 cup of almond milk, 1 scoop protein powder (chocolate or vanilla), and 1/3 of a banana for a hint of sweetness. If you want it to be sweeter, use apple juice instead of almond milk.
2) Pour it into a bowl and add your almond butter or peanut butter blob.
3) Top with granola!! I LOVE this homemade granola. For this particular bowl, I used a pack of Blissful Eats Nicole sent me. It was delicious.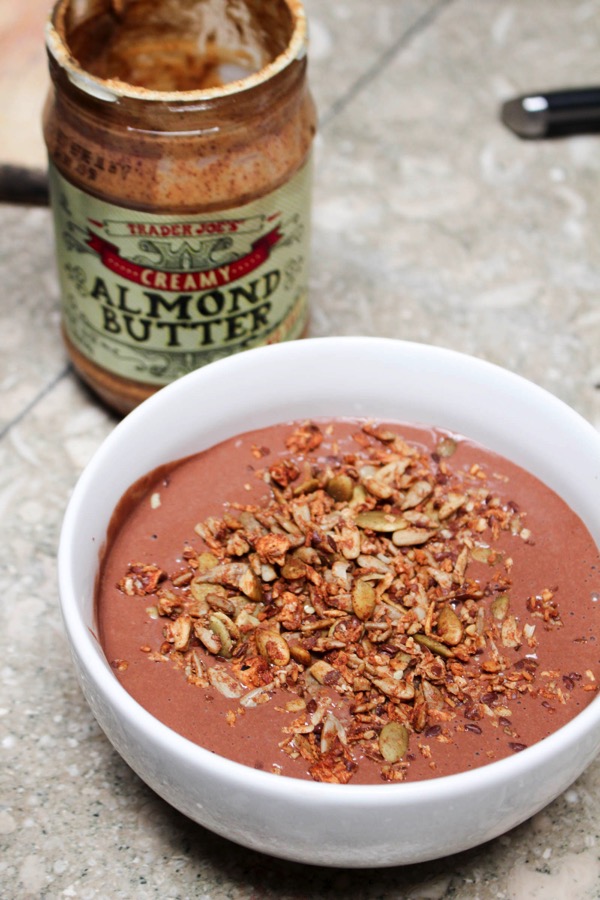 4) Add fresh fruit and toppings. The standard fruit toppings can range from classic (banana, blueberries, strawberries), to tropical (pineapple, papaya, coconut, mango), or anything else you love (raspberries, peaches, pomegranate arils, dried fruit, etc). For texture and a boost of nutrients, I also love to add anything I have on hand, like hemp seeds, chia seeds, goji berries, or cacao nibs. I've been ordering all of our packaged superfoods from Thrive Market <— the best
Bonus: drizzle with hot peanut butter and top with mini chocolate chips.
So there ya go! Super easy, and so, so delicious.
Tell me friends: have you had an acai bowl? If so, what's your favorite combo? And if you ever find yourself in San Diego, here are my acai bowl rankings:
1: Tiki Port
2: Cafe by the Bay
3: The Mad Beet
4: Northside Shack
5: Juice Crafters
7: OB Smoothies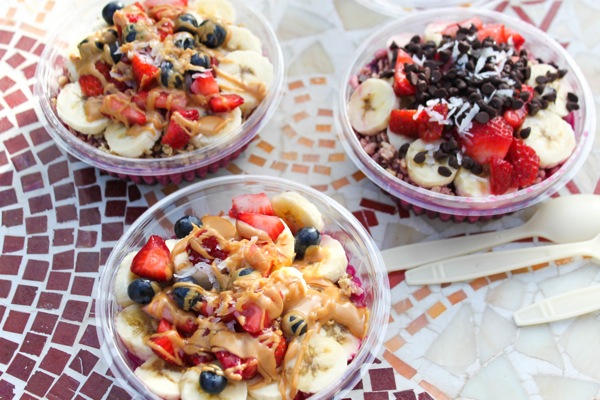 xoxo
Gina
More:
Pumpkin acai bowls with cranberry crunch
My version of the bowl of the gods