Colored denim and printed wedges
When I first saw colored denim last spring, I thought to myself "I'm glad the trend will be gone by next year."
Nope.
Here we are again and colored denim is more popular than it was last year. Same thing with skinny jeans… I fought the trend forever because I thought they were horribly unflattering, and then ended up biting the bullet.. and loving them.
And now, I kinda want a pair of colored denim 😉
So the question is, how to wear them?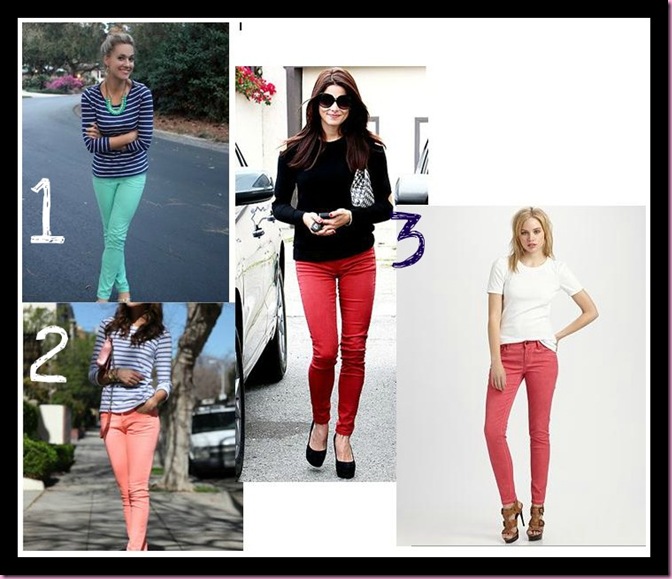 1. Same color scheme with stripes
3. Any color with a basic tee 
4. (no pic) Any color with a denim button-up top
I've been looking for an example of a printed top with colored denim, but it's something I'd probably be more careful with. It's easy to take it from classy to clown when your jeans are a bright color. If the print is understated and in the same color family, I'm thinking it would look pretty bueno.
Another big thing this season: printed wedges!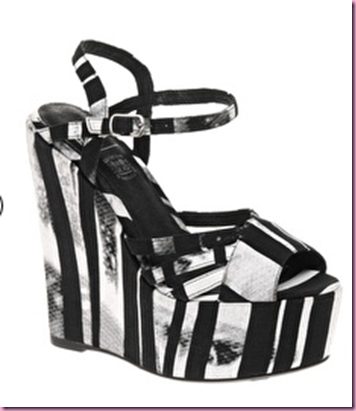 ALDO
I LOVE me some wedges. As a shorty, it's a nice way to get some extra height, and I like it's an easy way to dress up a sundress without looking too dressed up, since Tucson is pretty casual.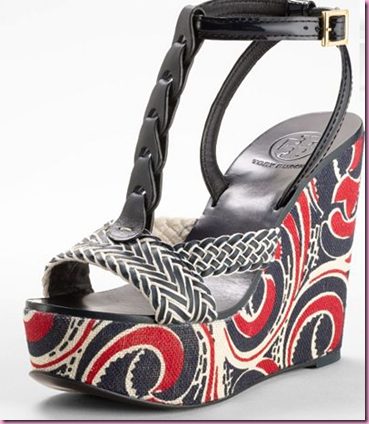 Tory Burch
One of the things I'm thinking about getting adventurous with this season is mixing and matching patterned wedges with a printed skirt or top. Mixing prints is one of the things that I've always been unsure of, but thank you to the gloriousness of Pinterest, I think I'm going to give it a whirl. I think if the patterns are in the same color family, or if one of them is neutral, it keeps you from looking like you got dressed with the closet light turned off… right??
There are some awesome tips in this article, too 🙂
Do you have any colored denim? What color did you go for?
What's your favorite summer shoe?
I have a feeling I'll be in my TOMS ballet flats all summer 🙂