Sup bloggies 😀 How's your weekend going??
Since we finished Insanity and showered around 8 last night, we went out to eat because by the time I would have bought groceries and cooked, it would have been laaaaaate.
We dined at the lovely Bleu Cafe 🙂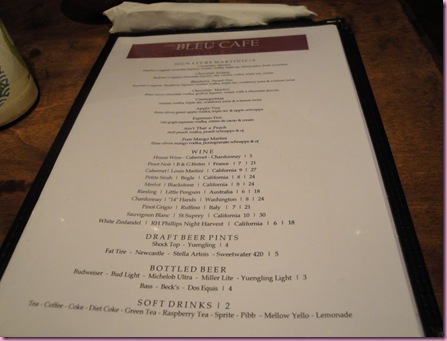 I had a glorious glass of Riesling: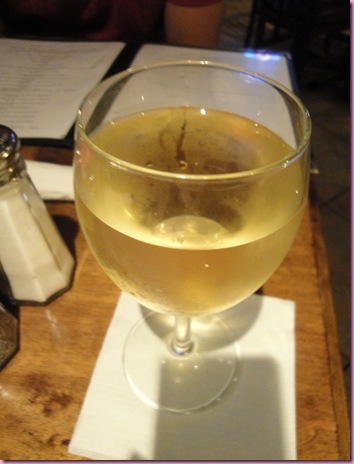 and chose the vegetarian stir fry bowl for my entree. It's *supposed* come with saffron rice, but I asked if there was any way I could please have the Cuban black beans instead of the rice.
The put the veggies ON TOP of the black beans: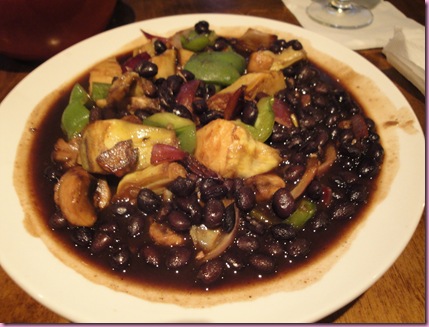 and I ate it like a soup 🙂
It was SO ridiculously good. The veggies were stir-fried in a teriyaki sauce and combined with the smoky black beans, it was outta control.
The pilot had three tacos (Memphis, South Beach and Savannah) with rice and beans.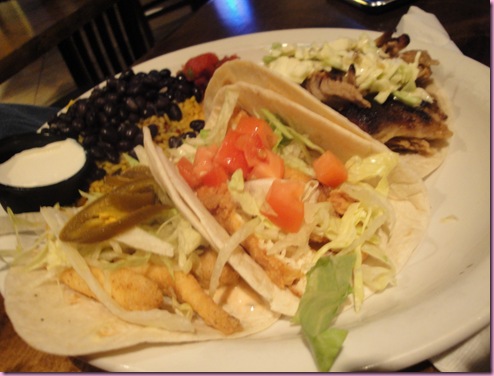 It was a great dinner date 🙂
After dinner, we didn't really feel like going home yet, so we went and walked around Books a Million (because that's what the cool kids do on a Friday night) 😉
Two new purple books: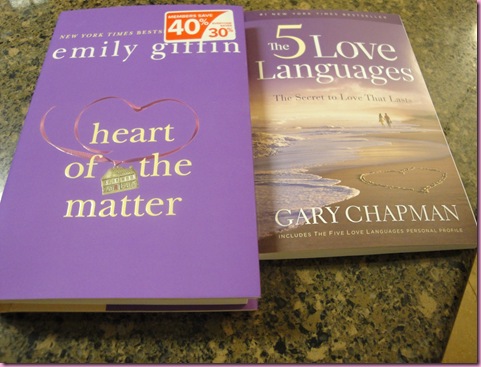 I adore Emily Giffin –she writes fun girly books- and a few of my friends have read The 5 Love Languages and recommend it to their married friends, particularly those in the military. Basically it's about the fact that we all speak different "love languages". For some people, they like to *hear* that they're loved, while others feel most loved by *gifts*, and some people feel love through physical touch and so on. It teaches you about why this is so (usually it's due to upbringing) and how to speak your partner's love language, so that they feel most loved and their "love tank" is full 😀 Pretty interesting stuff- have any of ya'll read it?
The morning was definitely a good day for chocolate pancakes up in herrrrre.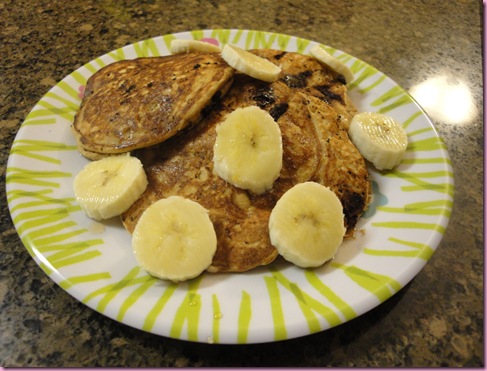 The pilot had spelt chocolate-chip pancakes, and I had perfect protein pancakes with some dark chocolate sprinkled in, 1/2 banana and 1 T maple syrup. Protein perfection 😀
We're off to pump some iron and then hit up the Memorial Day sale at Turner's furniture. We saw a sleigh bed advertised and today might be the day 😉
Have a happy Saturday!
xoxo,
Gina
Today's tip: Try these muscle relaxation techniques as a way to soothe yourself to sleep at night