Hi guys! How is your day going?? I can't believe the amazing and generous bids for the macaroons – thank you! I hope to sprinkle gold on them (kidding) and only wish I could hop in the box, do a personal training session and perform a Broadway show medley 😉 It's truly for an amazing cause and I'll be sure to make the goodie package as fabulous as possible. <3
So this morning, I had half a banana and some almond butter, and set out to do something I haven't done since May.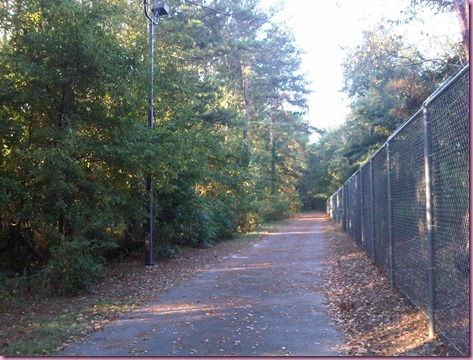 I had a date with my ex-boyfriend: running. Not just a random occurrence or simple "hey, how ya doing?" like last time…
A full-up date… with canoodling. To the tune of 6 miles. I don't even know who I am right now.
Did I like it? Ehhh, kinda? Did I need it? YES.
Running has never been my fave, but I got so hooked on it because of the mental benefits. Running is the *only* thing I've discovered where I can totally zone out and not think about choreography, poses, or be on a machine (like the stairmaster or elliptical). I can put in the iPod and GO. This morning, I really needed to clear my mind and a yoga podcast wasn't going to happen… so, running happened.
I did a 3 mile loop on the trail, then walked to the track, ran/walked for a while, then ran to the BX to wait for the Pilot (he was at the squadron).
Breakfast: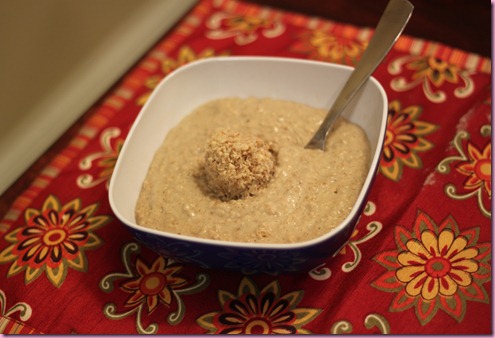 Oat bran with almond milk, a scoop of Sun Warrior, mesquite and a macaroon topper 😀
I spent my day running errands, going to the DMV for the third time (every time I go to renew the tags for the new car, they tell me I need another document… today was another fail to add to the list) and then grabbed some lonchi: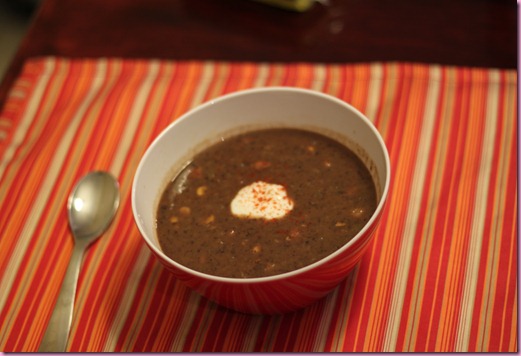 Amy's Black Bean Vegetable soup with a dollop of plain goat's milk yogurt and cayenne
Tonight, we're having friends over for appetizers, dessert and vino, but first I'm gonna go train a couple of clients.
Have a great night! <3
Gina