Hey guys! Hope your Friday has been fabulous 🙂 We met up with Kelly and Meara and their beautiful baby girls (Liv's BFFS) for lunch. Liv was awake almost the entire time- she loved it!
Thank you so much for letting me know that we don't have to worry about sunscreen for now –we'll use a big hat or the sun protection shade on the stroller- and to those of you who left questions! There are a lot of good ones in there, so I thought I'd split it up into two posts and will do the other one sometime next week, along with a 2 month post-delivery body post.
Here we go:

Congratulations on your pregnancy! The reason why I pump so much is because after my ductal surgery, righty is basically broken. I can pump a little bit out, but she doesn't nurse from the right at all since supply is so low on that side. She also got used to the faster flow of the bottle when we had to supplement early on, and will sometimes prefers the bottle during the day. When this happens, I'll feed her and pump at the same time so she has more breast milk for the next feeding. Or if she does want to breastfeed, I'll pump the right side while she's drinking from the left. She gets almost all of her food from the left side, and while pumping is a pain, it's nice to be able to see how many ounces she's getting when she takes a bottle. The good news is that if you haven't had any health problems or surgeries to affect your supply, hopefully you won't have to pump as much.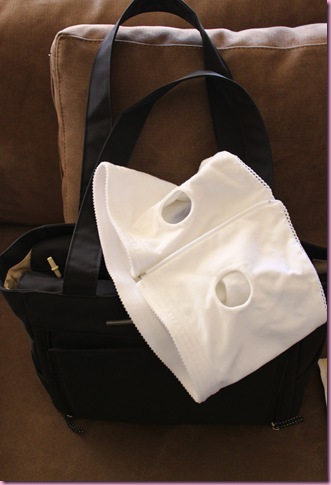 Stephanie,
Thank you! I think she liked the Zumba 😉
I'm really excited about testing the cloth diapers out, but they're still a little big on Liv. I bought the one-size option instead of the newborns so I'd be able to use them longer. My mom used cloth diapers with all of her kids, and also used a diaper service which was fairly inexpensive- they came to pick up the dirty diapers and replace them with fresh, clean ones every other day. Pretty amazing! We were hoping to use pre-folds and a diaper service from the beginning while we got into the swing of things, but they don't offer that in Tucson anymore :/ So for now, we're rocking disposables and will give cloth diapers a try to see if they're a good option for us.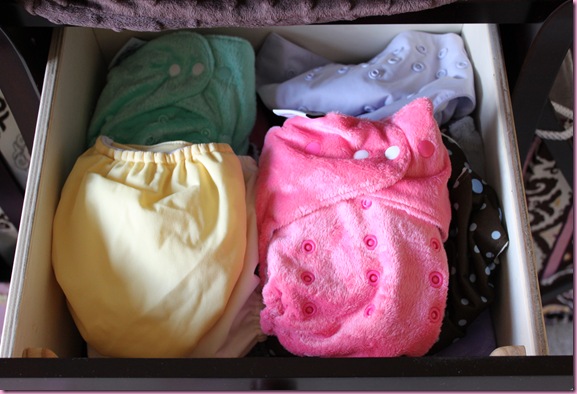 They're so cute!!

Hey Katie,
From what I've noticed so far, working out hasn't affecting my supply at all, but I also haven't worked out to the capacity that I was pre-pregnancy or even while I was pregnant. While I do workout, I just make sure I take in enough extra calories and water for the day. I definitely feel more hungry, even more so than when I was preg, so lots of snacks throughout the day and lots of healthy fats 🙂 I haven't weighed myself since my last midwife appt, but I do believe that the body holds onto excess fat while you're breastfeeding. From what I've heard, it's totally normal to hold onto 5-10 extra lbs to keep supply up. Two of my harcdcore runner friends, who also recently had babies, haven't seen a decrease in their production at all, either. I think it really is a matter of hydrating yourself, fueling properly and of course, everyone is different. If you're finding that you're not losing weight the way you anticipated, maybe try bumping up your nutrient intake to see if that helps- you may be getting too little, and bfing uses a lot of energy.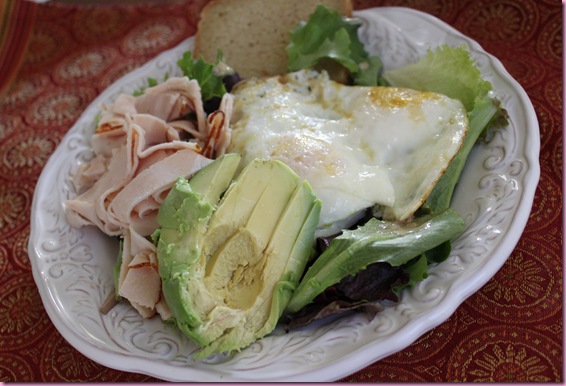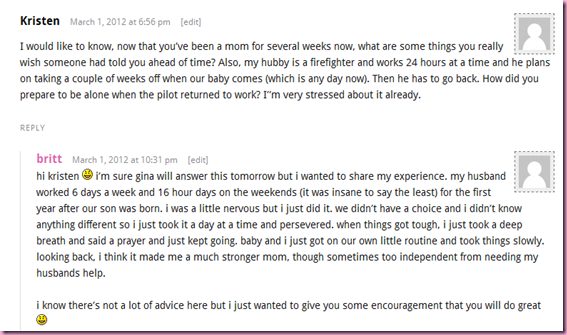 Kristen,
Thank you so much to you and your hubby for the sacrifices and hard work on both of your parts <3
The hardest things for me were definitely the sleep deprivation and breastfeeding, but only because I've had so many problems with my right side and taking so long for my milk to come in. As far as sleep deprivation goes, it's rough. Everyone tells you "sleep now while you can! Hardee har" while you're pregnant, and while I knew we'd be up a lot, I had no idea. For a few weeks, I didn't get more than 20-30 minutes of sleep at a time since Liv was eating so frequently. Just hang in there and remember that it gets better! Last night, she slept from 8-5.. and it was glorious.
The first time Tom was going to be flying the next day and sleeping in the guest room, it had only been two weeks, and I was horrified. I had anxiety all day about it, mostly because I knew I'd be awake all night by myself, and that I really didn't want her to cry too much and disturb Tom's crew rest. It's scary to know that he has his life in his hands every time he flies, and I always feel a little better (but still worry like crazy) when he has a full night of sleep. I'm sure you know what that's like, especially since your hubby works such long shifts.
Just as Britt said, it's one of those things you just do. And you make it through it, and feel proud of yourself. Most days (anywhere from 7am until 9pm) and many nights it's just me and Liv. I'm fortunate to have family nearby, but most of them work during the week, and the fact that I've been able to do many days and nights in a row with just the two of us girls makes me feel a lot more confident being stationed far away, or Tom being deployed when we have our next baby.
I know you'll do an amazing job, and just take it day by day. You can do it- all moms are rockstars. And if you ever need someone to talk to, email me! <3

Ky,
I answered the first part of your question in Kristen's above, but for the nighttime sleeping, she's doing SO much better. I was pretty sure I'd never sleep again and then BOOM- she hung up her nocturnal pants and decided to join the rest of us 😉 We have a bedtime ritual that we started a few weeks ago: dinner, bath time, lotion, brush her hair, PJs, book, swaddle, and we both hang out with her in the nursery while one of us rocks her to sleep to the Jewel Lullaby CD. We also do something called "twilight feeding" that was suggested in the Baby Whisperer book. After she's asleep (anywhere from 8-9), we feed her 3 ounces from a bottle at 11pm while she's still sleeping. It's the funniest thing: I pick her up, put the bottle close to her lips, and she latches on like a hungry monkey and drinks the bottle. I put her back in the bassinet and she snoozes so much better, since she doesn't need to wake up for a feeding right away.

Hey girl,
First of all, don't feel bad, it's common for many midwives and birth class instructors to tell you how important it is to get some alone time with your hubby and the baby when he/she arrives. To be real, your boobs are out 24/7, you're exhausted, and there's a lot to learn and take in. We knew that as much as we'd want to see everyone, it would be easier and more fun to have visitors stay with us after we had things figured out and settled down a little. Tom asked his family if they'd mind waiting a little while to come see the baby and it ended up being perfect- they all stayed with us, we had breastfeeding/pumping/bottles down (and they could give her bottles and help with feeding if they wanted to), we weren't stuck in the house and could take them to do some Tucson things, and Liv was still teeny tiny newborn, but old enough to smile at her aunt, cousin and grandparents. If your hubby talks to his family and just tells them that you guys would like some time to figure out everything before having visitors, they should understand. As anxious as they will be to see the baby, they're parents too and know what you're going through. If they want to be there right away, a hotel is a great option so that you'll still get some downtime, which is crucial while you're recovering. <3

Congratulations, Annitra!! I'm so excited for you <3
We love our carseat and stroller: the Orbit G2 Travel System. It's extremely easy to use –the carseat part snaps onto a base in the backseat, and also snaps onto the stroller base- and I love their dedication to producing environmentally-friendly products, the safety ratings, it's lightweight and can fold up with one hand, and is easy to drive and maneuver. Livi never cries when we put her in the "bucket" as we call it, and when we ordered the system, the basinet was free.
The only bummer is that it's very expensive (we both agree it was totally worth it) and you have to purchase a toddler carseat and stroller seat for when the baby is bigger.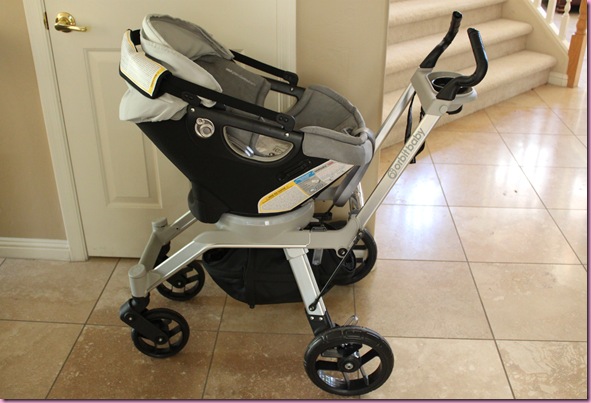 I hope you guys enjoyed this post! Thank you again to those of you who asked questions, and as always, feel free to ask away in the comments section.
Have a great weekend <3