Favorite things to do with our 6-month old
and guess what? They don't cost a thing.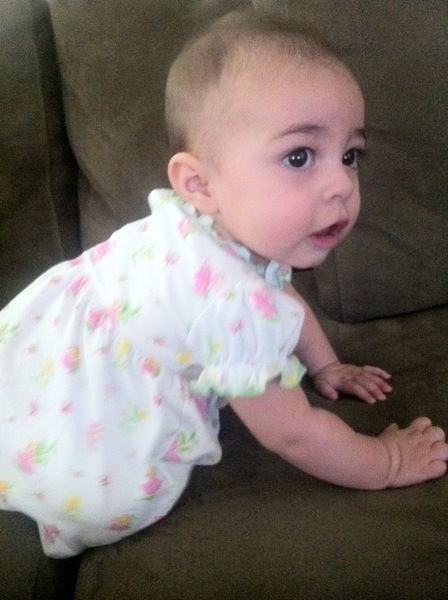 -Tickle her hair while she drinks her bottle. She used to do it herself while nursing or drinking her bottle, and now that she can hold her bottle, I tickle her hair for her.
-Take Bell for a walk. This has been a little trickier since it's been very hot, but we still manage to take her later in the afternoon (or Tom or myself will take Bell at night) most days.
-Walk around the outdoor mall. This one is *usually* free, save for the overpriced coffee or coconut water I might pick up, or if I see a wicked sale. Most of the time, it's just window shopping, air-conditioned change of scenery, or a chance to meet up with friends.
-Go in the backyard and look at the trees, plants, lizards and birds. Liv will laugh at the lizards scurrying by, and loves looking at the hummingbirds (we have a feeder) and the mama bird who lives in the bird condo Tom built on one of the pillars.
-Swim! We don't have a pool, but are lucky to have family and many friends who do. She loves to kick her legs and splash in the water <3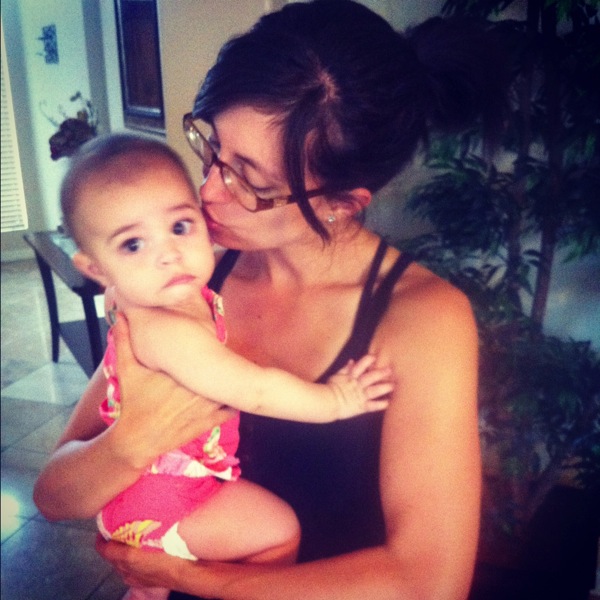 -Read books, sing songs and play with toys. We have a pretty fun book collection and I love reading to her… sometimes she babbles and reads along with me 😉 Her absolute favorites are the animal ones that you can touch and feel the different fabrics. As far as the songs and rhymes go, she still loves her made-up songs, and my rhymes are about the same caliber. Our "little piggy" has had tofu, shrimp, chicken, sandwich, but not roast beef – that just seems unnatural to me.
-Big blanket time. I'll put out a large blanket and she can practice crawling around (she has reverse down pat, but hasn't figured out how to put it into drive), sitting up at her little table or shaking toys around. Most of the time I'll play with her, or if she's really into something (she LOVES her puzzle table), I'll sit by her and read a book or magazine.
-Eat! Solids are still as fun as ever, and I love making her food or putting bites of our food into her mesh feeder. She had her first taste of super garlicky broccolini the other night at nana's birthday dinner, and went CRAZY for it! It was on Tom's plate and she had just woken up from snoozing in her bucket, so I asked him to share some with her. She was chomping on her feeder like she couldn't get enough, and when I finally tasted the broccolini I realized why: insanely garlicky and pretty salty. It wouldn't be my first choice for her since it was so potent, but she adored it, and didn't seem to have any probs from eating it.
-Sleep! I'll usually use nap time to catch up on blog or computer stuff, but on the rare occasion that my post is already done, I'll curl up and snooze when she's sleeping. I wish we could cuddle and nap together, but she's pretty mobile and I'd worry about her falling.
-Play fetch with Bell. My nana taught Liv this one, and she thinks it's hilarious. She's still learning "gentle hands" when it comes to Bell because for now, that means grab a chunk of Bella's hair and pull. Poor Beller. She takes it like a champ, and soon forgets when she gets Liv's food leftovers.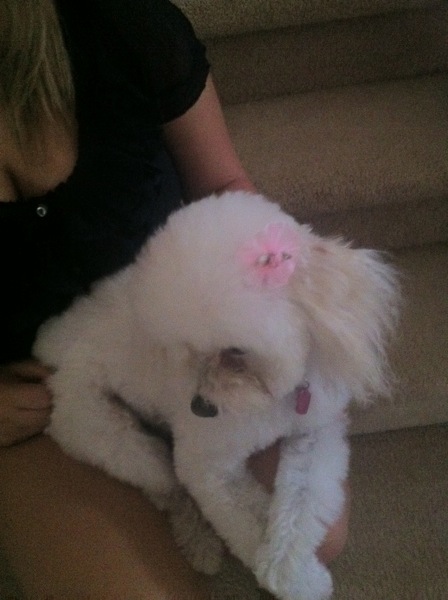 -Tackle her dad. We make a dad pile every night when he gets home from work.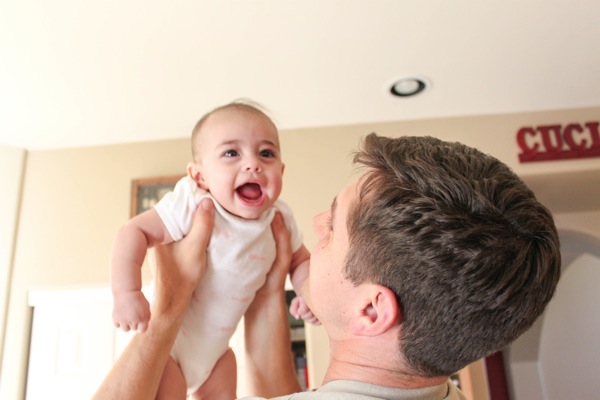 Things I'm excited about this fall:
-Nicer weather and new workout schedule. We waited until Livi was old enough for a jogging stroller before ordering one- Tom and I are excited to take her for runs in the morning. It will be nice to be able to get in a workout during the day instead of at night when I'm pretty zonked from the day's activities. When she's crawling around, she'll also be able to play in the play area in the parents' gym on base.
-Upcoming holiday season. I can't wait to teach her about all of the different holidays, especially because I think she'll be able to kind of understand what's going on. It's going to be amazing.
Things that are challenging:
-Cooking. Since I make dinner fairly close to Liv's bedtime, it's at the point where she wants to be held until she goes to sleep. She'll be happy in her babysitter balance watching me for about 15 minutes (sometimes I'll have to sing the "Livi" song or dance to distract her) so cooking is a frenzy. The bonus: I've stopped wasting time and have been forced to get more creative (or more boring? haha) with our meals.
-Watching her grow. Since she was born, my favorite time of the day has been rocking her to sleep. When she was itty bitty, she cried if she wasn't being held. I'm glad I lived it up, because now that she's older and trying to move, sometimes she doesn't want to be held. Before naps, I'll usually rock her for a few minutes before I put her in her crib, now she pushes up on me, gives me a huge gummy smile and then grunts until I put her in there to play with her doll until she crashes out. Now, night time bed ritual seems to be the only time of day she's super snuggly. When she falls asleep rocking at night, I hold her for as long as I can, stare at her perfect little face and take a mental picture.
They have this sign hanging one of the nursing rooms at our pediatrician's office: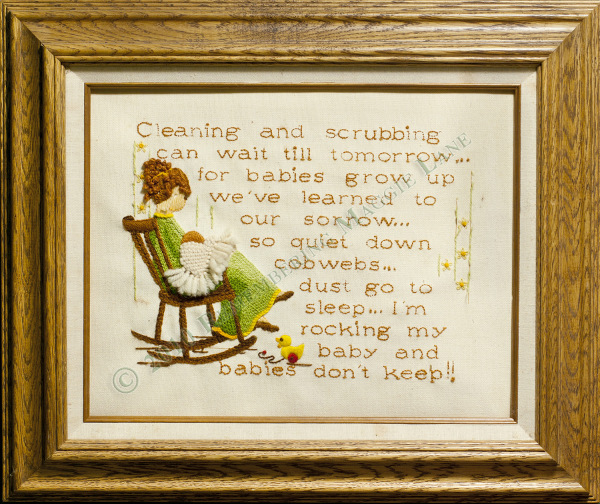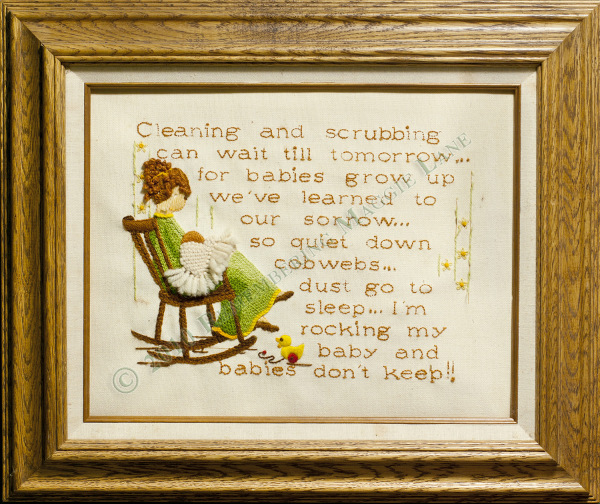 As someone who had a lot of postpartum anxiety, I felt like I needed to be doing something all the time. I think it's a huge reason why they put me on bedrest – I can't sit still. The family would sometimes hold Livi after a nursing session, and while I definitely wasn't ready to be working out, I felt like I needed to clean, cook, do laundry, all of the normal things that help our house function. At one point, I felt like a light was shining in the living room where the baby and family were, and everywhere else in the house was dark and crumbling apart. So many people told me to enjoy every second of Livi's youth because it goes by so quickly. I'm glad I decided to listen and slow down, because it's true. One second, they're snuggly and sleepy, and the next, they're crawling around in reverse and shaking their doll around while they talk to her. I'm always been someone who is grateful for life and for each day, but she's taken that to an entirely different level- every morning I wake up to her little songs and coos, it's a good day <3
What's your favorite free thing to do with your kids?
Something you're looking forward to this fall?