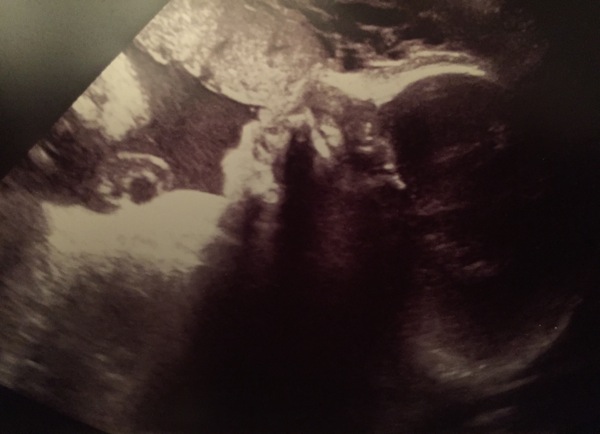 (When things are getting a little crowded in there!)
Giant sigh of relief from yesterday's appointment. Thank you again for all of your heartfelt comments, thoughts and prayers leading up the echo. We appreciate it so much, and I wanted to share an update with ya:
Baby's VSD is "very small."
Our fetal echocardiogram was yesterday morning. Leading up to it, I tried to focus on what was in my power, instead of the what-ifs and everything that was out of my control. I researched like crazy, so I'd be familiar with possible scenarios and the terminology, tried as hard as I could to "relax," and during my meditations each night, I spent some time praying and picturing the tiny hold closing. Despite my best efforts, I was still a bit nervous/anxious this past weekend leading up to the appointment. The Pilot had to work, so my friend Betsy offered to go with me. Not only did she go to the early appointment, but she drove. She didn't want me to worry about driving if we got unsettling news, and didn't want me to be alone. She's amazing.
We got there nice and early, and the ultrasound tech lead us back to the room. She was the kindest and most gentle of the techs (who have all been wonderful), with all of the ultrasounds and testing we've had. We got to see the baby, she commented on how active she is, and she moved onto the standard measurements, gently pressing on my belly as the ultrasound wand moved around. Every wand movement was melt with a "belly wave" from little miss, who makes my stomach look like dancing lava.
Baby is measuring TWO AND A HALF WEEKS ahead! Either little lady is going to make an early debut, or I just cook big babies. 😉 (Liv was 8 lbs 6 oz, and I've heard babies get progressively bigger. My nana on my dad's side had a 9-lb baby and a 10-pounder, so it could certainly run in the family.) They estimated that she weighs 5 lbs 6 oz already.
After the standard measurements (head, stomach, length), and watching baby move around (which I could do all day), she zoomed into the heart, and I had to remind myself to breathe.
She spent some time exploring the chambers and measuring velocity, and alternated between black-and-white and colored images (red and blue, which indicate blood flow between the chambers). Next, the pediatric cardiologist joined us and started to look at the images with the tech. They whispered back and forth for a while -which is a little awkward when you're lying there on the table, desperately wanting to know what's going on- and finally, the cardiologist told me that the VSD is "very small." She said, "Not even small. Very small. Also, it's in the ideal spot, which is between the muscle. In 95% of cases it repairs itself in this location, so I'm confident that it will. If for some reason it doesn't, we wouldn't need to repair this one."
My eyes are stinging as I type this, because it was such a relief to hear and we are so thankful. Even if it did need to be repaired eventually, we're also thankful that in the grand scheme of things, this is small, and she's otherwise completely healthy from what we can tell. As much as I wish I could say the worrying would end when she's in my arms, she's taken her first breath, and we've counted tiny fingers and toes, I know now from our experience with Livi that it's where the worrying can truly begin. You're always worried about your baby and making sure they're healthy, happy, safe, warm, fed, and giving them as much love as you possibly can. We already love this little lady so much, and it's exciting to think that she'll be here soon.
xoxo
Gina and the Familia