I'm pretty sure nothing in the world makes me happier than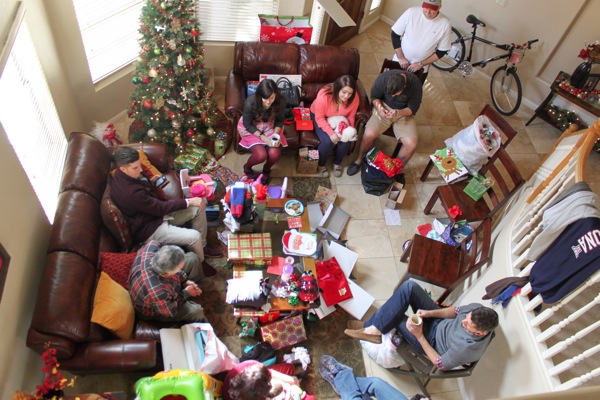 A house filled with the people I love so much,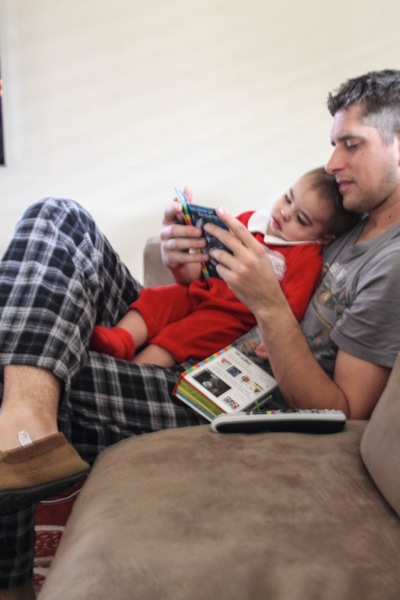 warm food waiting in the kitchen,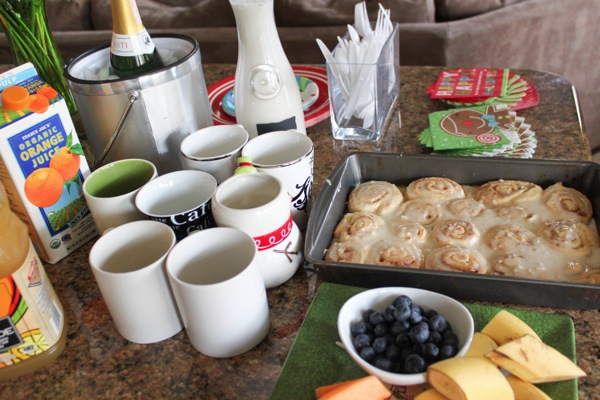 (+ egg casserole, ham, tamales, oatmeal, mimosas and the necessary nog)
and moments that are so beautifully imprinted in my mind.
After the Pilot, Liv, MIL and I did stockings and Santa gifts,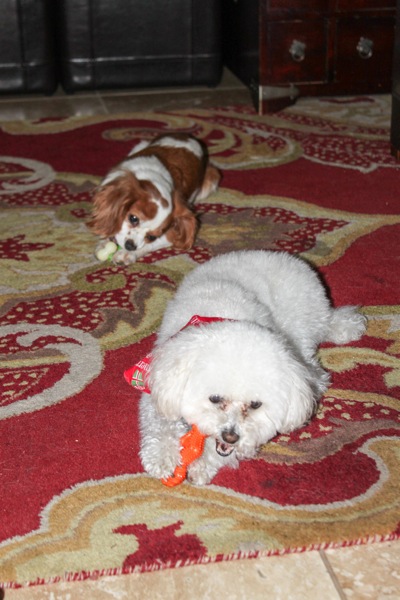 (Santa came for the dogs, too!)
the entire family came over for brunch. Mom and nana brought a ton of food, and my contribution to the feast was a fruit plate, cocktails/juice/coffee, the infamous cinnamon rolls and a big pot of cranberry-orange oatmeal.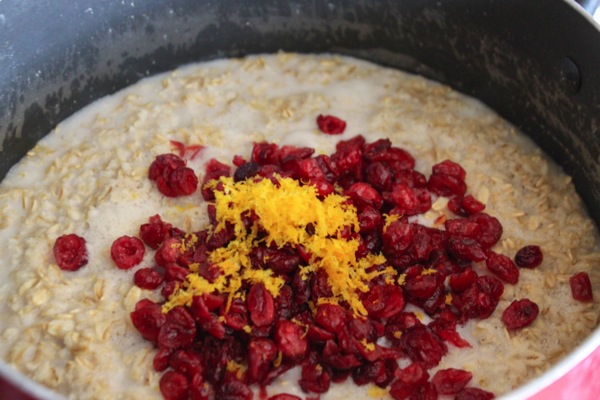 I was originally going to do oats in our 3 small slow cooker thingamajig, but knew that burnt oats would be in the future. Despite your awesome tips, I was afraid I'd end up doing something to toast them so I stuck with what I knew: regular stovetop oats. I added coconut milk throughout the morning to keep them from drying out, along with cinnamon, a little stevia, orange juice and zest from our orange tree, and dried cranberries.
A dessert plate we took over to our neighbors: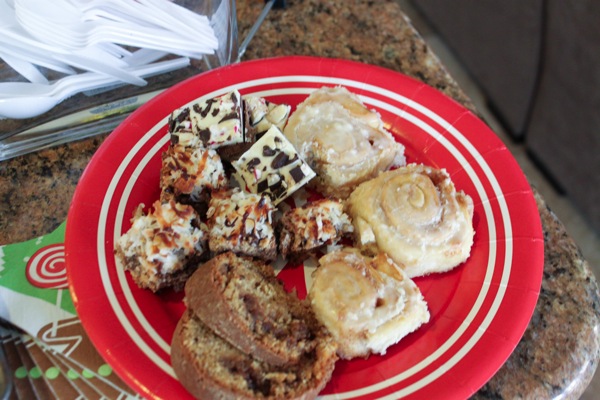 After breakfast (and Liv woke up from the morning nap), we all opened gifts together.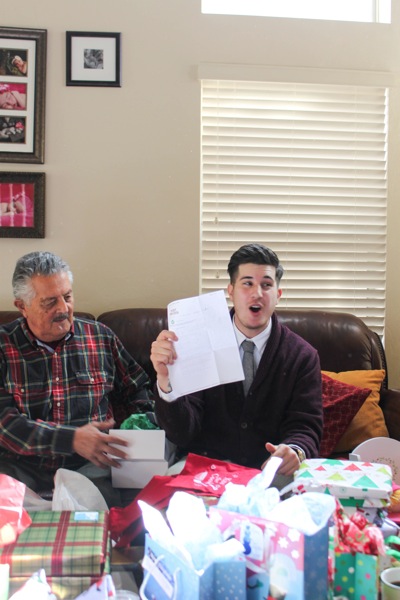 Kyle, especially stoked about his Celtics tickets, and Liv, especially stoked about her new ball pit.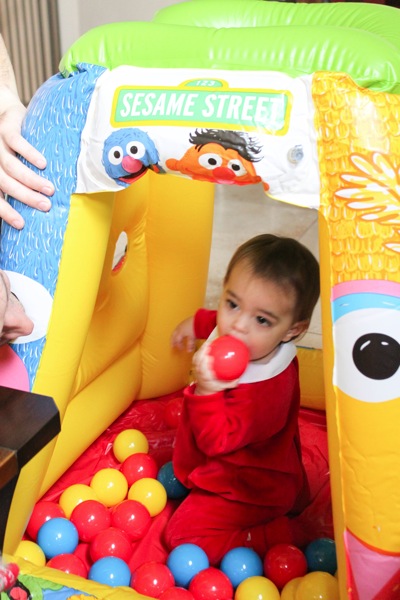 We ate, drank and were merry, watched A Christmas Story  and I even took a nap while Liv was sleeping- Merry Christmas indeed.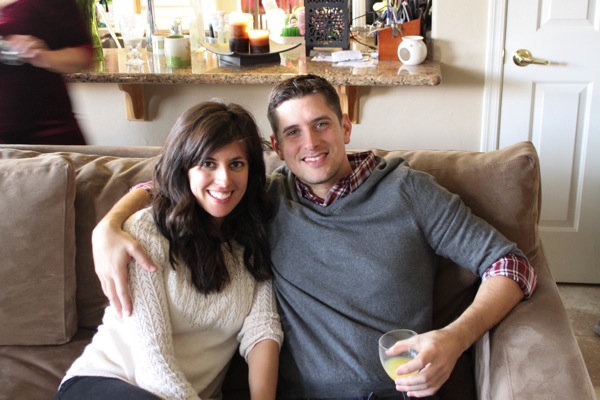 It felt really good to unplug a little bit this past week and enjoy time with the family. I'm pretty busy, everyday and all day, but they're all things that I choose and love to do. I feel so lucky to be able to be home with Liv most days, I love being a mom and helping to take care of our house, teaching at work and writing this blog. At the same time, it's pretty easy to get sucked into technology and while that's fun too, it can be pretty draining and a distraction from everything else. I kept the computer closed, still snapped a ton of photos (I can't help it) and took some time to enjoy and be thankful.
This year was an exciting Christmas for us:
Liv gasping as we walked down the stairs,
the way my great grandmother (Liv's great-great grandmother) giggled to watch Liv feeding herself green beans,
the Pilot making eggnog (and just knowing that he's here with us, when he's often deployed over the holidays),
making the ball pit and Rody horse, setting it all out as a team,
seeing the entire family together and feeling elated happy to be here in Tucson with them,
and to have my favorite little gift of all to share it with.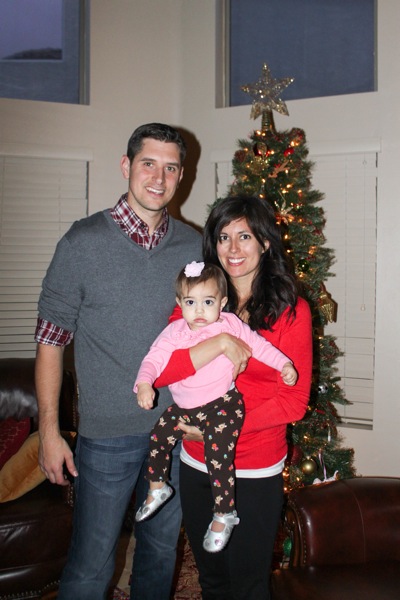 I have a feeling holidays are just going to get better and better which is pretty hard to believe.
Thanks for letting me share my pics with all of ya <3 Hope you're enjoying the week so far!
See ya later on the family page.
xoxo
Gina
Recipes from this weekend:
–Peppermint bark (this went very quickly.. so good)
 –Peanut butter kiss cookies (I used a jar of Justin's maple almond butter and they came out really well)
–Cinnamon rolls (90-minute recipe)
12 Days of Fitness! It's day 2: 2 pushups and 1-minute plank. When you complete it, leave a comment and let me know! I'm off to do my pushups and plank before work riiiiight now.