Hi friends! How are you? Hope you're having a happy humpday 🙂
For this week's "Focus On", I chose a workout that I'm actually very intimidated by: CrossFit. I'll try ANY workout, and CrossFit is the one I've stayed away from for whatever reason. I know that it's extremely intense and athletic, and have so many friends that swear by it, but I've never given it a try. So, I enlisted the help of dedicated CrossFitter Jenna, of the Paleo Project to help me with this post, since she is a CF pro.. and I am far from it 😉
Here's what she had to say: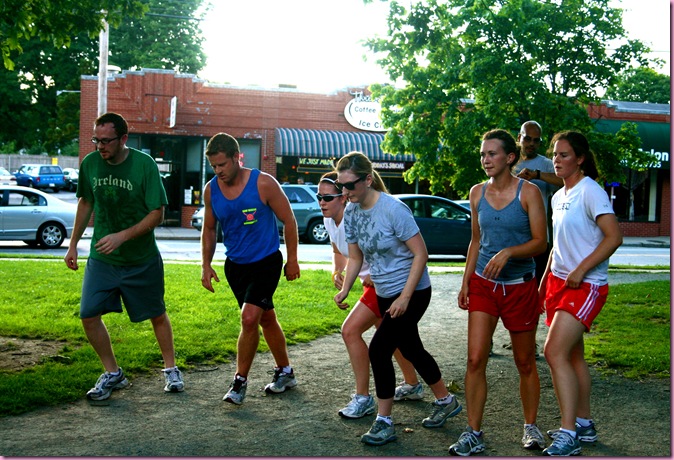 Before I get into what to expect, I'll explain a typical CrossFit workout. Everyone works out together, in the same room, at the same time. Some finish fast, some take a bit longer. CrossFit workouts are suitable for children, teens, adults, elders, women, men, the thin, the overweight and the in between. It is for athletes, and those who have never worked out a day in their life. It is adaptable for any and all walks of life because it is altered depending on the degree of effort you can put into it.
For example, each WOD (work out of the day) consists of a warm-up, an adaptable work out and a stretch. They can last anywhere from 12 minutes to an hour. Sometimes the WOD will be to warm-up, run a 5k, stretch and go home. Sometimes, the WOD will be a warm-up, and then a set of deadlifts, as many as you can do in a minute, rest for 20 seconds, repeat for 20 minutes. Although everyone will be at a different level of expertise, everyone will finish in 20 minutes and everyone will be maximizing their own effort. Then, you have your timed workouts: 3 Rounds for Time: 10 pullups, 20 squats, 30 pushups, 40 wallballs. When you've completed your 3 rounds, at your own speed, you're done. You stretch, you go home. Everyday is different, challenging, rewarding and a true testament to what your body is capable of. Now, what to expect?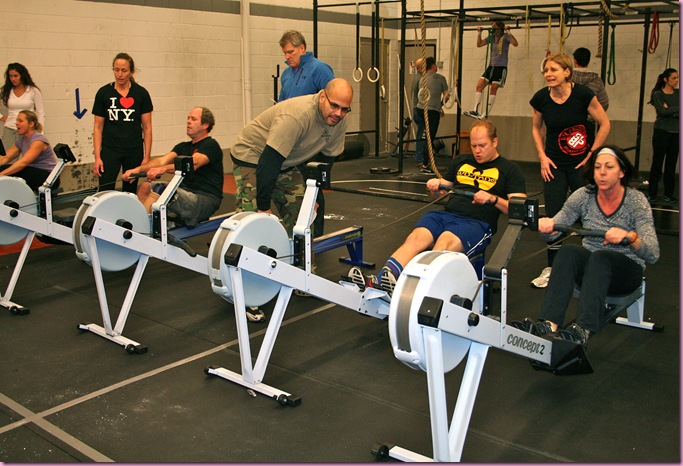 Honestly, expect to feel a little intimidated at first.
CrossFit gyms, often referred to as "the box" as in, "see you in the box this afternoon", are usually established in just that. Big, wide open, high ceilinged warehouses, garages, old recreational halls, or parks are the best and most common setting for a successful CrossFit. This is because a spacious, no frills environment is the best places to perform one of the nontraditional, functional, whole body workouts that CrossFit has to offer.
No Treadmills, No Bicep Curls, No Headphones.
Again, CrossFit is one of the best workouts because it eliminates everything that a globo-gym embraces and encourages. The music is usually played from a single source, loud enough for everyone to enjoy. This is because each person doing a CrossFit workout is doing it together. When the clock starts, or the whistle blows, or the coach yells "GO", every person begins the same workout. They don't do isolated workouts for instance, just focusing on your left bicep or just your calves. No, each workout is designed for a total body workout. Rowing, pull-ups, pushups, sprints, kettlebells, deadlifts, cleans, presses, squats, if it has the ability to enhance your everyday life and your overall movement, you'll be doing it.
There's No I in Team
A typical CrossFit WOD (workout of the day) will involve a timer and a large group. This is not to terrify you, I swear. This is not to make you feel slow, weak, or less athletic. The timer as well as the group, is there to help you push yourself, to do better than you did last week, last month, last year. Many Crossfitters keep journals of their WOD's to keep track of how long it took them to complete say, 500 meter row, max effort four weeks prior. Each the WOD is a 500 meter row, you can look back at your journal and track your progress. The sense of accomplishment, growth and improvement built into these workouts is amazing and you always leave a CrossFit workout feeling like you got the best workout. Even though there are people around you, possibly finishing first, running faster, lifting more, completing more reps in less time, there is such a sense of connection and community in a CrossFit gym, the competition becomes half the fun. You want the person next to you to do better, because you've been watching them work on their pull-ups for 3 months now and they finally did the prescribed amount from the WOD. No other gym experience will give you that reward and eliminate the stress of working out in front of people.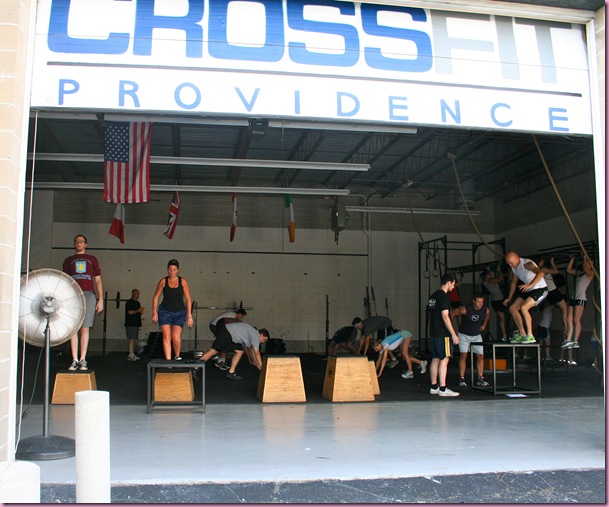 A Personal Trainer for Every Workout!
Every CrossFit instructor is trained and qualified to help you perform your best, safest, workout. They will never put you up to something that your body couldn't handle. They evaluate your strength, challenge you, watch you grow and congratulate your efforts. They also ensure that each time you lower that bar, pull yourself up, or do a standard squat, that your form is 100% accurate to eliminate the risk of injury. The best part? The cost of the personal trainer is built right into your gym membership.
No Two are Alike
I've done CrossFit workouts with 65-year-old women, 12 year-old-kids, triathletes and couch potatoes. Each of those people has impressed me time and time again with their efforts, growth and resilience. CrossFit has proved to be one of the most motivating environments nationwide because of their overall approach to fitness.
Expect the Unexpected
Expect a bucket of chalk, ropes from the ceiling (yes, you will learn to climb a rope), rubber matted floors, no mirrors, kettlebells, row machines, pullup bars, yelling, loud music, wallballs, people cheering you on, a little bit of blood (from mastering your pullup), tape, sweat and a new outlook on fitness.
What to Wear:
In terms of clothing, anything that you would normally wear to sweat in will suffice. Most people wear shorts, sports bras and a good pair of running sneakers on running/rowing days. For workouts that don't include running or rowing, you'll see people in shoes with little support, multisport shoes or simply barefoot, as this is the optimum way to workout and build strength. You've probably heard people discuss the damage caused by overly supportive sneakers. You'd be surprised at what your feet are naturally capable, in this case, less is more!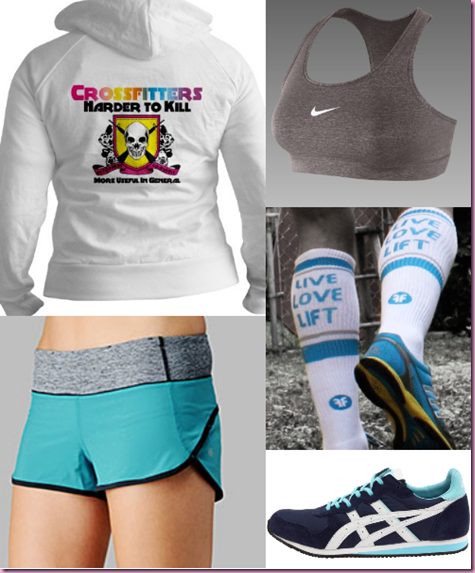 Something else you might see at CrossFit are knee-high socks. While, yes, this is rather sexy for girls, it is also extremely functional. When performing deadlifts, the bars are supposed to stay right in line with your shins until the last moment of max effort, when the bar is thrust upward. To avoid scrapes, cuts and burns on the shins, girls (and guys) wear these socks to protect their legs. For the same reason, CrossFitters tape their hands, wear gloves and use chalk when performing any exercise that might cut their hands. These won't be things you need to worry about in your first class, but for future reference, invest in some tape!
Overall, a CrossFit workout is one of the fastest, most efficient ways to get your daily dose of endorphins and strength. From gymnastics, calisthenics, endurance and weight lifting, CrossFitters are truly some of the strongest, healthiest bunch. Check out your state, CrossFit gyms are becoming huge across the United States and many offer free trial classes, bootcamps and discounts for students and civil servants.
Here's *a video* to check out, too 🙂
_____________________________________________________________________________________________
Jenna, I was pretty much blown away by this post. You're a rockstar.. and possibly may have convinced me to give it a whirl 😉
Have you tried CrossFit before? What was your experience like?
See ya later today!
xoxo
Gina