Let's take it back now.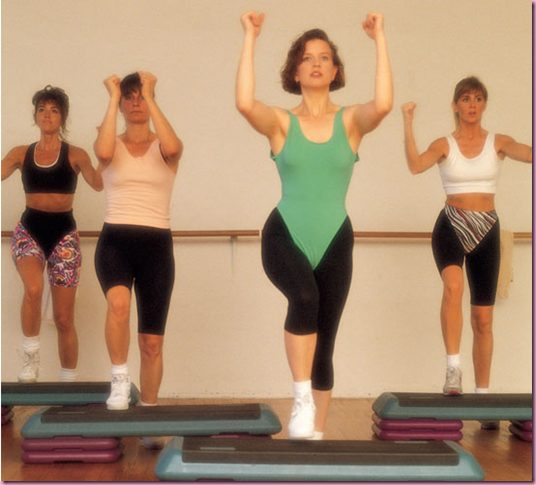 Source
For today's Focus On post, I'm choosing another one near and dear to my heart, and an old staple in the fitness scene.
My fascination with step started when I was 7 years old. My mom would take me with her to her step class –in shorts with a leotard OVER the shorts- and I would be in the corner playing along. Since I took dance classes, I had no prob picking up the combos and always looked forward to taking classes with mom. She was kind of a step fanatic. We had a step at the house, and sometimes her friend would come over and they would do a step DVD and lay by the pool on the days they didn't have to work. Of course, I liked being "one of the girls," even though I chose swimming over tanning at the time 😉
After my mom stopped stepping, I didn't really see it again until I moved with the Pilot to Fayetteville, NC and started taking classes at the base gym. The base gym was one of the coolest participation environments I'd seen- everyone was really into fitness and the classes were crazy packed. I arrived early for my favorite spin class one day and caught a glimpse of the step class going on beforehand – it was unlike any of the 80s or 90s-style sporty step I'd seen. There were at least 40-50 people in there, many of whom were using two steps, the moves were more dance-y than athletic, and everyone was hooting, hollering, and dripping in sweat. I couldn't wait to take a class.
The next day, I decided to give it a whirl, and had a difficult time keeping up. I was used to picking up choreography since I had danced for so long, was a 7-year-old step machine, and couldn't get the moves to save my life. Of course, I love a challenge, so I kept going back to class, learned the name of the steps and variations, and could rock it out within a month or so. Like any type of choreographed class, there's a learning curve, so practice makes better. From then on, I fell in love with step and it was one of the first classes I started teaching when I got my group fitness cert a few years ago.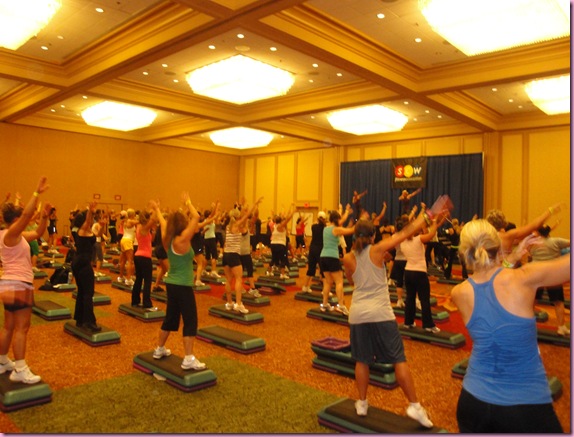 [At the SCW Fitness Conference, July 2010]
So, what is it?
An aerobics class using a step, which is an elevated platform. You can adjust the height –it's best to start off low to the ground and add inches as you get more comfortable, but don't go too crazy with the height, especially if you're short- and the use of the step simulates how it feels to walk up and down a set of stairs while you're moving through the class. In other words, it burns.
This is good stuff right here: [a double-step class]
What to expect:
-To be confused at first. Before checking out a class, take a look at some YouTube videos to see what some of the basic moves are (basic, turn step, L step, 3-knee repeater, V step, corner knee and over-the-top are a few good ones to know). Take class with an open mind, have fun with it, and just use it as a chance to familiarize yourself with the type of workout and see if it's something you'd like to include in your routine.
-The choreography is usually in 4 sets of 8 counts (a 32-beat set) and will most likely repeat the same combos on the right and left leg lead. This makes it a little easier to follow and remember what's coming next.
-To be sore the first time. Walking up and down a small platform may seem like NBD during class, but if it's your first time, you will feel it in your legs and booty for the next few days. Remember to get in lots of good stretching!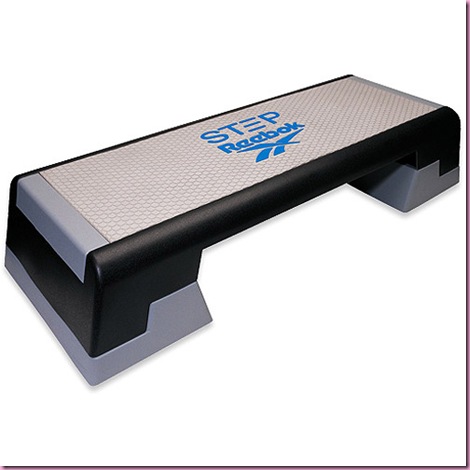 Source
What to wear:
-Anything goes, but go with something comfy and breathable. Usually I love to wear shorts for step, but  since many instructors will add a small abs set at the end of class, wearing crops can prevent flashing the goods during abs exercises- it depends on the class. I'd wear crops and a tank or comfortable tee, with supportive shoes for the first time. Also, make sure to bring a water bottle and a small towel (because you will sweat!).
Something like this + supportive shoes: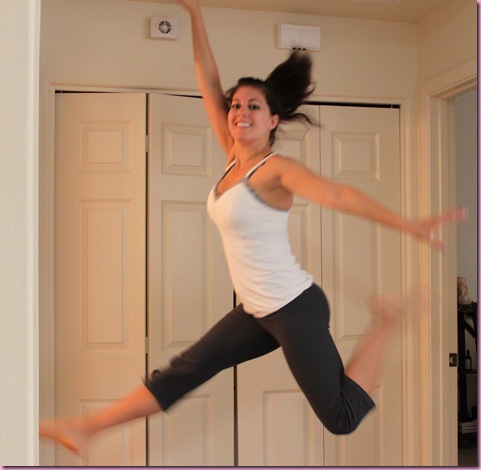 Pros:
-Awesome calorie burn. An intense class will burn 500+ calories an hour, and also provides cardio endurance while improving balance. It also challenges your brain! Learning different combinations and choreography has been shown to reduce the risk of Alzheimer's.
-You can do it at home. A step is easy to order online or at a local sporting goods store(Amazon has them), small, so you can store it away while not in use, and add some DVDs to start your own step routine at home. [Does anyone have some good step video recommendations?] Also, FitTV has step aerobics on fairly often and the ones I've watched are quite good. [Watching a good fitness show as just as exciting as a good movie. Nerd alert]
Cons:
-Highly choreographed class. Usually instructors will break down the combos in an easy-to-follow manner, but once you learn something, you're quickly moving onto the next. This class may be extra challenging for those who have a difficult time learning choreography.
-Tough to make it more difficult. You can add more height to a certain degree, add in variations –there are some crazy fun L-step and repeater variations- but after that point, it gets harder to challenge yourself as you get used to the class. This is why crosstraining and trying out different types of classes is so important.
*Like anything else, the instructor can make or break a class. I've taken AWESOME step classes (like the ones in Fayetteville) and absolutely horrible ones with lame music and an instructor who couldn't remember her own combos. Like with any fitness class, try out a couple of instructors to see what your teaching and music preferences are. The good news about step is that the music isn't as important as the choreography, but I've heard some reallllllllly bad techno step music. I also found out that I really like stepping to rap 😉
So are you a step fan? Have you ever worn a leotard over spandex shorts? Please say yes.
Have a great day!
xoxo
Gina
More Focus On posts: