Hey hey! The weekend is here! What's going on this fine Friday? Any fun plans over the next few days? We're looking forward to enjoying a low-key weekend together, and soaking up the last bit of summer before school starts for Liv! I'm thinking a trip to the splash pad and pool are in order. Other than that, we'll be spending time with friends, catching up on chores and work stuff, and just chillin'. I'd love to hear about what you have going on!
Now it's time for the weekly Friday Faves party. I love to share favorite things from the week and around the web with ya. Please share any faves in the comments section, if you'd like to join in the fun!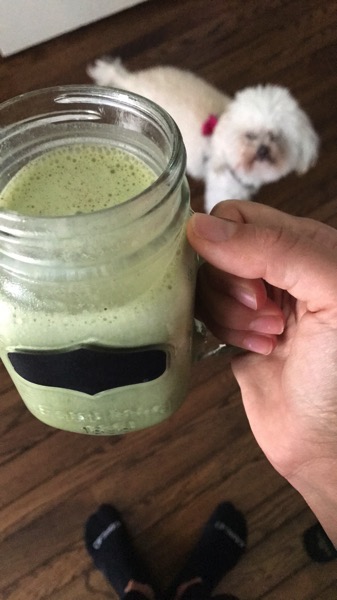 (A green smoothie with collagen, vanilla protein, almond butter, MCT oil, almond milk, and spinach)
This off-shoulder dress from Stitch Fix. When I opened the box, I think I said, "OMGYES" aloud. It's everything I never knew I needed. It's flowy, flattering, has gorgeous embroidered detail, and is super comfy while still *special* and different.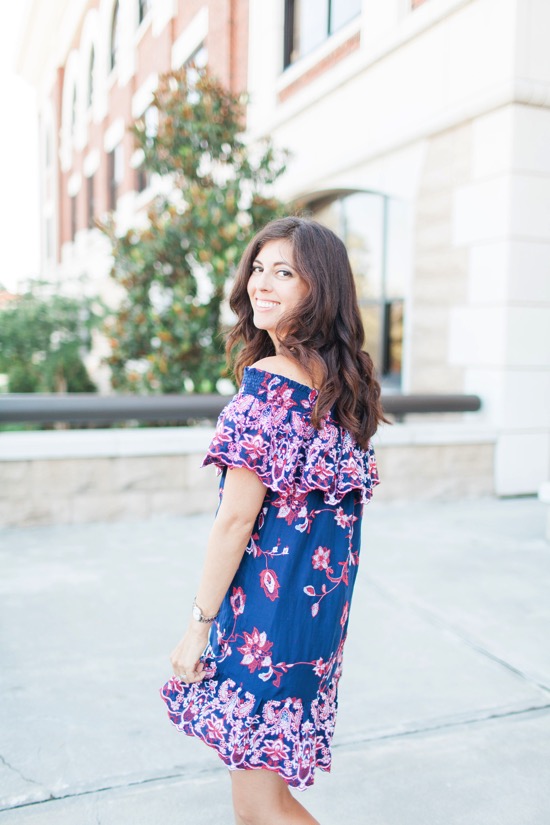 I've worn it for date night and also to meet up with the girls for brunch.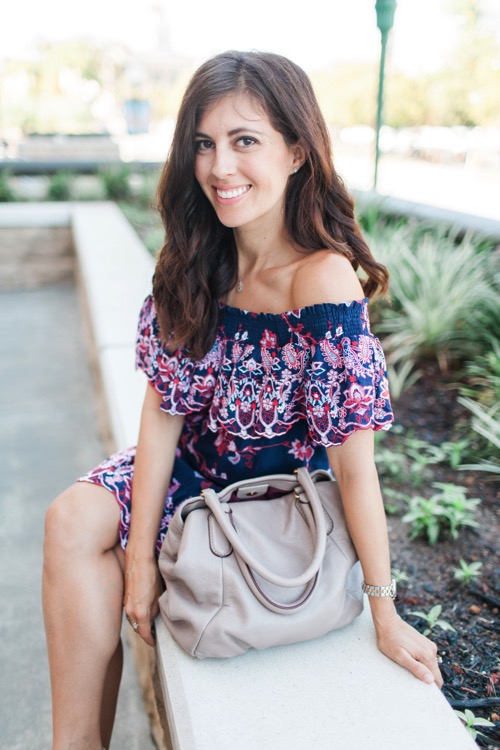 Stitch Fix can be hit or miss, but the hits are usually pretty solid ones, like this dress.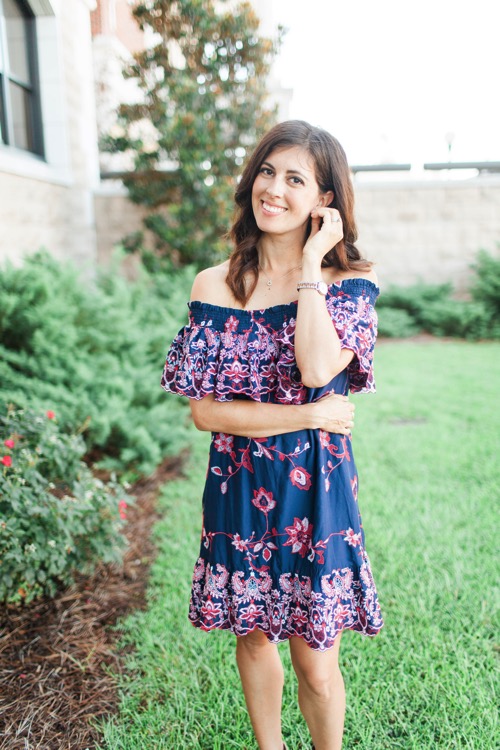 My Not-so-perfect Life. I was looking for a good fluffy, fun book, and this is it. I started reading A Man Called Ove, and wanted to love it, but by the time I was about halfway through, I called it quits. It's rare that I DNF a book, but have vowed to myself that I'm not going to read things I'm not enjoying (unless they're super valuable and I'm learning a lot). So, I decided to switch to this one for some total summer guilty reading pleasure, and it has been perfect for that. (I used to LOVE the Shopaholic series back in the day, and this book reminded me why Sophie Kinsella is such an engaging writer.)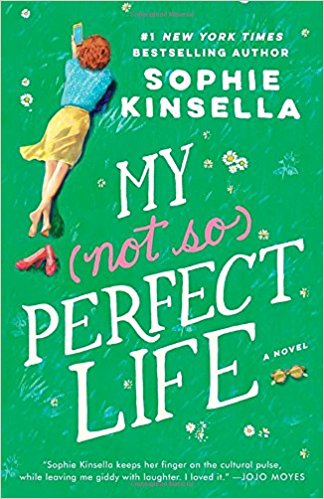 A 90-minute running playlist for your next long run!
This mint pesto pasta looks amazing.
Brunch at Buttermilk Kitchen.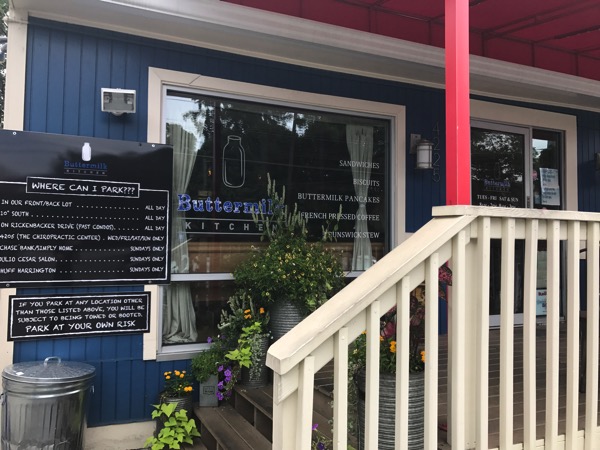 YOU GUYS. This is a must-do if you're traveling through Atlanta. We saw it on a Food Network show, and the Pilot was immediately intrigued by their chicken biscuit (fried chicken breast on a biscuit with housemade red pepper jelly, served with pimento cheese grits and house pickles) and I wanted to try their lox plate (gravlox style salmon cured with beets, served with onions, capers, farm greens, cream cheese and Jerusalem bagel). We had to made a day trip to ATL for an appointment, so we stopped into Buttermilk Kitchen on the way.
We shared the deviled eggs,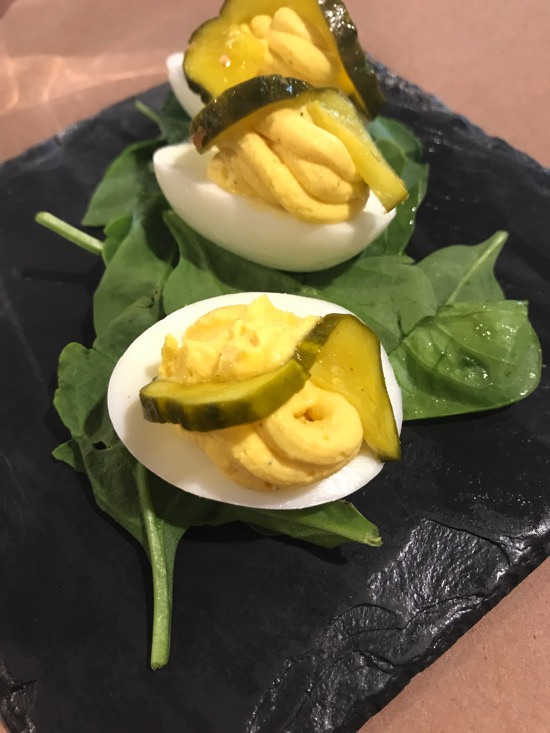 (the pickle on top was perfection),
and he got the fried chicken omelet (sadly, we missed the window for the chicken biscuit, so we'll be back),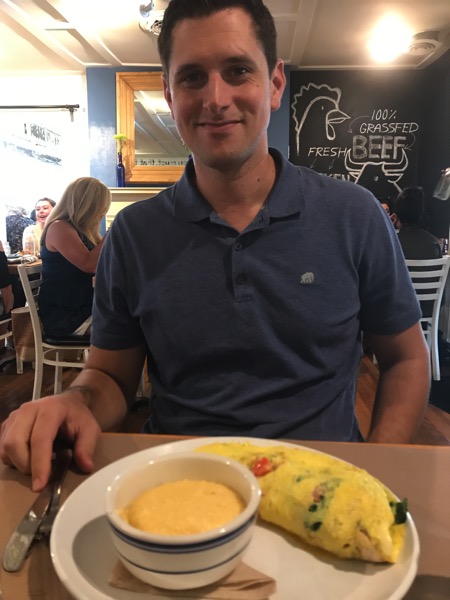 and I got the lox plate. It was the best smoked salmon I've ever had. The beets gave it the most gorgeous deep red color and a slight sweetness, while the salmon itself wasn't too salty and was so fresh. It's hard to tell from the picture, but it was also a generous serving; a heaping pile of salmon goodness.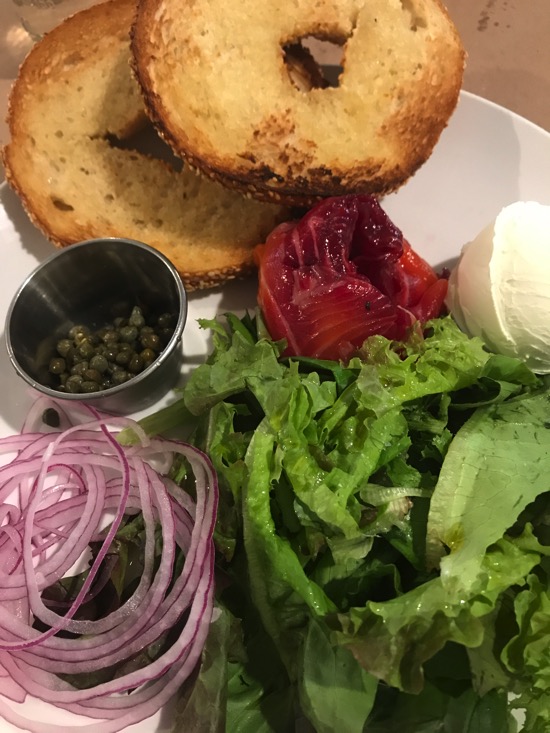 We had to bolt fairly quickly, but made the wise choice to take some banana pudding to-go.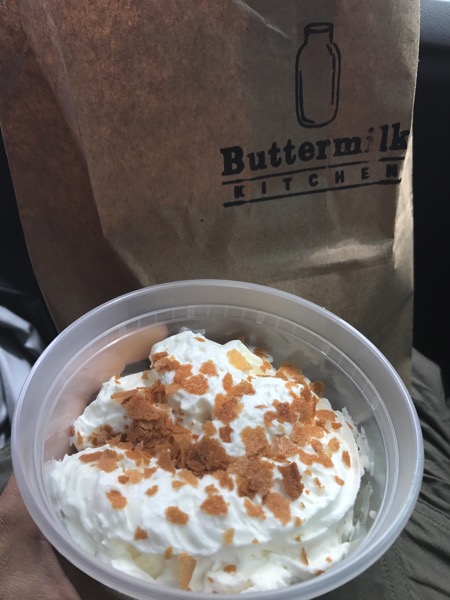 We can't wait to go back and take the kiddos with us! Everything on the menu looked great.
This Macklemore song. I LOVE MACKLEMORE, and this is just as catchy and pump-you-up-ish as many of his other songs.
I can't wait to try this smoothie recipe.
A unique take on chicken salad.
This top! I ordered it from the Nordstrom sale and I was surprised by the quality and the print. It's bold floral and fits perfectly! Can't wait to wear it with skinny jeans and booties.
Happy Friday, friends!
xo
Gina
*Congrats to the winner of our sneaky TRX giveaway: Stephanie S.!
Dress pics: Lindsay Colson