Quick and Dirty Kettlebell Circuit Workout
Hi friends! How are ya? How's the week going? We're all a little sad today because my mom left yesterday. After we drop her off at the airport, the girls and I tearfully drive to get ice cream. Having her here was the best ever, and even though I know she'll be back soon, we love when she's in town. Usually when someone comes to visit we spend a lot of time out and about, exploring, dining out, and possibly doing a roadtrip. This time, we hung out here at the house a lot, and it was amazing. We watched lots of movies at night together and just enjoyed each other's company. <3
For today's post, I wanted to share an all-new workout. This one's a kettlebell circuit, which will work your entire body and add in that extra core challenge from using the kettlebell. (You can check out a great post on kettlebell sport here!) As always, modify as needed and talk to a doctor before making any fitness changes. I can't wait to hear what you think about it!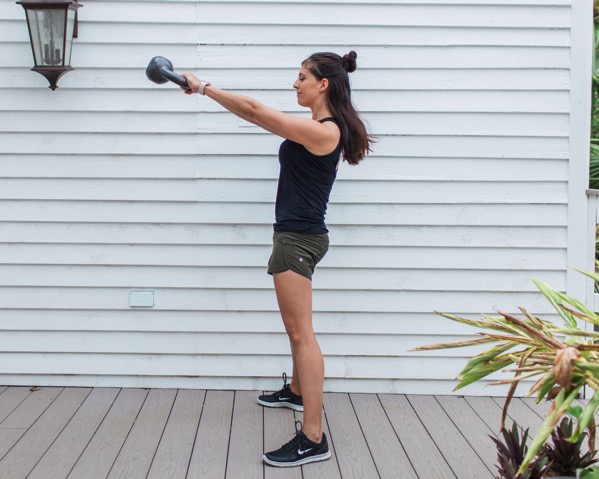 Wearing: Fabletics tank, lululemon shorts, Nikes (on sale)
Here's what the workout looks like:

Form cues and tips:
Goblet Squat: Place your feet just under your shoulders with toes slightly angled out. Hold a HEAVY kettlebell under your chin. Keep your chest lifted and a tight core as you sink back and down into your squat. Pretend like there is a chair behind you, and you're going to tap your booty to the chair. The weight should remain in your heels. Exhale and squeeze your glutes to rise.
Side Lunge with Overhead Press and Knee Raise: Take a big step out with your right leg (holding the kettlebell), with your right foot angled out 45 degrees. (Your left leg stays straight and strong; toes point forward.) Think about sinking your hips down and back into your lateral lunge as you keep your core tight and your chest lifted. Exhale to step back towards center, and press the weights up overhead as you raise your right knee. That's one rep.
Single Arm Swing: Stand hip-width apart and hold the kettlebell in between your knees with one hand. Start to gently swing it so you can gain some momentum. When you're ready, power through your hips, glutes and core to swing the weight up to shoulder height, then bend your knees, swinging it back to start. Remember that you are NOT using your arms to lift the weight; this is pure glute and core power. Every time the weight goes up, make sure you're strongly exhaling.
Lunge with Pass Through: Hold the kettlebell in your right hand, take a big step forward to come into a lunge position. Watch your alignment and make sure your front knee is stacked over your front ankle, and your chest is lifted with a tight core. Pass the kettlebell through to your left hand, then step back to start position. Repeat, alternating legs.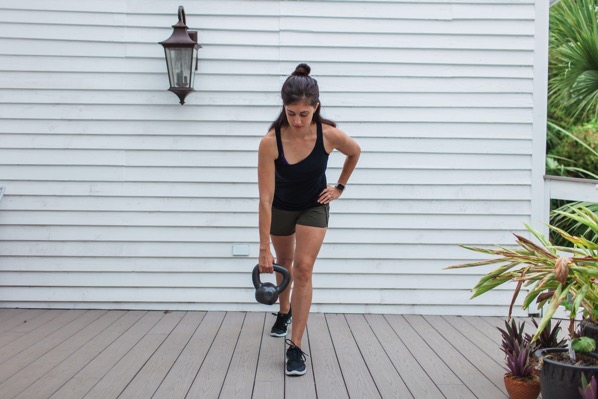 Single arm wide row to narrow row: Hinge forward from your hips and step one foot back. Bring your weight to your front foot and hold the kettlebell in the opposite hand (pic above). Squeeze your back to bend your arm in next to your torso for a narrow row. Lower down with control, and exhale to come up to a wide row with your arm at a 90 degree angle.
Russian Twist: Sit with your knees bent, feet on the floor for beginners or lifted off the ground for more challenge. Hold the kettlebell with both hands and twist your upper body to the right, bringing the kettlebell towards the ground, then twist the left. That's one rep. Pro tip: DO NOT cross your ankles; that takes your hips out of alignment.
Please let me know if you give it a try!
What's your favorite kettlebell move?? Do you live close to your fam/parents or nah?
xo
Gina
Photos: Lindsay Colson