Hi friends! Happy Friday and helloooooo from the Disney Wonder. We're having the most magical time on this cruise and I can't wait to report back with all of the details. In a nutshell, the Alaskan scenery is absolutely breathtaking, I've been eating salmon upon salmon for pretty much every meal, we've loved spending all of this extra time with the Pilot, and the girls are living their best Disney lives. They've met so many characters already and are fully enjoying all of the activities and fun aboard the ship.
It's time for the weekly Friday Faves party! Here's where I share some faves from the week and around the web. I always love to hear about your faves, too, so please shout out something you're lovin' in the comments section below.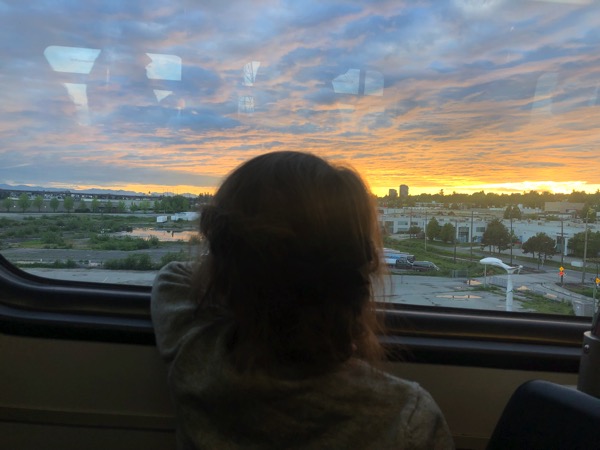 Random + fun:
Vancouver adventures. You guys. Vancouver is INCREDIBLE. We got to spend a few days in Vancouver before heading out to Alaska, but we already can't wait to go back. There's so much to do there and so many unique local restaurants.
While we were in town, we ate sushi at Kamei Royale,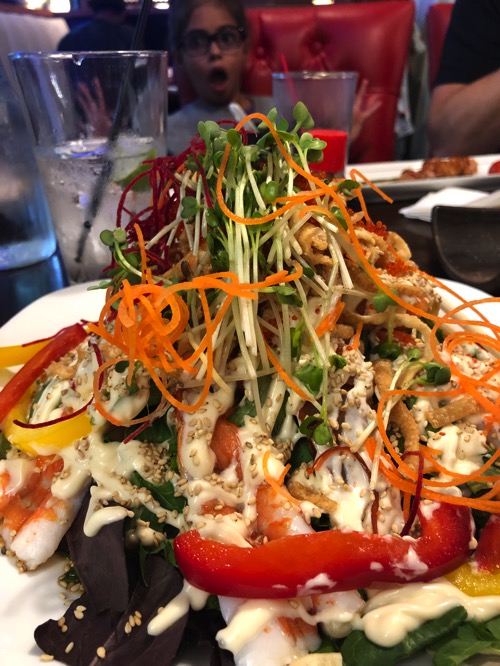 (the sashimi salad was out of this world!),
swam at the hotel,
got gelato at Bella Gelateria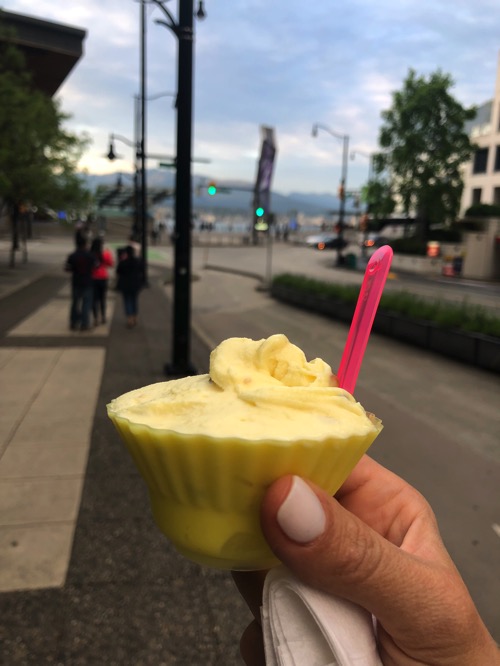 (this flavor was a mix of rose water, saffron, and turmeric)
and enjoyed a full day at the aquarium. This one was highly recommended and didn't disappoint. The girls LOVED it and the exhibits were so much fun. We got to see live sloths, enormous sea lions, bats (!! this ended up being one of our favorites! They flew around the cave stopping to eating fruit from giant fruit skewers), a dolphin, otters, jellyfish, a tide pool, and so much more.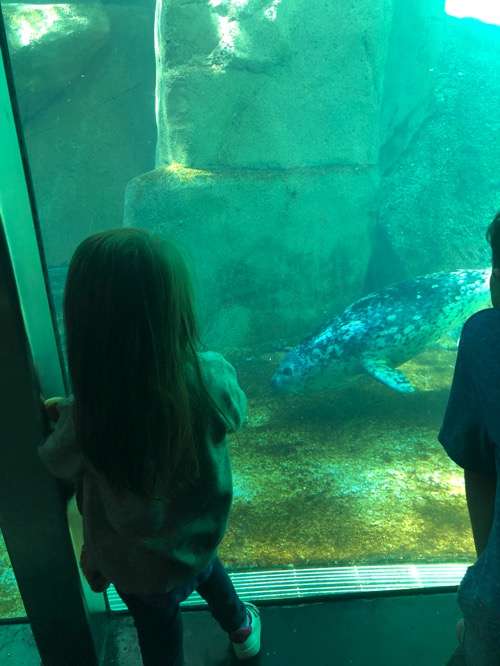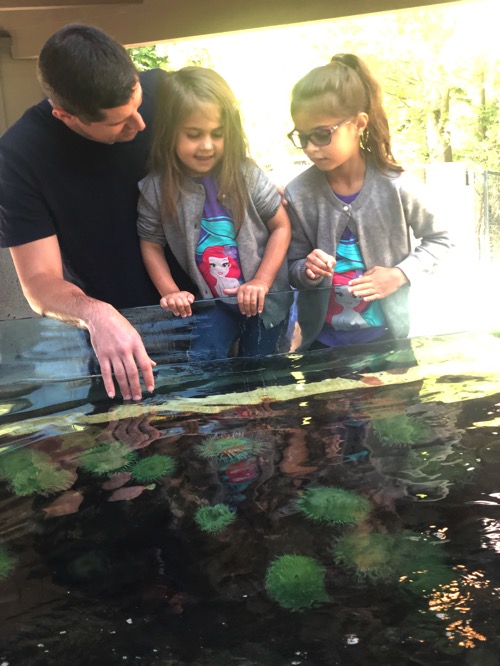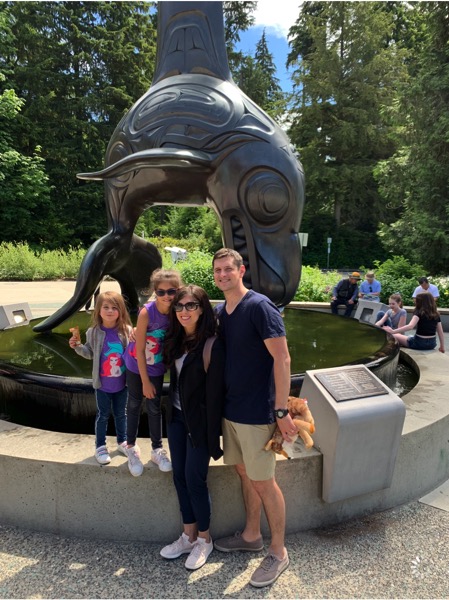 We took advantage of public transportation and I was thankful we didn't have to lug carseats around. We took the Sky Train from the airport to downtown and the rest of the time, we took the bus or walked.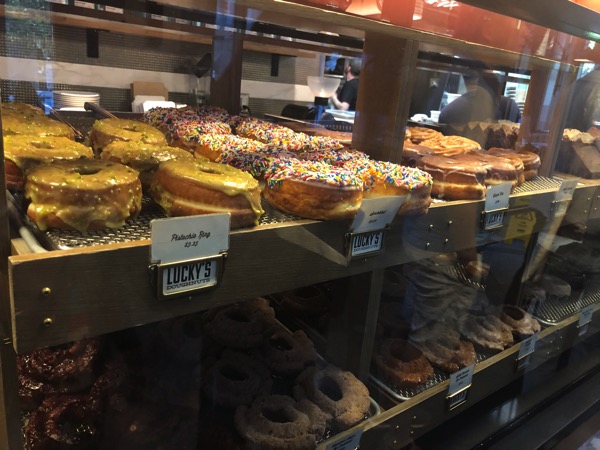 Another memorable meal was breakfast at 49th Parallel Coffee Roasters. We shared a few donuts (vegan double chocolate, peanut butter and jelly, raspberry cheesecake) and for my entree, I chose the keto plate with salmon instead of bacon. (Got the salmon party started early.)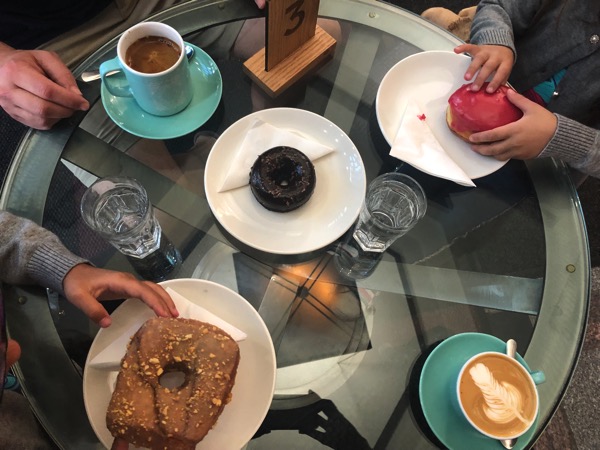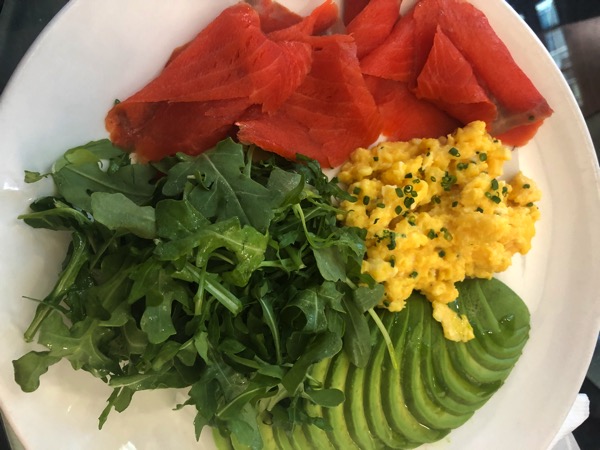 Betsy and I also took an early morning Orangetheory class overlooking the water! Class on Monday morning was super intense (a 1.5 mile run followed by a 2000m row and bodyweight circuit) but a great way to start off vacation.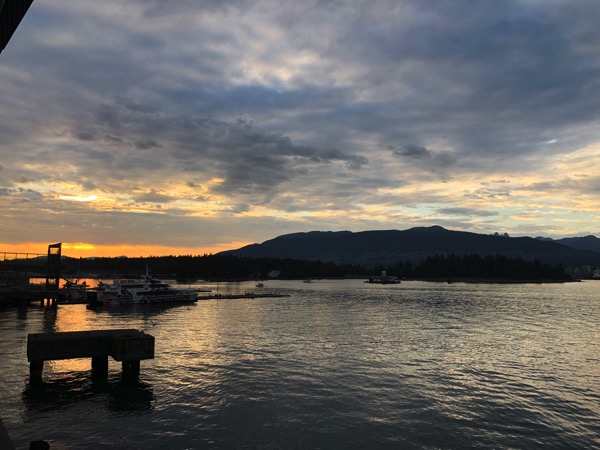 A recent find:
Havenly! I've been wanting to update the formal living room for a while now and came across Havenly. They ask for dimensions and photos of your room, info about current products you have and want to keep, and you go through a few rounds of questions for the stylist to determine your style preferences. From here, your stylist presents concepts for your room, including where to buy each of the listed products. I LOVE her idea for the formal living room! I asked for an updated feel, wanted to add a plant, and wanted to keep our leather chair and couch from World Market. Here's what she came up with:
If you want to check it out, my referral link is here! (It gives you $50 off a full design package and $20 off a mini design.) It's a great way to get ideas for a full refresh or just an update, especially if you're like me and you get overwhelmed once you start looking online for products. (#notsponsored)
Fashion + beauty:
Beautycounter sunscreen. We've been using this a lot lately. I love that it's mineral-based (so much better for your skin and for the earth!), and it glides on smoothly without being chalky. The kiddos also enjoy using the sunscreen stick. I always have one in my purse to put on my hands while I'm driving.
Ordered this swimsuit before we left for our trip and it's SO cute. It's extremely flattering and the bottoms are high enough to hide the scar on my belly. Wins all around. (It's on sale right now, too!)
My splurge sandals. I got these in a recent Trunk Club delivery and while they looked incredible and fit well, I felt like the price tag was too steep. I was flooded with DMs on Instagram, and it was a mix of "Keep the sandals, I have three pairs and love them!" or "They have these ones that look the exact same on Amazon." In the end, I decided to stick with the original ones because the quality is fantastic and they feel really comfortable to wear. The reviews for the Amazon ones were mixed as far as comfort goes and I'm really picky about shoes fitting well and feeling good since we're out and about all day. The thing that sealed the deal: the Pilot saw them lying on a chair in our room while I was debating and said, "Those are really cool shoes. You're keeping them, right?" Welp, twist my arm.
Nordstrom half-yearly sale is heeeeeere. This is pretty much a holiday (and ends this weekend).
Some fave picks from the sale:
The famous Leith dress is 20% off. I have three of these because they're incredibly flattering and perfect to dress up or down.
Love these wedges! They give me extra height and are extremely comfortable to wear all day.
This dress is perfect for summer weddings or date nights.
Fitness:
One of my fave treadmill workouts.
An interesting reason to maybe consider that marathon…one of these days.
Read, watch, listen:
Where the Crawdads Sing. I feel like I was the last person to read this one and why did I wait?? I've been devouring this each night before bed. The descriptions in this book are so vivid, you feel like you're living the story along with the main character. I can't wait to finish this one.
The podcast will be back next week! Make sure you're subscribed if you haven't already, and I'll have a giveaway next week to celebrate its return.
Good eats:
You need this s'mores in a jar.
Delicious packable sandwich options.
Can't wait to try this baked strawberry oatmeal.
Happy Friday, friends! Hope you have a beautiful weekend.
xo
Gina